A portable table saws is one of the essential tools you will find either in a workshop or for on-site work. While various table saw exists, the portable saw has several edges over the others. It includes its portability, ripping and crosscutting, as well as metering and cutting of compound angles. However, despite its obvious importable benefits, it's not totally a perfect tool for woodworking.
Thus, in this article, we will examine the advantages and disadvantages of a portable table saw. Also, we will guide you through how to choose the right portable table saw for your project.
Let's dive in!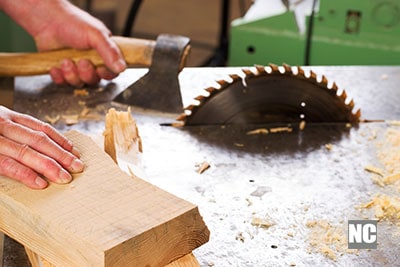 Figure 1: A carpenter working with a table saw to cut wood
1.Features of Portable Table Saw
Before we proceed into analyzing the advantages and disadvantages of a portable table saw, let's briefly check its features.
The Performance of the Engine
The portable saw features a central motor and auxiliary motor as the core of its engine. Although the primary purpose of the portable table saw is for light job site works, the engine is of standard in terms of stability during operation and how long it can perform without losing its efficiency.
Types of blade
The blade is an essential part of the portable table saw. The blade comes in various sizes and width. These make the portable working machine suitable for multiple uses without losing its efficiency. Also, the blade has a guard and anti-kickback pawls for protection during use.
Blade Controls
The blade control is a critical feature that determines the portable saw efficiency. Also, blade control is beneficial in adjusting the blade angle to derive a flawless woodcut. Blade control can either exist at the sides of the portable saw while some sit at the front. Other parts of a portable saw that go with blade control include a bevel-lock lever, a bevel handwheel, and the front-crank bevel. All these will ensure that you manually adjust the saw depending on the type of cutting you want to achieve.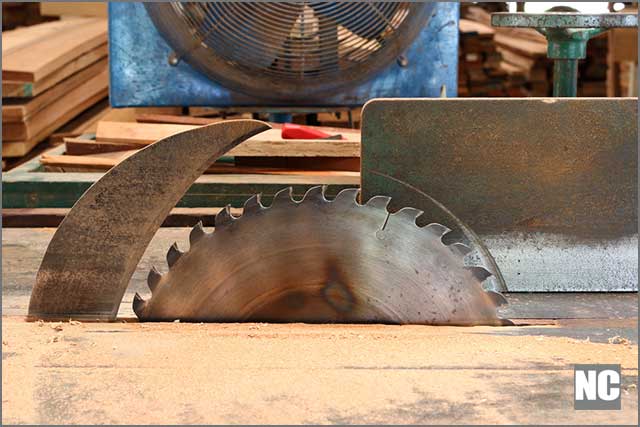 Figure 2: A close view of a table saw
Lubricating oil maintenance system
Another crucial feature of the portable table saw is its lubricating oil maintenance system. Like every other tool that works with fiction, portable saw requires the application of lubricating oil to perform at the optimal level. Fortunately, the portable table saw has an outstanding oil maintenance system.
Rip Capacity
In woodwork, the rip denotes board cutting along the grain. Conversely, rip capacity is a term that means the amount of maximum space between the edge of the blade and fence edge. Generally, most industrial portable requires a rip capacity of 24 to 25 inches for most woodwork, especially when dealing with not too thick material like plywood. The tougher the wood, the larger the rip capacity you will need.
Modern control system
The portable table saw also spots a modern control system that enables its manual adjustment. You will see the modifications you make on the screen with the latest portable saw.
2.5 Advantages of Portable Table Saw
Here are some of the pros of a portable table saw:
Portability
It is the most significant advantage of the portable table saw. It derives its name from its compactness, lightweight, and ease of carrying to job sites. This single attribute gives them an edge over other table saws. With a table saw, you can maximize the use of space as it takes relatively smaller spaces when you compare them to the others. Portable saw portability also implies that you can use them for any purpose at any place without worrying about moving it. It's small size also makes it suitable for use in cramped spaces without affecting its crosscut ability.
Energy saving
The portable table saw utilizes lower energy as against other industrial table saws. With only 1 – 2 HP, you can make use of your portable saw without incurring much money on the electricity bills. Its energy-saving ability will enable you to save a significant amount of money while working with this portable working machine.

Figure 3: A worker cutting board with a table saw
Affordability
Acquiring a portable table saw doesn't cost a fortune. It's one of the most affordable types of saws in the market. Owing to its lightweight, minimal engine and reasonable performances, portable saws are affordable to multiple users.
However, it is relatively affordable price doesn't translate to poor performance and low durability. A portable table saw will effectively handle light to medium tasks of cutting plywood and other softwoods.
Multiple Uses
An aspect where the portable table saw has advantages over other industrial table saws is its ability to work on both large and small kinds of wood. The rigid table saw will not cut small wood, which makes the portable table saw ideal for projects that involve both large and small kinds of wood.
Safer to Use
The safety of a tool is always a target for any worker. Due to its relatively small size and compactness, portable table saws are generally safe with a lower incidence of accidence in comparison to the stationary table saw.
Here are a few safety tips for portable table saw:
Use the right blade for the material you are working on.
Unplug tool before you change the table.
Maintain a stable footing and don't overreach.
Firmly secure the workpiece before cutting. Don't hold a material to cut with your bare hand or across your body part.
Keep the portable saw power cord out of the way and away from the line of cut.
Ensure that the blade is clean and sharp to prevent kickback during use.
Avoid overheating of the portable saw.
It is a video on how to use the portable table saw correctly.
https://www.youtube.com/embed/Lxi8EWBWcOU?feature=oembed
3.4 Disadvantages of Portable Table Saw
As stated earlier, the portable table saw is not all bed of roses. It has its drawbacks which we have analyzed below:
Too compact
Portable working machines are typically small in size. As such, their engine generates only enough power to work on small logs. Larger and sturdy woods might damage the portable saw blade. Thus, portable saws are not suitable for large projects due to their low compactness.
High Noise Level
Since a portable table saw has no cabinet for their motor, they produce rather too large noise, which can be annoying to the operators and other people around. Consequently, you should wear protective ear guards when working with a portable table saw.
Intense Vibration
As you know already, portable saws are mobile. This mobility creates intense vibration during operation, which, in turn, affects the machine's capacity to make straight cuts in wood.

Figure 4: Table saw ready to use
Lower Stability
It's almost impossible to make a perfect cut on wooden material. A portable table saw as a vibrating machine lacks adequate stability seeing in stationary cutting saws. It limits their ability to have a perfect cut.

Figure 5: A table saw displaying its blade
Recap and Final Thought
As portable table saws demand continues to rise in the manufacturing industry, we believe you must have understood the advantages and disadvantages of the table saw. However, if you need customized tools that give you a high return on your investment, NCCuttingTools is a place to be. We have been leveraging scientific innovation with intense research to manufacturing diamond tools and other equipment for cutting, polishing, and dressing. Our specialists are always available to listen to your needs. Take advantage of our free project estimates today!