A slitting saw is an essential tool that is popular for its precision and effectiveness in cutting. Nevertheless, it is not strange to find a few people complain about the technicalities of this tool. It is because most of them make mistakes and fail to consider essential tips for using the saw effectively and safely. This article addresses this issue. It will serve as a guide for specialists and professionals on the tips they must consider to use the slitting saw effectively and safely.
Figure 1 Slitting saw used for house construction
1.How to use Slitting Saw cut Deeply
A very questionable decision most users of the slitting saw blade face is how deep they want their cut to go. This dilemma originates from the fact that the number of passes users want their saw to have to cut the material successfully. Some users prefer to have their saw cut through the material once, and they have believed so with good reason. This category of users find that their slitting saw operates more effectively and safer, because there won't be any build-up chips in the cutting slot.
Most users, on the other hand, believe in using their saws to pass through their material more than once, maybe twice or more. Such groups claim that their material will have a neater and more precise finish that way. That said, there is no rigid approach to how many times you can use your saw to cut through your material. It is possible to push your saw to cut in far more passes or lesser passes and still get a suitable outcome.
In truth, your choice will depend on how much you know about your project, and if you have the adequate setup to execute your project.
Figure 2 Deep Cut on concrete
2.Choose the right Slitting Saw blade type
The blade of the slitting saw is another essential part of the saw. In this case, the slitting saw blade can come in different types depending on the cost or preference. These blades have unique features that make them special in their rights. However, in a bid to achieve maximum efficiency the top two blades that you can use for your slitting saw blade is;
• Carbide-Tipped Blade
• High-Speed Steel (HSS)
The carbide-tipped blade is famous not only for its rigidity but also for its cutting efficiency. The carbide tipped blade in the slitting saw is the perfect definition of precision and accuracy. Besides, the carbide on the blade tip enables the slitting saw to cut harder materials with more efficiency. The only flip side to this blade is the high cost. The carbide is a tough material and also rare, which makes it sell at a very high price point.
The High-Speed Steel, on the other hand, is a perfect substitute for the carbide tip saw blade. Yes, the steel may not be as rigid as the carbide, but it can cut reasonably well. The high-speed steel is cheaper than carbide and also durable.
It leaves you with two options. You will have to choose between a more expensive carbide-tipped blade or the high-speed steel that makes as a cheaper substitute.
Figure 3 Carbide slitting saw blade.
3.Select the right slitting saw arbor
One of the crucial parts of the slitting saw is the arbor. Proper considerations must be made before selecting an arbor. A quick suggestion when getting an arbor is always to get one that has a deep cap and a low profile. The deep cap, coupled with a low profile, is necessary to create the required margin or clearance between the blade and the material you choose to cut.
This clearance is solely dependent on your discretion because of the different types of cuts available. Some users prefer to have a single cut through, which will require lesser clearance while others opt for the reverse.
This low-profile arbor is essential because of the different special applications of the slitting saws that make it cut faster and better. Reasonable consideration of the arbor will always leave you having a superior cut compared to other saws for the same application.
4.Always Use a Thick Blade slitting saw.
For slitting saws, the geometry of the blade matters a lot. It is because it dictates the type of material you can cut. One of the best tips for using slitting saw is to always go with thicker blades. The thicker the blade, the easier it is for you. Thinner blades tend to be unstable, which can sometimes lead to shattering of the blade.
If you are a beginner, you must use the 1/16 inch saw blade. The 1/8 inch saw blade is also a must-have for beginners. It allows you to be able to control easily control the blade to obtain a more precise finish and, ultimately, quality cut. Besides, this type of blade eliminates the risk of shattering because they have more strength.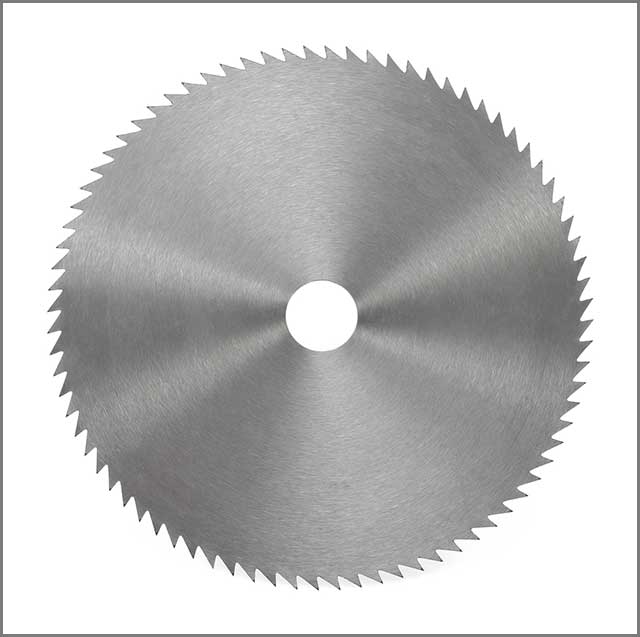 Figure 4 Thick Saw Blade
5.Check your Feeds and Speeds
As a user of slitting saws, one of the first things you will notice is how quickly the blade gets hot. The slitting saw is not like the regular saw because they are quite small and weigh less. Hence, any mistake made by operators when running the slitting saw can be costly. Operators may run their slitting saw at normal feed or speed rate and still ruin the tool. Therefore, you must calculate the speed and feed for every application. This calculation will not only protect you but will keep the blade operating at top efficiency.
As a rule of thumb, larger slitting saws should run slower. Also, you must supply enough coolants along the cut paths. It allows you to cut fast and prevent the breakdown of the saw.
6.Use Coolants
Friction is not a new phenomenon for cutting with saws, and the slitting saws is not any different. Your slitting saw is very susceptible to overheating, and sometimes this can grow to become a huge problem. It can cause production halts and downtime, which invariably leads to loss of money.
You can avoid such cases if you apply cutting fluid (coolant) to the surface of the material. Coolants are best used in instances when you aim to carry out long cut paths. The coolants will let you cut faster, thereby providing more efficiency and, at the same time, protect you from saw damage due to friction.
Summary
A slitting saws is a cutting tool that is popular among professional, skilled users and unskilled users also. Famous for its multiplex of applications in of precise finish and smooth cutting, the slitting saw is a rare gem. This article points out the different tips you can carry out to help maintain high efficiency and, at the same time, remain safe.
In conclusion, therefore, as you continue to look out for helpful tips to help maximize the use of your slitting saw, look no further, NCCuttingtools has got you covered. Click for a video with up-to-date information about how to protect yourself when using the slitting saw and yet maintain high efficiency.