Diamond grinding wheels for carbide is one of the essential tools for the manufacturing of tungsten carbide.
From giving shape to hard materials like carbide, gemstones, or concrete (through slicing or cutting) to producing a smooth finish on a hard surface with high precision; diamond grinding carbide offers these and much more. Thus, it's imperative to have pre-informed knowledge when buying diamond grinding wheels.
In this writeup, we will examine the tips for buying a diamond grinding wheel for carbide, features, and other related information that will aid in selecting the best grinding wheel for your workload.

Figure 1: A diamond grinding wheel for carbide
Chapter1. Essential Features of a Diamond Grinding Wheel for Carbide
Every diamond grinding wheel manufacturer has some salient features that they usually put into consideration during the production process. These features, in most times, serves as a key pointer for every buyer to discern, which is best for their project.
Here, we'll be highlighting some of those features.
1. High Grinding Sharpness
The diamond grinding wheel is great in cutting hard materials. Thus, every manufacturer makes it a point of duty to take its sharpness seriously so that it could serve its purposes. This distinctive feature of the carbide diamond grinding wheel will not only aid precision cutting but also make the production process faster.

Figure 2: Grinding and high-precision shaft processing on a circular grinding machine with sparks and cooling
2. High Wear Resistant
Another glaring feature of every diamond grinding wheel is its wear resistance. As far as you get the right grinding wheel for your business, then the issue of it wearing off within a short period shouldn't be a threat. It is because it possesses hard silicon carbide as the base of its ingredient.
Still, this doesn't mean you can be careless with it and use it as you deem fit. To make it last long, it is germane that you have an effective diamond grinding wheel dresser.
3. Flexibility at its peak
In every manufacturing company that deals with carbide, you'll certainly see a lot of tools with rough surfaces. The grinding wheel for carbide is quite helpful in this aspect through its flexibility. This unique flexibility enables it to seamlessly improve the roughness of such surfaces, especially tools used for grinding.
4. Easy and convenient to use
Despite this all-round functionality of the grinding wheel, one would expect that only an expert can handle it. In contrast, everyone with the basics of how to use grinding can operate the tool effectively without failure.
These and other features, such as the ability to reduce the excessive grinding work burns, easy to plug, good self-sharpening, relatively slow grinding wheel consumption, and a host of others, are what makes this product unique.
Chapter 2. How to Know A Good Diamond Grinding Wheel for Carbide?
Not falling a victim of buying a grinding wheel that doesn't meet up to your expectations stems from your ability to discern good diamond grinding wheels.
The four tips below will undoubtedly be a critical pointer that will help you in achieving this.
Take note of the abrasive- Grits and Grain
There are two primary components of every grinding wheel or bonded abrasive. First is the abrasive grain that functions in cutting, whereas the second component is the grits which hold the grains firmly while cutting.

Figure 3: Diamond Abrasive Wheels
When it comes to grains, there are different types of abrasive, and each comes with unique features. It includes fracture toughness, resistance to impact, strength, and hardness. To expound more on this, let's take a look at the types of abrasive that make up the grinding wheels
Aluminum oxide (the most common of them),
Zirconia alumina (made of aluminum oxide and zirconium oxide),
Silicon Oxide (best for grinding soft aluminum and bronze, gray iron, brass, chilled iron and so on)
Ceramic Aluminum Oxide (The newest and hardest in the development of abrasive)
Irrespective of your preference, one thing you must never forget is to opt for abrasive with a minimal dulling point. It will prevent abrasive fractures, which translate to having new cutting points.
Having said this, what comes next is knowing the grit size. The grit size is the number of abrasive grains in the wheel. To make things easier, manufacturers designate a specific number to its characteristics.
The number on each grinding wheel corresponds with the number of openings per linear inch in the final screen size-mostly the size of the grain. Here, a grinding wheel with lower numbers such as 110, 16, 24 implies a wheel with coarse grains while the one with higher numbers like 70, 80, or 100 implies a fine grit wheel.
Therefore, we suggest you opt for a grinding wheel with an abrasive that fits perfectively with your work and grits with higher numbers that go with hard and brittle material to enjoy fine finishes.
Does the Bond Fit Perfectly?
A bond is an essential tool for every grinding wheel. It is what holds the abrasives together, which, as a result, leads to effective cutting. Bonds come in various types, including, Vitrified, Resinoid, Rubber, Silicate, and others.
However, each has its distinctive features. Factors such as materials, precision, wheel speed, as well as the type of grinding operation determine the kind of bond that will blend perfectly with your grinding wheel.
The strength of a bond is usually in the grade of the grinding wheel. It has a hard grade that is sturdy, and retain the grains well against the grinding forces that might cause loosening and extend each abrasive.
Similarly, the grade of the wheel is another crucial factor when talking about the bond in a grinding wheel. A hard grade wheel is suitable for jobs on high-horsepower machines, longer wheel life as well as jobs with small or narrow areas of contact. In contrast, the soft grade wheel, on the other hand, is suitable for jobs on rapid stock removal. Also, hard materials such as steels or carbides and jobs with large and vast areas of contact all require hard grade wheel.
For a company in the diamond industry that deals with carbides, a bond with soft grade wheels is the tool you need for your grinding process.
Also, the vitrified bond is usually the best for a diamond grinding wheel for carbide. Not only because of its porous, rigid, and robust nature but also because it has a high precision rate, and acid, water, oil, or variations in temperature do not affect it.
Take note of the wheel shapes
The wheel comes in different forms and shapes. Thus, it's essential to know the wheel that will fit your kind of work perfectly.
The usual and most common of them all is the straight wheel. The periphery of the straight wheel houses its grinding face (the place where actual work takes place.)
Furthermore, there is the recessed wheel- a common variation with the straight wheel. As its names imply, the design of the center of the wheel blends in such a way that makes the wheel a lot suitable in machine spindle flange assembly.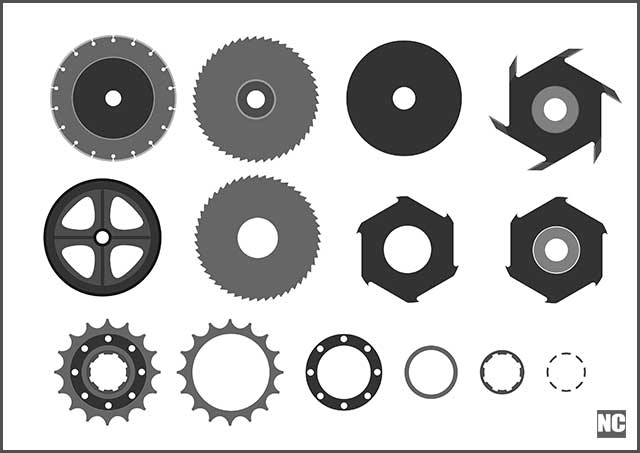 Figure 4: Different Types of Wheel Shapes.
The mounted wheel has the shape of a cone or plugs with a permanent mounting on steel mandrel, which makes the best tool off-hand and precision internal grinding jobs. Others are cup wheels, cylinder wheels, and the dish wheels
Select the right seller
All of these factors above might not be important if you didn't buy from the right seller. It undoubtedly means you might lose out on tools that will carry out the task at hand perfectly. Several companies pose to be the best at what they do. Nevertheless, you should know that the more the sellers are, the higher your risk of getting a grinding wheel that is not up to par.
Despite this, some companies have a matchless reputation when it comes to manufacturing of a diamond grinding wheel for carbide. NC Cutting tools are one of the leading diamond tools for manufacturing companies. You can rest assured of getting customized, quality, and affordable grinding wheels, cutting, and grinding tools for your business.
Other factors you might want to consider include;
The severity of the grinding action
The grinding contact between the wheel and the workpiece
The machine horsepower
The wheel speeds.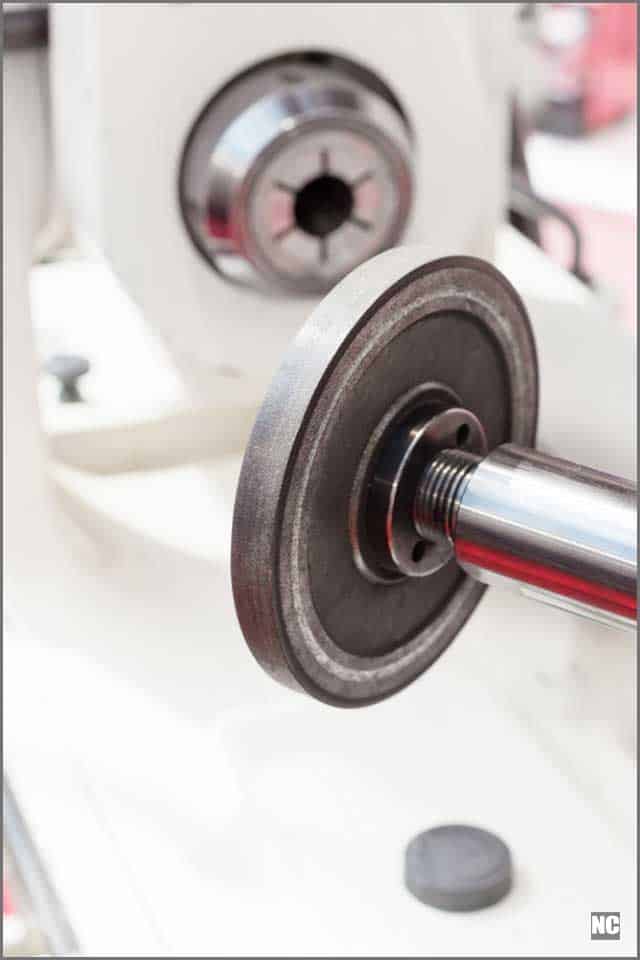 Figure 5: A diamond grinding wheel
Chapter 3. Recap and Final Thought
Now, it's safe to say you have a vast knowledge of what you should be on the lookout for when sourcing for your carbide diamond grinding wheels. In order to save yourself the stress, time, and energy, it's advisable to get your customized diamond grinding wheel from NC CuttingTools. Feel free to reach out to our specialist for a free consultation on your tools.
For seamless and better use, below is a bonus video on how to make good use of your diamond grinding wheels for carbide.