Diamond cup wheels come in various shapes, sizes, and specifications depending on different application requirements. Diamond cup wheels have an extensive range of applications. These include grinding stone and concrete, removing paints, epoxy, glues, wallpaper, and other surfaces. As such, choosing the right diamond cup wheel for your application requires that you have the pre-informed knowledge of the attributes of this critical diamond manufacturing tool.
Whether as a supplier or distributor of diamond tools, this article will expose you to five things you should know about the diamond cup wheel for the concrete surface.
1.What are Diamond Cup Wheels?
Diamond cup wheels are essential tools that have gained popularity in home improvement, repair of surfaces, and construction processes. Thus, diamond cup wheels are diamond tools with metal bonding and diamond segment joined by welding through a cold-pressed metal wheel body. A diamond cup wheel earns its name from the cup-like shape in which it appears. The primary purposes of the diamond cup wheel are to disintegrate sturdy building materials such as granite, concrete, and marble. However, as we have explained earlier, we will focus on diamond cup wheels for concrete surfaces in this article.

Figure 1: A piece of a diamond cup wheel used on the wet concrete surface
2.Uses of Diamond Cup Wheels for Concrete Surfaces
Using a diamond cup wheel for concrete surfaces requires knowing about these tools to make the right choice. These valuable tools smoothen concrete surfaces and levels down high spots to achieve a uniform surface. They are equally useful when constructing a swimming pool as you need them to keep the pond surfaces in the correct shape, depending on your choice.

Figure 2: Top view of final grinding of the concrete floor by a construction worker
Also, diamond cup wheels handle tasks, depending on the segment you use. For a heavy-duty project in which concrete surfaces belong, you will need diamond cup wheels with many large diamond segments.
3.Choosing the right diamond cup wheel for concrete surfaces
When it comes to choosing the right diamond cup wheel for concrete surfaces, you must be meticulous with the techniques to leverage. For instance, the specific tool to use for restoration, stabilization of cracks, and correcting roughness on concrete surfaces all differ.
Also, the diamond cup wheel comes in various styles and sizes. The size of their diameter will play a significant role in the type of task they can handle, as well as their efficiency.
Thus, these are the factors to consider when choosing a diamond cup wheel for concrete surfaces:
●Type of materials
While making concrete surfaces, the material in use determines the strength of the concrete. Therefore, the strength of the concrete also determines the type of diamond cup wheel. For instance, hard concrete surfaces need a soft diamond cup wheel. Ideally, a diamond cup wheel becomes blunt when grinding through concrete. Thus, a soft bond in the diamond cup wheel wears out quickly. That would expose the new diamond below and enables it to partake in the entire grinding process.
In contrast, softer concrete surfaces require a hard diamond cup wheel. Consequently, the diamond bond must wear out as slow as possible to hold the diamond for an extended period. That will improve the efficiency of the diamond and extend the shelf life of the cup wheels.
●Grinding Purposes
Grinding serves different purposes. Sometimes, we use it to correct irregularities and establish a high smoothness level of surfaces. In this instance, you should go for diamond cup wheels that specifically work to achieve this. Also, you might need grinding to improve surface resistance or noise cancellation. The build, the design, and the size of the diamond segment will all determine the type of diamond cup wheel to use. Thus, it's advisable to go for a customized diamond cup wheel as you are much more in control of the outcome of the design. Fortunately, NC Cutting Tools can help in this regard.

Figure 3: A worker grinding concrete surface using a grinder with a diamond cup wheel
●Condition and age of the base concrete
You need to have prior knowledge of the status of the base concrete. The diamond cup wheel to use largely depend on the age and compressive strength of the concrete surface. From experience, older concrete surfaces are harder to penetrate as concrete adds more strength as the age advances. You should try to understand if the concrete is already delaminated and disintegrating or in perfect condition. The type of diamond cup wheel to use will be like the one we describe in the kind of material above.
●Grinding Phases
A concrete application usually has two grinding phases, that is, coarse and fine grinding. The diamond cups wheel to use for each phase differs. While coarse grinding requires diamond cup wheels with intense sturdiness, fine grinding needs the diamond cup wheel toughness to be lower.
Also, coarse grinding works best when the diamond grit is between 35 – 50. This range has a lower diamond concentration that optimizers its efficiency.
However, fine grinding requites grit of between 80 – 120 with higher diamond concentration. Here, diamonds last longer as the hard bond enables precise processing.
●Intended degree of concrete surface profile
You need to understand the surface profile that will provide enough tooth for the coating to adhere to. Also, the thickness of the overlay or coating needs to hide the surface you want to coat. Check if your overlay manufacturer specifies the surface preparation method that is most appropriate for their system. Diamond cup wheels with harder bonds fit perfectly for in-depth concrete surface profile while softer bonds work best for shallow profiles.
●The shape of the diamond segment
Everything matters when it comes to choosing the right diamond cup wheel for concrete surfaces, including the shape of the diamond segment. For instance, square segments offer a long leading edge that makes it ideal for irregular or uneven concrete floor. On the other hand, finer grits work perfectly with diamond cup wheels with a round head. It is because it has a subtle leading edge that works best on fine surfaces.
4.Diamond Cup Wheel Use and Maintenance for Optimum Performance
Like every other tool, the diamond cup wheel also requires adequate maintenance to function optimally. Some of the factors that contribute to diamond cup wheel durability include the speed of the wheel, feed rate, work speed, and the application of a coolant during use.
●Wheel Speed
The type of concrete surface you are working on will determine the speed to use. As a rule of thumb, wet surfaces require 4000 to 6000 of/min (20 to 30 m/s). There will be a reduction in the efficiency of the diamond cup wheel should the speed go below 4000 SF/min. In contrast, keeping the speed at above 6000 SF/min will lower the diamond cup shelf life. If you are working on concrete floor surfaces with the grinder having 150 grit size and 75 – 100 concentration, you should set the speed at average. It implies that anything between 3500 and 4500 SF/min (18 to 23 m/s) produces the best performance. Working at 4500 SF/min (23rn/s) without using a coolant can damage the diamond cup wheel.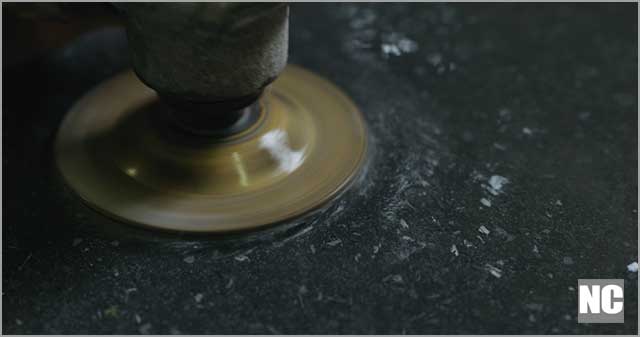 Figure 4: Wet grinding using a diamond cup wheel at optimum speed
●Work Speed
When working on either a wet or dry concrete surface, you must ensure to keep the working speed at optimum. Lower working speed will reduce diamond cup will efficiency while too high speed will hasten wear and tears, resulting in damages. It also mars the quality of the work.
●Feed rate
It is the cutting depth of the diamond cup wheel. Depending on the feed rate, the diamond cup wheel can crack, burn, or chip. That condition will prevent the diamond cup wheel from achieving the ideal size, finish, or the overall output of the workpiece. You must follow the manufacturer's recommendation for the feed rate. Often, the size of the grit determines the depth of the cut.
●Use of Coolant
Grinding dry concrete surfaces sometimes produces intense heat that may reduce the efficiency of the diamond cup wheel. Making use of coolant can improve the performance of a diamond cup wheel and improve user's productivity. However, we recommend that you follow the proper wheel speed, feed rate, and work speed rather than use coolants. Alternatively, you can go for a resin-bonded diamond cup wheel as it generates lesser heat in comparison to those without resin.
5.Custom-made diamond cup wheels are always better
Most times, when you order ready-made diamond cup wheels online, they often end up not having the capacity to carry out the application you intend to use them for. Thus, you might eventually need to go for other ones. Instead of plying trial and error route, you can have diamond cup manufacturers such as NC Cutting Tools design your diamond cup wheel following the ideal specifications. It includes shape, size, design, the concentration of diamond, and many more.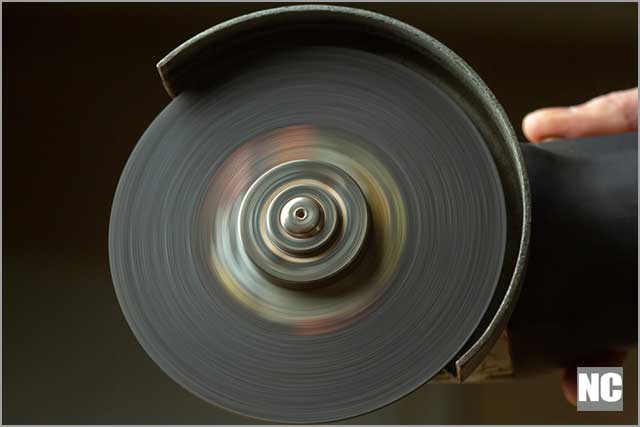 Figure 5: Manual grinding machine with diamond cup cutting wheel in the hand of a working
For customized diamond cup wheel with any specifications and designs, you can talk to NC Cutting Tools specialists for free estimates and advice.
Frequently Asked Question on diamond cup wheels for concrete surfaces
Here are some of the common questions people ask regarding diamond cup wheels:
How do I choose a diamond grinding wheel for concrete surfaces?
Concrete grinding exists in two forms; coarse and fine grinding (polishing.) Coarse grinding requires the use of a diamond cup wheel with soft bond and between 35 – 50 grit high diamond hardness. Fine grinding requires the hard diamond bond and between 80 – 120 with higher diamond concentration for high precision.
How long does a grinding wheel last?
The shelf life of your diamond wheel cup largely depends on your choice of manufacturer. That's why going for customized tools, in general, has an edge as you can determine the specification and the materials in use. Overall, a diamond cup wheel with resinoid bonding can last up to 2-3 years with adequate maintenance.
How do you install a diamond cup wheel?
The installation process generally involves removing both the locking flange and the spacer on the shaft. Next is to engage the lock button on the gearbox while tightening the grinding wheel with your hands. The drive spindle rotation will ensure that the cup is tight enough. After that, engage the lock button right on the housing. Alternatively, you can check the manual for the diamond cup wheel installation.
Final Thoughts
By now, you must have been familiar with all you need to know about the diamond cup wheel for the concrete surface. As a reminder, going for customized diamond tools will save you a lot of stress and prevent you from wasting your hard-earned money on low-quality tools that cannot handle the job effectively. Check NC Cutting Tools for featured products. You can equally book a session with our specialists to explain your unique needs. We have been the leading manufacturer of diamond tools for more than 20 years, and we know what you need. Contact us now to understand how we can be of help.