A  cutting tool  is a kind of device that removes material by cutting through them or also known as the process of deformation. Cutting tools can be through single-point or multipoint mechanisms.
Deciding on the proper cutting tool requires careful planning and consideration. Getting a project done smoothly and adequately will require appropriate cutting tools. Some specific questions and concerns will arise if you are planning on purchasing one.
If you are not sure what you should take into consideration when choosing a cutting tool, check out the guide below to help you.
(powerful cutting iron tool at work)
1. Select a cutting tool maker in Asia.
There are many manufacturing suppliers in Asia that can give you better prices as compared to those in Europe and the United States. Even companies from the USA and Europe are getting their products from China.
The growth of economies shows that the market for high-speed metal cutting tools manufacturers is growing at a fast rate. My research indicates that Asia accounts for the highest continent with an increasing demand for cutting tools.
Relatively cheap labor in Asia also allows you to get preferential prices. And you should pay attention to the quality of the goods while choosing the cheap price.
(Saw for stone)
2. Whether you can provide the materials you need
Sometimes my cutting tool requires a certain kind of unique material that needs to be customized by my supplier. It is essential that before you make a purchase, you talk with your supplier first and specify to him all the things that you need. Before settling with a supplier, make sure that this is the one that you can work with to give you all your needs moving forward.
Different types of material are used for making the cutting tool; these are:
● High carbon steel
● High-speed cutting steel
● Ceramic
● Cemented Carbide
● Diamond
● Abrasives
If there are other elements that you need to include to this list, ask your chosen supplier beforehand.  And see if the supplier can supply.
(Cutting tools for quality materials)
3. Cutting tool production machine
Specific cutting tools will require some assistance from production machines to generate high-speed cutting power. The cutting tool supplier that I would recommend is those that have a high powered programming machine that will enhance the cutting power of your tool.
Programming machines are also included. Some cutting tools require modern work assistance to generate high-speed cutting power.
When you have high-powered cutting tools, then the workload gets lighter and more comfortable to complete.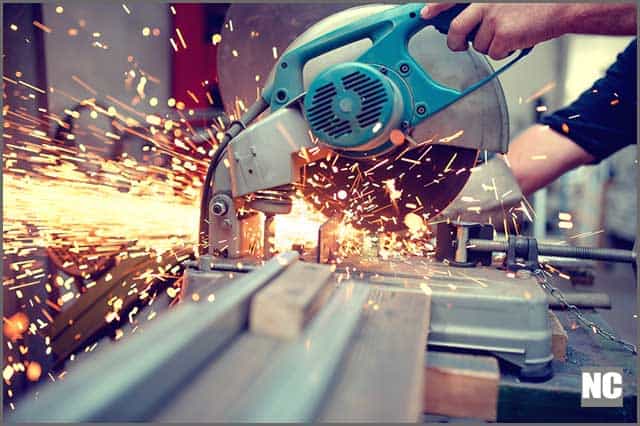 (Industrial engineer engaged in cutting metal and steel with a sharp circular blade compound saw)
4. Follow the latest cutting tool innovations from suppliers
Keeping up to date with the latest trends is essential when choosing your cutting tool manufacturer. Ensures that you have the best and the latest that will give you the service that you need.
I know there are many innovations in the field of cutting tools today. Examples of these are
● Carbon-reinforced polymer Fibers are becoming a cutting tool problem today. CFRP is a material that is being applied in many tools today because of its strength, durability, and wear tear resistance, which makes them an ideal article. However, they are posing a problem in cutting tools, which requires manufacturers to level up the strength and power of their cutting tools.
● PVD coatings on cutting tools give them a great advantage. Replacing appliances now and then is a very costly process not just for us as consumers but for manufacturers as well. why they are ensuring the durability of tools as much as possible. PVD is short for Physical Vapor Deposition. This coating increases the performance and productivity of the tools and reduces wear and friction as well as .
● Polycrystalline diamond, or also known as PCD, is a powerful innovation nowadays in cutting tools that are making waves in the manufacturing industry. Commonly known as the finished product for machining, PCD has incredible durability, and therefore it is not used for cutting tools.
(Heavy industry workers cut steel pipes with angle grinder in workshop.)
5. Negotiate prices
Do not only take things at face value, haggling, But The negotiation process is also a fundamental skill you should use. Before you start negotiating, it is best to draw up a list of the things that are important to you.This list should also include what you are ready to compromise.Always remember to be realistic in your demand.
Haggling should not result in a damaged relationship between consumers and suppliers. Links are significant in business.
Things that you can keep in mind when trying to negotiate are the following:
● Understand your supplier
Negotiate with those in power, not on the staff crew who have no authority whatsoever. Do basic research on them and use this as your leveraging power over them. The more you know about them, the better you can negotiate.
● Plan a careful negotiating strategy
Think about what your supplier can give you and come up with different deals that both parties can compromise on that will grant you lower prices to avail while still doing good business for the supplier.
● Gater, a negotiating team
Part of a good strategy is investing in people who can do the talking for you if this is not your strong suit. Some people are gifted in this area that can help you more and get you the best deals.
(Discussion of price)
6. Foresee possible transportation problems of cutting tools
Transportation problems are unavoidable when transporting materials, Imported mainly from international manufacturers. Predicting possible circumstances will help you prepare better that the goods are not damaged.
Here are some things to keep in mind:
● Custom regulations
All products require clearance from customs no matter what it is. You will also need paperwork, one from the country of shipment and the state where you currently live.
● Custom fees
Fees vary internationally, depending on the price of the product and the country where it is shipped. Products with higher value cost more.
● Shipping Tariff
The shipping fee charged by the shipping company. It also varies on the shipping company that will be used by your manufacturer.
● Time of Transit
International shipping takes more time as opposed to local shipment of goods. If you are pressed for time and will require the products at a specific date, it is best to have it worked out on the onset. However, if you opt to have it specially delivered fast, you might need to pay more. Take into consideration here that custom clearance also takes time, so you would need to allow some time for it, too as well.
● Packaging
It is best to hire a shipping company so that you will not have to deal with this. But all packages that are shipped should be packed and labeled accordingly.
● Medium of transportation
There are two modes of shipment when shipping internationally. By land or by sea. Airfreight is faster than land travel but also more expensive.
● Insurance
International deliveries are high at risk for damages. It is best to have your packages insured. Doing this reduces unnecessary financial costs.
(Import and export business logistics high seas transportation.)
7. Make sure that your cutting tools have a warranty
Always make sure that your devices have a warranty. It gives you consumer protection that you are getting your money's worth. It also gives you the right to ask if the manufacturer cannot produce the expected result you originally agreed to.
(Mechanical turning metalworking cutting tool)
8. Online shopping is now available nowadays
Because of innovation and technological advancement, online shopping for tools has never been easier. With just one click, you can buy from anywhere in the world. Be wary that you are buying from trusted websites.
Read what others are saying about their products and as to whether they are a legit company or not. Proper research will save you a lot of trouble when doing online shopping.
(Laptop on online shopping website)
9. Make sure that you are getting from a certified supplier
The highest standard of certification for manufacturing companies is ISO 9001:2015.  needed to ensure that suppliers are verified and are doing business the right way. Companies who are ISO certified are committed to maintaining the highest standard in their industry.
These nine tools are essential to consider upon choosing a cutting tool manufacturer. Select a cutting toolmaker who can cater to your needs and requirements, and follows the latest innovation in cutting tool manufacturing. Negotiate prices as much as possible, predict that there might be transportation problems in the future that might arise. When shopping, you can choose to do this online but be wary of fake companies who are just looking to take advantage. Lastly, make sure that you are getting from a certified ISO supplier.
(ISO standard quality control guarantee warranty business technology concept.)
Summary:
NCCutting Tools can provide you with all these services and more. They accommodate well to the needs of their consumers, and with years of experience in the business, you will never go wrong in choosing them.
They are also ISO certified, ensuring that they are following the highest standard in the industry, which puts you in good hands for all your business transactions.
Call now to find out more!