An angle grinder is a versatile power tool for cutting steel, metal, and hard materials.
However, sharpening blades with angle grinders requires the best angle grinder, so here's a roundup of the best angle grinder for metal work you should choose.
Table of Contents
Factors to Consider When Choosing the Best Angle Grinder for Metal Work
Motor Power
Opt for a tool with power ranging from 110-230 volts and a wattage range of 500-2500 watts.
RPM/Disc speed
Grinders with faster speed produce better results, so opt for a higher RPM value.
Cordless or Corded
Corded angle grinders are powerful, while cordless deliver more flexibility. Cordless grinders allow you to access the hard/tight-to-reach areas easily.
The corded models are ideal for welding projects that need a consistent power supply and indefinite running time. So, choose the kind of a side-angle grinder that fits your needs.
Disc Type
They are three main types of grinder discs:
Flap discs: They're covered with sandpaper to remove rust. Ideal for finishing and grinding metals. So they can serve as sanders. 
Cutting disc: ideal for cutting through steel and metal like tubes, sheets, and pipes.
Grinding disc: ideal for grinding metal surfaces to remove paint, rust, or debris
Disc size
Choose a power tool with a compatible disc size for the intended work to ensure you complete the work efficiently and quickly.
Choose a grinder with a comfortable handle grip that fits your hand to prevent discomfort and pain when using the tool.
Invest in a user-friendly grinder to complete the work with ease.
Choose a tool with a durable design to ensure it lasts longer and works well for you.
Your grinder should be easy to carry and not feel heavy.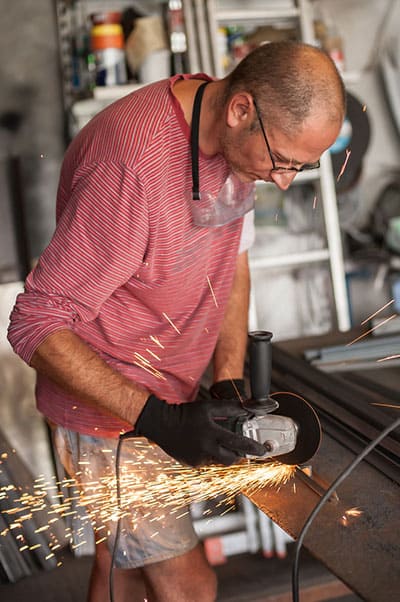 Caption: A working cutting metal using an angle grinder
Additional features
Guarding system to protect you from injuries 
Anti-vibration side handles reduce the vibration from the grinder
Trigger lockout system to prevent the grinder from starting up accidentally
Spindle lock lets you change the accessories without trouble
Heat dissipation system to keep the machine cool when in use
The quick change system to quickly and easily change accessories
Best Angle Grinder for Metal Work
Dewalt Cordless Angle Grinder for Metal Work
Pros and cons
The 4 ½ inch grinder offers you effective grinding
Single speed
24-month warranty
Offer a lot of power with its 8,000 rpm motor
Voltage 20 with 405 watts
Tool-free guard to make it easy and faster to adjust the guard spot
Comes with a two-finger trigger switch with a lock-off button
Well-designed for easier handling and use
Two-position side handle for comfortability 
Easy to change discs
You need to purchase the 20v battery
Customer reviews
If you love Dewalt tools and need a grinder, go for it. It features everything you need in a cordless angle grinder and switches off when you over torque it, preventing injuries.
Black and Decker Angle Grinders
Pros and cons
The 3-position side handle offers a stable and comfortable grip
Has a Spindle lock for easy & fast accessory changes
Ergonomic rubber grip for better control and comfort
Single touch release switch for easier tool switching off
Delivers 120V of power to complete tasks efficiently
The 115-millimeter grinding disc allows you to work on finer and more detailed work.
Has a soft start that offers an electronic soft run to prevent the tool from jumping away
Comes with an adjustable handle to make sure that you are working on comfortable posture all the time
Doesn't come with grinding discs
Customer review
It's an excellent grinder, cost-effective, and of great quality.
Bosch Angle Grinders
Pros and cons 
Comes with a powerful 6 amp motor for heavy-duty metal cutting and grinding
11,000 rpm for professional grinding and cutting work
Smaller field diameter for easier cutting and grinding
Two positions and vibration control handle
Variable speed
Easy to remove the handle, making it easy to store it in a work vehicle
Has a battery indicator level that shows when the battery needs to be charged
You can't use your existing discs and accessories. It would be best if you used the X-Lock discs
Some people complained of broken speed control
Client reviews
I like the weight and size of this coded grinder as it's ideal for light-duty work. Its low vibration makes it less draining to use.
Makita Cutoff Angle Grinder for Metal Work
Pros and cons
Its 7.5 AMP motor delivers a higher power output.
Has an ergonomic grip and handle for prolonged comfort
Has LED battery level indicator 
Smaller barrel diameter for improved comfort
Lock-off or on feature for continuous use
Comes with an electronic brake
Has anti restart protection
Doesn't come with a charger
Customer reviews
The tool is amazingly versatile as it can cut, grind, and wire brush for metals. You can also use it to carve sculpts and sand wood.
Avid Power Angle Grinder for Metal Work
Pros and cons 
Two-position auxiliary handles offer better control, flexibility, and convenience.
Comes with a spindle locking system for an easy wheel change
Runs on 11,000 no-load RPM with 7.5 amps
Its professional-grade grinding and cutting make it an ideal grinder for any metalwork.
Comes with a protective cover to keep you safe from the injuries
Push button might be tough to work
Customer reviews
While the tool is affordable, it has the qualities of a costly grinder destroyed by water.
Porter Cable Angle Grinder
Pros and cons
Three-position, adjustable side handle offers great control in any position.
The single look allows you to change the bit with a single wrench
Metal gear housing for improved durability
Long-lasting 7.5 amp corded motor
Comes with an adjustable handle guard
The tool isn't powerful, and it's heavy
Customer review
Affordable yet has plenty of power, and swapping wheels out is easier.
Ryobi Brushless Angle Grinder for Metal Work
Pros and cons
Comes with an onboard wrench for easy disc change
Three-position adjustable side handle for extra leverage
Tool-free guard adjustment for easier angle and depth cuts
A strong motor that drives the wheel at 10,400 RPM
It would help if you had larger batteries since it drains them fast
Customer review
The grinder comes with cutoff and grinding wheels. The wrench and spindle lock are user-friendly; hence you can easily mount and demount the wheels.
WORKPRO Lightweight Angle Grinder for Metal Work
Pros and cons
Ergonomic and lightweight design to minimize hand pressure on the operator
Its Cooling mechanism keeps the motor cool and stable while in use
Quick change system for an easier wheel change
Three positions anti slip auxiliary handle
Wireless and durable
You need to buy a 20 v battery separately
Customer review
Works perfectly and feels comfortable in my hands, and it's lightweight.
KIMO Angle Grinder for Metal Work
Pros and cons
The brushless motor delivers more power.
Two position grip handle is rubberized for maximum comfort
A premium magnet for improved efficiency
Comes with a carry bag for easy transporting of the grinder
The cordless grinder features Li-ion technology that ensures the battery last longer
Can use it anywhere since its cordless and connected
It's an intense power consumer, so you need a large battery to keep up with the Job.
Customer review
The tool worked well but consumed a lot of power. It would help if you had a large-capacity battery to keep up with the work.
WESCO Angle Grinder Tools for Metal Work
Pros and cons
The easier disc replacement system
two-position anti-vibration handles for comfortability
Fast to dissipate heat for durability
Its wheel guard prevents sparks and metal chips from hurting you
Its two-position anti-vibration side handles and ergonomic design body makes it easy to control and comfortable to use
It's convenient and easy to use
Somehow difficult to move the on-off switch to the on position 
Customer review
Seems sturdy for that price. Purchased it for a specific task, and it worked perfectly for that Job. A bit hard to move the on-off switch to the position, but it isn't an issue.
How to Use an Angle Grinder to Cut Metal?
Select the right disc.
Mount the disc
Mark the area
Turn on the grinder
Start cutting
Finish cutting
Make sure you follow all the steps for the best results. 
Safety Precautions When Using an Angle Grinder
Put on a protective eyewear
Wear heavy clothing
Use a dust mask
Keep your feet and hands away from the disc
Disconnect the tool when not using
FAQ
Are Circular Saw Blades Compatible with Angle Grinders?
Circular blades aren't compatible with an angle grinder because the exposed blade can cause the controlled machine to fly back, causing injuries.
Can I Use a Bigger Disc on My Angle Grinder?
You can use a bigger disc on your grinder but make sure that the disc is compatible with the grinder.
Conclusion
You now know how to choose the best angle grinder. Please pick one from this list or contact us for further assistance.