If you want to use a brush cutter in your yard or garden, you must ensure you have the Best Brush Cutting Tools for your needs.
This article will go through some factors to consider when choosing a brush cutter. It will also cover the five best tools on the market.
What is a Brush Cutter?
Brush cutters are garden power tools that cut, trim, and remove weeds and grass.
They have a sharp rotating blade attached to the end of a pole. An engine that powers the blade sits at the opposite end of the pole.
Brush cutters are fairly easy to use.
A man using a brush cutter.
Factors When Choosing the Best Brushcutter
Types of Brush Cutter Blades
Knife Blades
As the name suggests, knife blades have long, sharp leading edges.
They come in various shapes, and there can be anywhere from two to 40+ individual edges on a brush cutter.
Knife blades are highly efficient as they slice through weeds extremely easily. They're also affordable and fairly durable.
Chisel Blades
Chisel blades are circular with sharp teeth of varying sizes around the perimeter.
Depending on the number of teeth, chisel blades can often efficiently cut through 60mm thick branches.
They also have a severe kickback, making them more dangerous.
Types of Brush Cutter
Electric Brush Cutter
Electric brush cutters run on electricity from a battery or a power outlet. They're lightweight, quiet, and vibrate less than alternative options.
Cordless Battery Powered Brush Cutter
Most cordless brush cutters operate on Li-Ion batteries, making them extremely portable.
Battery Power(V) – A brush cutter with higher voltage (V) produces more power but may have shorter battery life.
Battery Life (Ah) – Amp-hours (Ah) is the amount of charge a battery holds. Higher Ah means the battery stores more energy, and the brush cutter can perform better.
Batteries for cordless power tools.
Gas Powered Brush Cutter
Gas brush cutters typically run on petrol but sometimes are also powered by LPG or diesel. They're the most powerful option but are also noisy and complicated. 
2 Cycle Engine – Each engine cycle requires two piston strokes, two complete. They consume more fuel and are generally less efficient, but they're cheaper to purchase upfront.
4 Cycle Engine – 4 piston strokes complete each engine cycle, which is more efficient, quieter, and simpler. Upfront, they're more expensive.
Multifunctional Operation
Different brush cutters are best suited for certain functions depending on factors like sharpness, power, and attachment types.
If you need multiple functions, you should look for a multifunctional brushcutter.
They can handle various operations, including hedge trimming, grass cutting, thick weeds, and more.
Ergonomic Handles
Ergonomic handles are better for your health and well-being, as their design supports your body's natural tendencies. Ergonomics is vital if you're using a brush cutter for long periods.
Vibration & Noise
Powerful brush cutters make more noise and produce greater vibrations.
It is because they're releasing more energy. Often, noise and vibration are inevitable, but there are some ways to reduce them.
Electric motors are much quieter and vibrate less than gas-powered alternatives, so this is one way to eliminate these issues.
Service & Warranty
When buying a product, you want to feel assured that you can get help with any faults or problems you encounter.
By choosing a manufacturer who offers a good warranty and helpful customer service, you're decreasing the chance of having a negative experience.
Best Brush Cutters
1. Weed Wacker Cordless Brush Cutter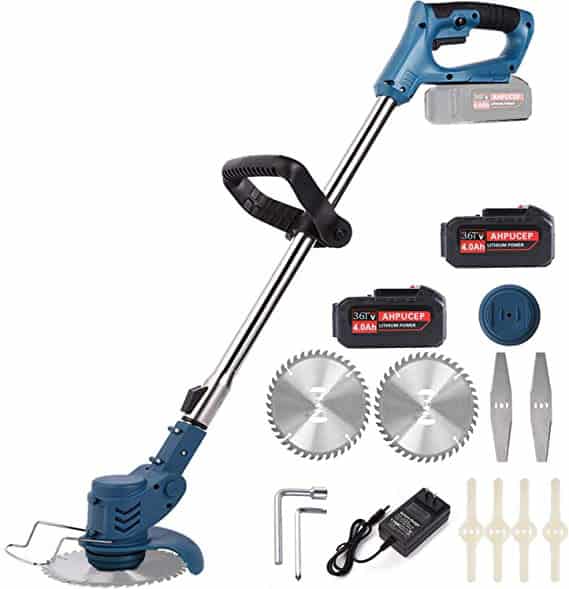 Basic Parameters
Power: Battery
Power Output: 650 watts
Cutting Width: 6 inches
Vibration: Little to none
Weight: 2.6 lbs
Advantages & Disadvantages
Firstly, the long-lasting battery has a runtime of 60 minutes.
Secondly, it's lightweight and easy to hold.
Conversely, the pole length is fairly short, at just 46.25 inches.
Customer Reviews
"It is good, although I discovered it is small for my purpose."
2. Electric Weed Wacker Cordless Trimmer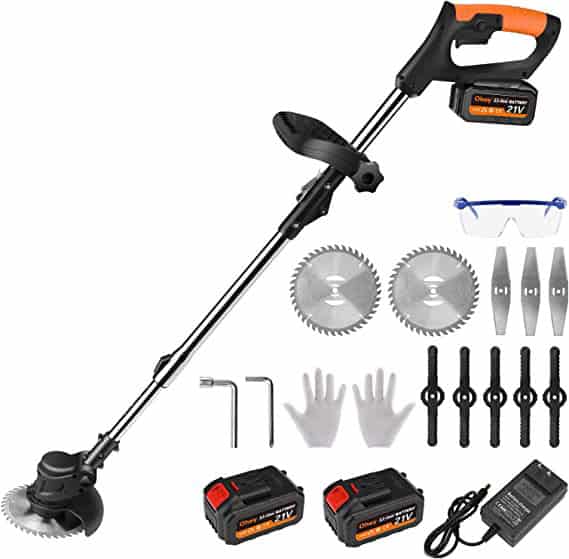 Basic Parameters
Power: Battery
Power Output: 600 watts
Cutting Width: 6 inches
Vibration: Little to none
Weight: 2.6 lbs
Advantages & Disadvantages
Firstly, it comes with two batteries that each last over 1.5 hours.
Additionally, the blades are very easy to attach.
Nevertheless, it lacks durability.
Customer Reviews
"The only downside is that the plastic blades they provide are cheap and brittle."
3. 3-in-1 Weed Easter Brush Cutter
Basic Parameters
Power: Battery
Product Dimensions: 21" L x 4.3" W
Head Angle: 0-90°  
Vibration: Little to none
Weight: 5 lbs
Advantages & Disadvantages
Firstly, the tool's powerful motor runs at 18000 RPM.
Furthermore, you can easily adjust the height of the rod from as low as 90cm to as high as 120cm.
In contrast, it has a very short battery runtime of 40 minutes.
Customer Reviews
"It quickly cleaned everything up to that blade."
4. Chikura Gx35 Backpack
Basic Parameters
Power: 4-stroke gas motor
Power Output: 850 watts
Cutting Width: 26mm
Vibration: High
Weight: 7.6kg
Advantages & Disadvantages
Firstly, it includes express 5-10 day delivery throughout the US.
Secondly, the backpack-style straps help reduce fatigue.
Lastly, it isn't quiet and vibrates a lot.
Customer Reviews
"It did not come with a safety bar. Big safety issue for such a powerful tool."
5. Airbike Brush Cutter
Basic Parameters
Power: Battery
Cutting Width: 5 inches
Vibration: Little to none
Weight: 5.59 lbs
Advantages & Disadvantages
Firstly, the trimmer comes with a strong, durable circular blade.
Additionally, the battery life is a good 60 minutes.
Despite this, it only comes with one battery.
Customer Reviews
"Great concept, but the battery barely stays charged for smallest jobs."
How to Use a Brush Cutter Safely
Before Use
Firstly, ensure no children or animals are around the area you're trimming.
Secondly, watch out for metal, stones, and other hazards.
Also, adjust the harness and handles to the most comfortable position.
While Operating
Start the brush cutter on the ground.
Furthermore, wear safety goggles, hearing protection, solid footwear, and other PPE equipment.
Additionally, never leave the brush cutter unattended.
In General
Always read the manual and follow manufacturer guidelines.
Keep the brush cutter clean and well-maintained.
A brushcutter operator is wearing PPE.
Conclusion
This article covered everything there is to know about choosing the best brush cutter for your needs.
If you want to expand your knowledge of brush cutters further, please contact us today!