You must invest in good tools and equipment to elevate your drywall-cutting skills.
Knowing what to buy can be a challenge, but there are plenty of good options on the market.
This article will discuss eight of the best drywall-cutting tools.
Table of Contents
Tool 1: Utility/Razor Knife
Features & Benefits
Firstly, this knife is very sharp and has double hardness durability, so you can use it with various materials.
Secondly, it has a quick-change mechanism that lets you safely and easily change blades.
Lastly, a back-lock mechanism keeps the blade in a safe position, whether opened or closed.
Disadvantages
The blades wear out quickly, so you'll need to replace them often.
Customer Reviews
"These are the best utility knives ever! I carry one in my purse and have one at work."
Tool 2: Keyhole Saw, Compass Saw, Jab Saw, or Drywall Saw (Handheld Drywall Saws)
Features & Benefits
Firstly, this saw has a thick, sturdy body that will remain strong and durable in any situation.
Also, it has cleverly-designed teeth that make cutting more smooth, more efficient, and more aggressive.
Thirdly, it has an ergonomic handle with a rubber grip that perfectly balances comfort and control.
Disadvantages
The blade is very thick, so that it may be difficult for smaller cuts.
Customer Reviews
"All I can say is that this is a great drywall-cutting knife. And that all Irwin tools are great."
Tool 3: Oscillating Multitool
Features & Benefits
Firstly, all DEWALT 20V tools include a 3-speed selector to allow you to choose a speed setting based on your needs.
Additionally, it has a brushless motor that can deliver up to a 57% increase in run time compared to a brushed alternative.
Finally, a bright LED light to help you see clearly in dark or shaded areas.
Disadvantages
The blade heats up dramatically after you use it for a while.
Customer Reviews
"A well-built tool with great quality and good battery life, not junk like a lot of other tools"
Tool 4: Reciprocating Saw
Features & Benefits
Firstly, this saw allows you to change blades quickly and easily while maintaining safety.
Furthermore, the blade links to a pivoting shoe that gives operators increased control and stability.
Lastly, it is highly efficient and lets you get jobs done faster than manual tools.
Disadvantages
The battery doesn't last long, so you'll need multiple spares to swap out.
Customer Reviews
"Great saw for performing small trim jobs around the house."
Tool 5: Spiral Saw or Rotozip
Features & Benefits
Firstly, this tool generates a lot of cutting power, with the MagnaCore motor delivering 30,000 RPM.
Secondly, this amazing motor has an unbeatable power-to-weight ratio and outputs 5.5 amps.
Finally, a simple bump switch makes it easy to power the tool while adding more safety.
Disadvantages
It is probably a little bit too complicated and fiddly for a beginner.
Customer Reviews
"Motor could be a little stronger, cuts very clean, little to no dust."
Tool 6: Jigsaw
Features & Benefits
Firstly, this jigsaw performs to a high standard and has a powerful 5 amp electric motor.
Additionally, it features innovative curve control technology that includes four curve settings to increase control.
Thirdly, the saw's shoe is quick and simple to adjust and has a wire guard to enhance stability.
Disadvantages
The saw blade clamp is not very strong and can break quite easily.
Customer Reviews
"What's there not to like? Easy to use and powerful enough to be useful."
Tool 7: Hole Saw Cutter
Features & Benefits
Firstly, this tool allows you to cut with versatility and flexibility and use it with a variable-speed drill.
Secondly, it has a compression spring to absorb vibrations and a transparent dust shield.
Furthermore, it is highly durable thanks to the rubber gasket surface that protects against damage.
Disadvantages
If something breaks, it can be hard to find replacement pieces.
Customer Reviews
"Super useful, being able to cut into sheet rock without messing is priceless. Recommended!"
Tool 8: Circular Saw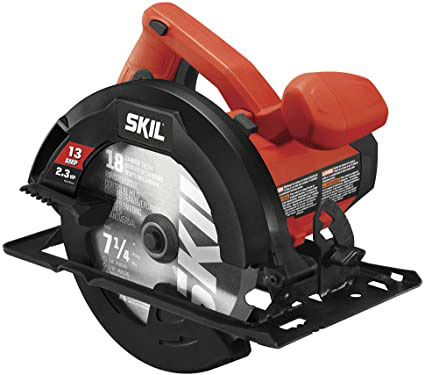 Features & Benefits
First, the motor produces a lot of power and delivers a fantastic performance.
Also, there is a 15% reduction in weight compared to SKIL's previous circular saw model.
Lastly, it features a 51-degree angle with positive stops for greater cutting capacity and increased flexibility for the operator.
Disadvantages
The saw is much louder than many other circular saws, so you'll need good hearing protection.
Customer Reviews
"It's a good saw, but I would not recommend it for a construction site. But if you only use it a few times a year, it'll do a good job.
How To Choose Which Drywall Tool Is Right For You
| | |
| --- | --- |
| Tool | When to Use |
| Utility/razor knife | To make small, easy cuts. |
| Handheld drywall saws | To make small, rough cuts on basic projects. |
| Oscillating multitool | To achieve a large number of smaller cuts in a short amount of time. |
| Reciprocating saw | You can use it interchangeably with an oscillating multitool. |
| Spiral saw | For large-scale, professional, or commercial drywall projects. |
| Jigsaw | To make cuts of varying shapes quickly and efficiently. |
| Hole saw cutter | Cut circular shapes. |
| Circular Saw | For big commercial projects. |
Conclusion
This article looked at some of the best tools for cutting drywall and when you should use each one.
If you want to learn more about how to cut drywall, contact us today!