Do you want to enhance your collection of linoleum cutting tools to the next level?
While finding the right products for your specific needs can be difficult, there are plenty of good choices.
You need to know what you're looking for.
This article will list all the best linoleum-cutting tools and when you should use them.
Table of Contents
What is the difference between a V shape and a U shape?
There are two primary types of linocut blades – V and U shapes.
A V shape has more of a point at the tool's tip and is great for fine details and outlining work. A U shape has a rounder tip and is good for quickly clearing out large areas.
Best lino cutting kits for beginners
1. WerkWeit Rubber Carving Blocks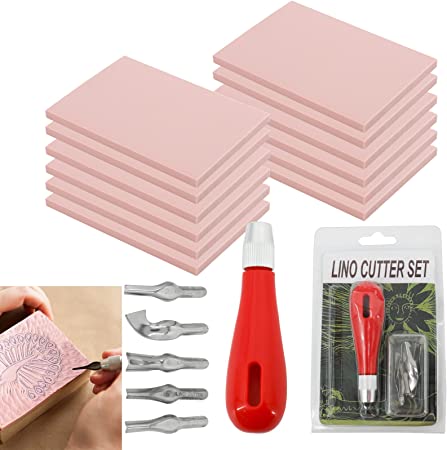 Features & Benefits
Firstly, this is an all-inclusive package that contains 12 carving rubber blocks, as well as a lino cutter with 6 types of cutting blades.
Secondly, the kit is simple and easy enough for beginners to use while providing room to develop your skills.
Lastly, the cutting tools work well with a range of materials, including both rubber and linoleum.
Downsides
The metal blades can often bend very easily.
Customer Reviews
"An incredible deal if only for the linoleum. The blades are ok, but I will stick with my basic speedball. Worth it"
2. Speedball Linoleum Cutter Kit
Features & Benefits
Firstly, this lino carving set has various sizes, so you'll always find the perfect tool.
Secondly, it includes a comfortable, well-designed ergonomic handle.
Thirdly, the mechanism for changing blades is efficient and easy. All you have to do is twist the clasp and insert the blade.
Downsides
The pieces can sometimes jam inside the handle and are hard to get out.
Customer Reviews
"Very user-friendly and fun to use. Sharper than expected, be careful. I'd recommend cutting on a surface that you can mark up."
Best overall linocut kit
1. Stamp Making Kit with Cutter Tools
Features & Benefits
Firstly, this set of lino-cutting tools has six high-quality carving blades.
Additionally, it's a fast and efficient tool for the job due to the firm grip handle and sharp blade.
Finally, they're some of the sharpest linoleum cutting blades available on the market, so they're sure to do the trick nicely.
Downsides
The individual blades are quite thick, so there may not be any sizes that are small enough for your specific needs.
Customer Reviews
"This item was EXACTLY what it said it was. Quality is awesome, and for the price, the value was splendid."
Best budget option
1. Craft Blades German Carbide Deep Point
Features & Benefits
Firstly, this set contains 20 high-quality linocut tools. Five are deep points, and 15 are standard.
Furthermore, the company that makes them is a small local American business, and the products are American-made.
Lastly, the blades consist of durable cemented carbide that lasts up to three times longer than alternative materials.
Downsides
Since they are a budget option, you won't receive the same sharpness level as you with more expensive options.
Customer Reviews
"Works great on my Explore 2!! Simple install and made such a difference in my finished cuts!!"
Best inexpensive set
1. EXCEART Craft Linoleum Block Cutters
Features & Benefits
Firstly, this professional standard engraving tool is also simple enough to be suitable for beginners.
Secondly, the handle is made of a unique wooden material.
Also, the range from large to small is enough for fine detailing work.
Downsides
It only comes with five blades, so the size increments are quite large.
Professional grade linocut tools
1. FLEXCUT Carving Tools
Features & Benefits
Firstly, the blades in this kit are extremely thin, so they're perfect for small detailing work.
Secondly, ergonomic ash hardwood is the material in the handles.
Lastly, you get a beautiful wooden toolbox to store the cutters in.
Downsides
The handles are on the larger side, so if you have small hands, they may be a little uncomfortable.
Customer Reviews
"Super sharp. Already used them all. They make linoleum feel like butter!"
2. Kakuri Japanese Wood Carving Tools
Features & Benefits
Firstly, these are traditionally-designed Japanese chisel blades that are perfect for professionals.
Additionally, you'll find seven different-shaped blade types in the set.
Finally, the blade is genuine carbon steel by traditional Japanese blacksmiths, resulting in an immaculate degree of sharpness.
Downsides
The set lacks the popular V-shaped chisel, so if you need this, you'll need to buy an extra blade.
Customer Reviews
"Great value. Far better than my old linocut tools that didn't provide the long handles needed for more traditional mokahanga Japenese style wood blocks."
Best Pfeil linoleum cutting tools
1. Pfeil "Swiss Made" Carving Tools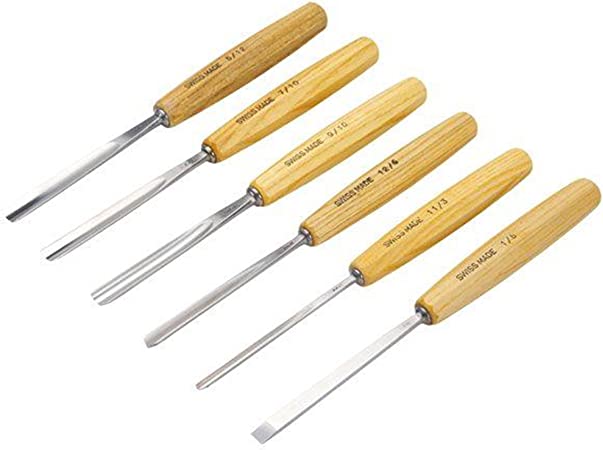 Features & Benefits
Firstly, the manufacturers of this set are a well-renowned Swiss carving company that produces top quality.
Also, the handle is a durable octagonal shape and contains a square tang for added comfort and control.
Lastly, the blades themselves are special alloy chrome vanadium steel.
Downsides
They come at a very high price point.
Customer Reviews
"They cost more, but you get what you pay for. Don't regret spending the extra money on these. They are razor sharp out of the box."
2. Pfeil "Swiss Made" Palm Set B
Features & Benefits
Firstly, these linoleum cutting tools are perfect for palm work due to their clever handle design.
Secondly, they are hand-sharpened to perfection by experienced Swiss manufacturers.
Thirdly, the half-round handles are comfortable and have an attractive, elegant design.
Downsides
You're paying for the brand, not just the quality.
Customer Reviews
"Worth the money spent; I should have bought those first."
Conclusion
This article discussed the best linoleum-cutting tools depending on your requirements. If you want to expand your linocut knowledge, please get in touch with us!