Using quality drill bits while cutting through steel is essential for productive and satisfactory work.
Many drill bits are available today, making it a daunting task to choose the correct one.
Whether you're a professional or DIY enthusiast, we can assist you in identifying the ideal drill bit for your project.
This article reviews some of the best steel-cutting drill bits and factors to consider before buying them.
Table of Contents
Top Three Best Steel Cutting Drill Bits Recommendations
COMOWARE Cobalt Drill Bit Set

BOSCH CO21B 21 Pc. Cobalt M42 Drill Bit Set
CO-Z Step Drill Bits
Factors to Consider When Choosing the Best Best Steel Cutting Drill Bits
Material
The choice of the material determines the drill bit's durability, endurance, and ability to maintain a sharp edge. Some of the materials used for drill construction include:
High-Speed Steel (HSS): HSS is an excellent choice due to its durability, ability to withstand high temperatures, and ability to maintain a sharper edge.
Cobalt: This material is more heat-resistant and durable than HSS but more expensive.
Carbide: Their extremely hard construction makes them resistant to wear and tear, maintaining the bit's sharpness. Useful for industrial or commercial drilling and applications that require enhanced precision.
Coating
Drill bit coatings help the bit perform better and last longer. Some of the coatings available include:
Titanium nitride: The coating has exceptional heat resistivity and durability, which help extend its lifespan and improve its cutting efficiency.
Titanium aluminum nitride: This coating offers excellent heat endurance and the ability to minimize friction, contributing to the bit's longevity and performance.
Black oxide: This is a protective layer on most steel drill bit surfaces to offer corrosion protection, ensuring proper functioning and longevity.
The shank of a drill bit refers to the section that the drill's chuck holds. When choosing a drill bit, consider the design depending on usage, precision level, and torque needed.
Hex pattern: The design features six flat surfaces giving a firm grip in the drill's chuck to avoid sliding. This is crucial when handling tough materials under high-torque conditions.
No-spin shank: It features grooves that grasp and hold the bit firmly in place, preventing it from spinning or rotating. This helps increase the drilling operation's control, precision, and durability.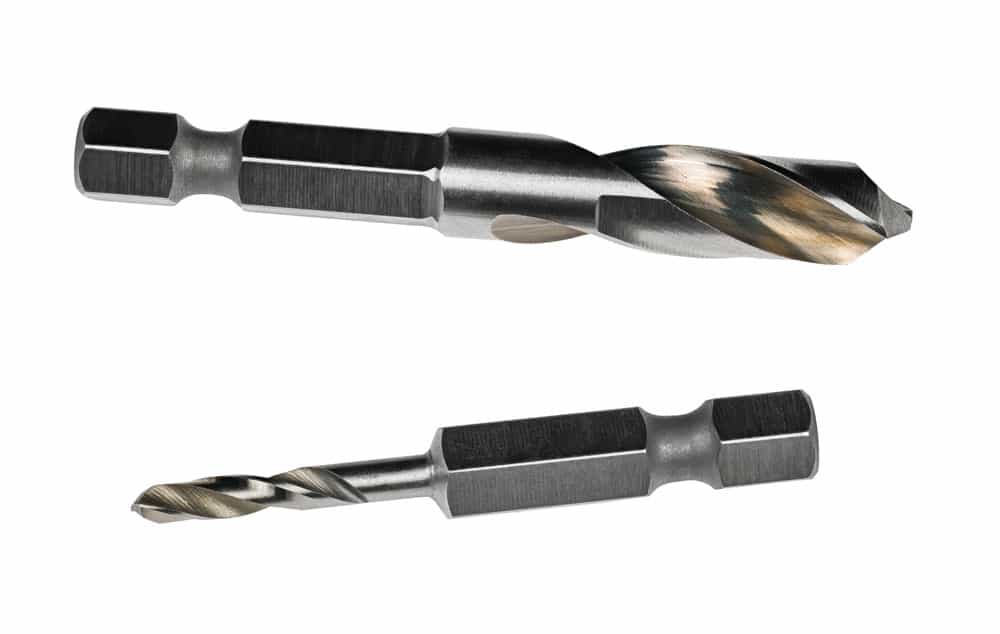 Hexagonal shank design
Number
The number helps identify the size of the bit, usually calibrated in inches or millimeters. For instance, a drill bit size of 3/16″ is bigger than 1/16″.
Various drill bit sizes
Best Steel Cutting Drill Bits
COMOWARE Cobalt Drill Bit Set

The product comprises 115 drill bits made from M35 cobalt HSS.
Pros
Suitable for hardened materials like cast Iron, steel, aluminum, and plastic
Resistant to high heat and abrasion
It comes in different sizes
Allows for a clean drilling
Cons
May lack enhanced grip, causing snapping
The casing may break easily
Customer review
These are excellent and durable drill bits that cut steel fast and precisely. They also withstand heat and abrasion.
BOSCH CO21B 21 Pc. Cobalt M42 Drill Bit Set
The enhanced Bosch Cobalt M42 bits incorporate 8% cobalt alloy to boost longevity and high-temperature resistance. This makes them ideal for steel, iron, titanium, and aluminum use.
Pros
Thick web-helix design for stability
Suitable for tough applications
Penetrates tough, abrasive materials easily
Removes drilling waste faster
No skate tips to ensure accuracy
Cons
Lacks size calibrations
Not suitable for thick metal
Customer review
Bosch is a reputable brand, and their drill sets were quality and worked perfectly on my steel projects.
CO-Z Step Drill Bits
Consider the CO-Z Step Drill Bits if you seek a sturdy, sharp, and adaptable drill bit. With cobalt HSS construction and titanium coating, these bits can stay shiny and sharp for years.
Pros
Compatible with a variety of chuck sizes
Can drill different size hole
Can work on a variety of surfaces
Provides smooth and fast drilling
Extremely durable
It comes in a casing for easy transportation and storage
Cons
It may not be suitable for highly thick metal
It may not work perfectly on commercial projects
Customer review
I used this quality tool to make holes in my trailer to fit some lights, which worked perfectly.
Metric M42 Cobalt Twist Drill Bits
For individuals wishing to cut into hard steel and alloys, the Metric M42 Drill Bits Set is a quality option. Their construction features an M42 8% cobalt steel with a Rockwell hardness of 68-70, making them incredibly powerful.
Pros
Allows for faster drilling
Extremely durable
It comes in different sizes
Perfect for professionals and DIY enthusiasts
Maintains sharpness for long
Cons
It's expensive
They are prone to chipping
Customer review
I bought this drill bit set and am amazed by its quality, durability, and flexibility.
COMOWARE Step Drill Bit Set
The COMOWARE Step Drill Bit Set is an excellent option for durable, precise drill bits. The set construction features high-speed steel with a titanium coating to increase its sharpness and endurance.
Pros
Lowers friction that generates heat
It comes as a set of 5 bits for drilling holes of varying diameters, 
A versatile option for various projects. 
Resistant to wear
Ensures easier particle removal for a clean drilling operation
Cons
It may not be suitable for drilling thick steel
It may have a low drilling speed
Customer review
I highly recommend these drill bits to everyone searching for reliable and quality ones.
Conclusion
Consider the carefully selected list above when purchasing the best steel-cutting drill bits for your project.