To be more skilled and professional with your tile cutting, it's critical to use the correct tools for the job.
While it can be tricky to know what to use, you'll be good to go with a little bit of advice from the experts.
This article will go over the eight best tools for cutting tiles.
Table of Contents
1. Best Wet Tile Saw
Features & Benefits
Firstly, it is great for large-scale projects as it supports tiles up to 12 square inches.
Also, an adjustable rip fence includes a miter gauge. It makes it easy to make accurate cuts.
Finally, the saw has a blade cooling water reservoir that prevents the blade from overheating while reducing dust and debris.
Disadvantages
The blade is not very durable and will wear out quickly. It's easy to find replacements, so this shouldn't be too much of a problem.
Customer Reviews
"Again, just perfect for those DIY projects. Sure, it's not a heavy-duty tool, nonetheless perfect for small jobs."
2. Best Tile Scribe
Features & Benefits
Firstly, the saw has a powerful, 4-amp copper motor that can drive a cutting speed of 4500 rpm.
Secondly, it has a laser guide that helps you maintain a straight line and a parallel guide attachment that provides extra stability.
The handle is soft and rubbery, reducing hand soreness and fatigue.
Disadvantages
The product is not a durable, heavy-duty saw. It's quite flimsy and won't cut through hard materials. For tiles, though, it works well.
Customer Reviews
"The mini circular saw is really good. It works well with ceramic tiles and small wood projects. And the price is great."
3. Best Manual Tile Cutter
Features & Benefits
Firstly, the replaceable cutting wheel is ⅞-inch titanium plated tungsten carbide.
Also, the frame is strong, heavy-duty, and consists of non-flex materials. It means you shouldn't have problems bending, even under extreme pressure.
Thirdly, it has ergonomically curved handles with non-slip plastic grips that increase comfort and reduce fatigue.
Disadvantages
The cutting wheels can wear out fairly quickly, and it can be hard to find replacements.
Customer Reviews
"I used 12 X 24-inch tiles with no issue. Blade scored perfectly. Watched the video, and I have perfect cuts."
4. Best Tile Nipper
Features & Benefits
Firstly, the nippers consist of heavy-duty carbon steel. The nippers undergo heat treatment, sandblasting, and polishing during production to ensure maximum durability.
Also, these nippers feature an innovative safety lock system that will help you avoid accidental injury when you're not using them.
Finally, they are very comfortable and highly ergonomic, with a soft grip, non-slip handles,  and a high-leverage design to reduce muscle strain.
Disadvantages
The blades don't meet when squeezed together, so a minimum tile thickness of 1.5mm is required to use the tool successfully.
Customer Reviews
"Very good heft and easy to use. Shipped promptly, exactly as described, and at a good value. Highly recommended."
5. Best Angle Tile Grinder
Features & Benefits
Firstly, this angle grinder is very powerful, with a 7.5amp motor that can output 900 watts of power and 11,000 rpm.
Secondly, it's slim, lightweight, and compact, making it easy to use all day. Plus, it has a soft ergonomic handle to reduce fatigue.
Lastly, several safety features include a protective cover that prevents flying sparks and a safety guard.
Disadvantages
The material you're cutting, and the grinder blade can both get very hot, which poses a risk of burns.
Customer Reviews
"Really, there is nothing I disliked about it. It's a light to a medium grinder that works great."
6. Best Glass Tile Cutter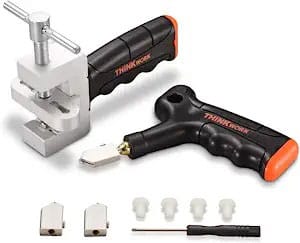 Features & Benefits
Firstly, it uses the latest and greatest pistol design, making cutting more ergonomic, simple, and efficient.
Additionally, the high-hardness alloy steel blades are strong and durable, so you won't have to worry about them breaking or wearing out.
Thirdly, the manufacturer offers a guaranteed satisfactory and reliable customer service experience.
Disadvantages
It only works with small and medium-sized tiles.
Customer Reviews
"The glass I cut was tile glass, so you must score both sides. Some came out great, some not so great but did the job."
7. Best Electric Tile Cutter
Features & Benefits
Firstly, it has many features that improve cutting accuracy, including a cutline indicator, sturdy frame, and stainless steel rollers.
Secondly, the entire machine only weighs 91 lbs, so it's highly portable.
Finally, a large, fully-contained water tray system keeps the work area clean and dry.
Disadvantages
The electronics are not very good, so the motor can easily fail.
Customer Reviews
"This tile saw is accurate and powerful. It takes a little more effort to disassemble and assemble it."
8. Best Rotary Tool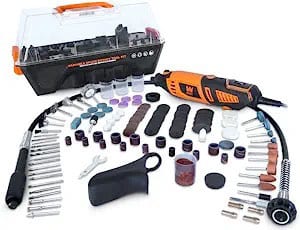 Features & Benefits
Firstly, the removable steady-grip handles are both comfortable for the user and help you make more precise cuts.
Secondly, a 1.3-amp, variable-speed motor powers the tool. It can generate between 8,000 and 35,000 rpm.
Lastly, it comes with a large range of bits in many different sizes.
Disadvantages
The tool can break if you overpower it, so you have to use it carefully.
Customer Reviews
"Strong motor, not heavy, and adapts to most situations. Attachments always come in handy and are useful for so many situations. Worth every penny."
Conclusion
This article discussed eight of the best tools for cutting tiles. If you're interested in taking your tile-cutting knowledge to the next level, contact us today!