Whether you're just starting with lino cutting or are a seasoned professional, you must find the right tool for the job. It can be challenging, but there are a few go-to products that will suit your level of experience. This article will go through the pros and cons of the best tools for lino cutting.
Essdee linocut tools and handle set
HEAVY DUTY BLADES - Ideal for linoleum carving, speedy cutting, and other hard and soft substrates.
PREMIUM MATERIAL - Precision ground lino cutter set manufactured from high carbon steel.
ABig linocut tools and handle set
Beech wood handle with unique blade remover
Nickel plated nibs
Made of strong 0.6mm steel
Packaged in a plastic box with separate compartments
Beginners lino tools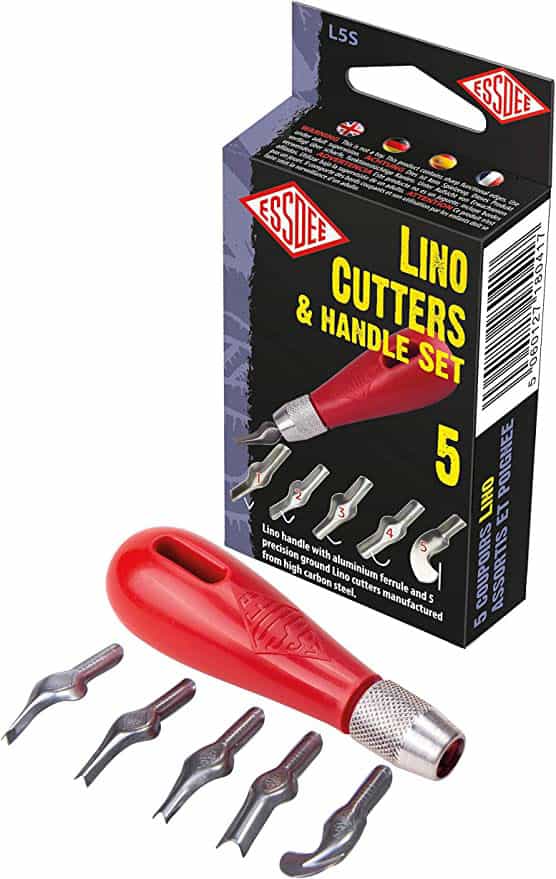 Features & Benefits
Firstly, the set of tools consists of five heavy-duty blades that make cutting highly efficient.
Also, the UK-based manufacturers use only high-quality, durable materials.
Finally, the lino cutter is simple to use, even for children. It's easy to change the heads, too.
Disadvantages
You may find the blades aren't sharp enough to do fine detailing.
Customer Reviews
"Such a good buy; I'm glad I made this purchase. Nice and small, it's perfect. Works very well."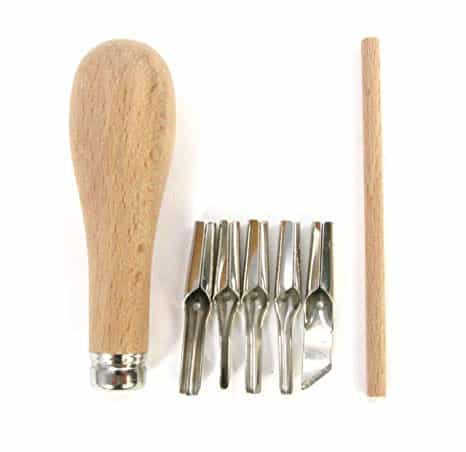 Features & Benefits
Firstly, each cutting tool is strong, 0.6mm thick steel.
Additionally, the wooden handle is a unique, ergonomic shape that will be comfortable in your hand.
Third, they produce a smooth, precise cut that looks clean and professional.
Disadvantages
It could be challenging to work accurately using the small tool if you have big hands. 
Customer Reviews
"They are well made and, with practice, a perfect tool for creating designs on pumpkins or wood."
Features & Benefits
Firstly, they're a perfect mid-point between palm-handled and full-size alternatives. The handles are highly ergonomic.
Secondly, the set includes seven pieces with their own attached handle.
Lastly, the blades cut very effectively and are sharp enough to cut through wood.
Disadvantages
While they start very sharp, they can wear out quickly and become blunt with overuse.
Customer Reviews
"This fits the bill and is delivered. I am very happy with how they fit in my hands and how well they cut. So far, so good."
Features & Benefits
Firstly, the durable wood carving blades are high-carbon steel, making them unmatchable.
Furthermore, the chocolate walnut handles are very stylish.
Finally, you will receive the tool in a beautiful roll-up case so you can take it everywhere.
Disadvantages
There have been consistent reports of the handles or blades snapping. It could be a problem if you haven't mastered the proper technique.
Customer Reviews
"Excellent selection of knives and hooks, and the leather pouch is great, is very well made! An excellent kit for beginners or seasoned carvers."
Features & Benefits
Firstly, it comes with five sharp, robust types of chisel heads. They're each sharpened and honed before being shipped to the customer.
Additionally, they come in a practical and stylish box for easy storage.
Thirdly, the well-thought-out design means the handles are highly ergonomic and comfortable.
Disadvantages
The metal blades are fairly low quality and can snap or chip quite easily.
Customer Reviews
"They're much better than I expected: well-forged, shaped, and sharpened blades."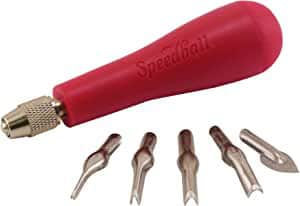 Features & Benefits
First, every part of the lino cutter is completely free of acid and toxins.
Secondly, some blades are in varying shapes and sizes so you can use the tool for different purposes.
Furthermore, it comes perfectly sharpened, and the handle is highly comfortable.
Disadvantages
Inserting the blades in the handle can be tricky, making it dangerous.
Customer Reviews
"Has a good selection of blades/cutting edges stored conveniently inside the handle."
Features & Benefits
Firstly, the kit includes two pieces of beginner SoftCut lino to help you practice before using it on a real project.
Additionally, it comes with 100ml of water-based block printing ink, as well as a roller.
Furthermore, all the materials in the toolset are high-quality and durable.
Disadvantages
While it is technically a beginner's lino cutting set, those without experience will still find it quite difficult.
Customer Reviews
"This set has everything you need to have a go at lino printing: a fine cutting blade, a broader cutting blade, two lino samples, ink, and a roller."
Intermediate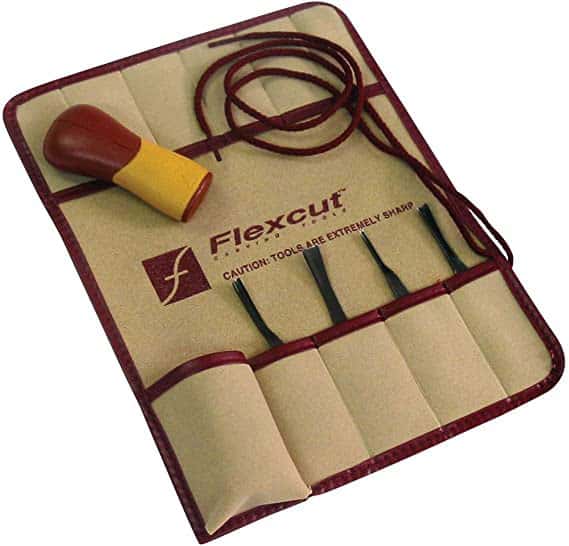 Features & Benefits
Firstly, the set includes four interchangeable gouges and four blades – handle, manual, tool roll, and compound.
Also, it includes a tool roll with designated pouches for easy and compact storage.
Lastly, this set perfectly combines affordability and a high-quality product.
Disadvantages
The handle is cheaply constructed and doesn't fit the blades very well.
Customer Reviews
"These are magnificent and sharp. Offers a variety of sizes that'll get you through any printmaking course."
Features & Benefits
Firstly, unlike many other lino-cutting tools, Narex has made them out of chrome-vanadium tool steel with heat treatment.
Also, the handles have a flat back to prevent them from rolling off your table or workbench.
Thirdly, they're sharp and highly accurate, making them perfect for intricate details.
Disadvantages
The handles sometimes come loose, and some buyers reported blunt blades.
Customer Reviews
"Cracking little tools – mega sharp and suitable for the more intricate pieces! Highly recommend them!"
Features & Benefits
This set is a large, all-inclusive lino-cutting toolkit with 10 different cutters and a handle.
Secondly, it's extremely high quality and consists of durable materials that will last a long time.
Finally, each of the 10 lino cutters has its special purpose, so whatever it is you're doing, you'll find the right tool for the job.
Disadvantages
The shape of the cutters can vary from order to order, as manufacturing is not very consistent.
Customer Reviews
"It's practical and easy to use. Price/quality more than enough".
Professional linocut tools
Features & Benefits
Firstly, the set of cutting tools consists of beautiful, swiss-made pieces designed for professionals.
Next, the sharp, durable blades cut through almost anything and are hand-sharpened before delivery.
Third, the comfortable, ergonomic handle will mean your wrists aren't sore after hours of lino cutting.
Disadvantages
The set is very expensive.
Customer Reviews
"These hold an edge. The Swiss know how to make a grade-A woodworking tool."
Features & Benefits
Firstly, the cutting tools are each made in Japan using traditional methods and include beautiful Japanese prints on the handles.
Additionally, high-quality special full-surface double-layer steel makes up the blades.
Thirdly, the handles leave the palms of your hands comfortable and free of injury.
Disadvantages
They're impractical for larger projects as the chisel heads are very small.
Customer Reviews
"I think it's amazing how good they looked. The think it's even more amazing how well they cut and worked. I would recommend them to anyone."
Conclusion
This article went through a comprehensive list of the best lino-cutting tools. If you want to develop your lino-cutting knowledge further, please get in contact today!