It is a dilemma to purchase a saw and realize that it differs from the correct size for your work. Therefore, you need accurate information on your project's best circular saw blade size.
Choosing a blade size requires knowledge of other features too. You will find this extra knowledge beneficial in helping you make the right choice. 
Table of Contents
Circular Saw Basics
(man sawing a board with a circular saw)
This section covers important information about the different circular saw blade types, sizes, power supply, and ratings for each blade.
Circular Saw Blade Size: Circular Saw Blade
A circular saw is a tool for cutting plastic, metal, wood, and masonry. The blades of a circular saw have teeth-like edges, making them suitable for cutting through many materials.
A good circular saw will have a strong motor guaranteeing high speed when cutting through materials. 
They are also durable and last long. Considering the drive type, power rating, and more characteristics of the circular blade you want to buy before purchasing would be best.
Circular Saw Blade Size: Drive Type
There are two drive types for circular saw blades: Side-winder and Worm-drive.
SideWinder
The Sidewinder is the most popular circular saw blade for people who do their woodwork themselves. 
This preference is because it is less expensive and lighter than the worm drive. Its lightness is due to the simple mechanism with which it was built. 
The Sidewinder's motor is mounted on the right side of the blade spindle. The Rotation per Minute is also higher when compared with the Sidewinder.
Worm drive
(worm-drive circular saw)
Worm drive units have the motor fitted to a small worm gear unit hence the name; this allows the installation position of the motor should in line with the blade.
The worm drive's build mechanism is more complex than the Sidewinder; hence, it is heavier. 
Worm drive generates greater torque for cutting through hard materials, making them more suitable for heavy-duty projects.
Circular Saw Blade Size: Power supply
Power sources for circular saws come in cordless and corded designs. These designs are available in different sizes. 
Many hobbyists prefer cordless designs. However, both have perks and should be carefully considered before making a choice.
(cordless circular saw)
The cordless circular saw depends heavily on batteries to function. They make use of Lithium-Ion battery pack technology. 
Their portability makes them preferred to corded circular saws. The extra pack of batteries and technologies it comes with makes it more expensive to purchase and maintain.
Below are some pros and cons of using corded circular saws:
Pros
Portable
They require no cables, cords, or power outlets
Mobile
Cons
(man holding a corded circular saw)
Corded circular saws depend on a fixed power outlet. They come with fewer technologies and are less expensive and easier to maintain.
Pros
The power supply is constant
The blade options are larger
Cheaper
They are suitable for working on different kinds of materials
They are lighter in weight
Cons
Less mobile
Dangerous if not placed properly
Bulkier
Power Rating
Power ratings vary for both corded and cordless circular saws.
Corded Circular Saws Power Ratings
The best and most used corded circular saws have a rating of 15 amps, equivalent to 1800 Watts.
Cordless Circular Saws Power Ratings
The power rating for the cordless circular saw is the Amp-Hour and Volts. The amp-hour, or Ah, lets you know the battery's longevity. The volts indicate the amount of power available in the battery. 
Battery power ranges from 2.0 ah to 12.0Ah. The higher the battery voltage, the more they will last. 
So, it would be wiser to choose batteries in the range of 3.0Ah to 4.0Ah since they can sufficiently carry you through a job.
Safety
You should require several safety rules when making use of circular saws. Ignoring them could lead to fatal injuries. 
Circular saw blades usually come with instruction manuals that give users the correct information they need to use the blade safely.
Ensure to protect your ears, eyes, and hands by doing the following:
Put on safety glasses or goggles, or a face shield
Put on a dust mask or respirator.
Use hearing protection equipment.
You will find more safety instructions in the manuals.
The Best Circular Blade Size
Circular saws vary in size, and you must choose the right one that meets your needs. Without properly considering your options, you will undoubtedly end up with something less effective.
Circular saw blades range from 85mm to 355mm in diameter. Thin sheet materials like aluminum, plywood, and hardboard require a smaller-sized circular saw.
 In contrast, thick materials require blades with larger diameters of up to 355mm.
The most used and available circular saw sizes are 165mm and 190mm in diameter. 165mm blades will make cuts up to 61.0mm deep,  whereas the 190mm cuts as deep as 70.0mm.
The Ideal Thickness of Circular Blade
(cutting granite slab with a circular saw)
What Determines Kerf?
Kerf refers to the blade thickness of your saw, measured in thousandths of an inch. Thick blades measure up to 0.172, whereas thin blades range from 0.091 to 0.059 inches.
Blades with thick kerf require more work to rotate and produce more waste. Thinner kerf blades require less work to rotate; hence, they quickly cut through your material. 
They are mostly the preferred choice among hobbyists.
What Blade Thickness Do I Need?
Your choice of blade thickness depends on the work you want to do. We already know smaller diameters are suitable for thinner materials and higher diameters for thicker ones. 
So, you decide which of the diameters earlier addressed is your best first.
Opting for large-sized circular saw sizes may be optional when dealing with thin materials. The diameter of a large blade will leave a cut that may be bigger than the desired result.
It would be best to opt for a blade with either 165mm or 195mm kerf for thicker materials. These two blade sizes as they offer more cutting depths
Conclusion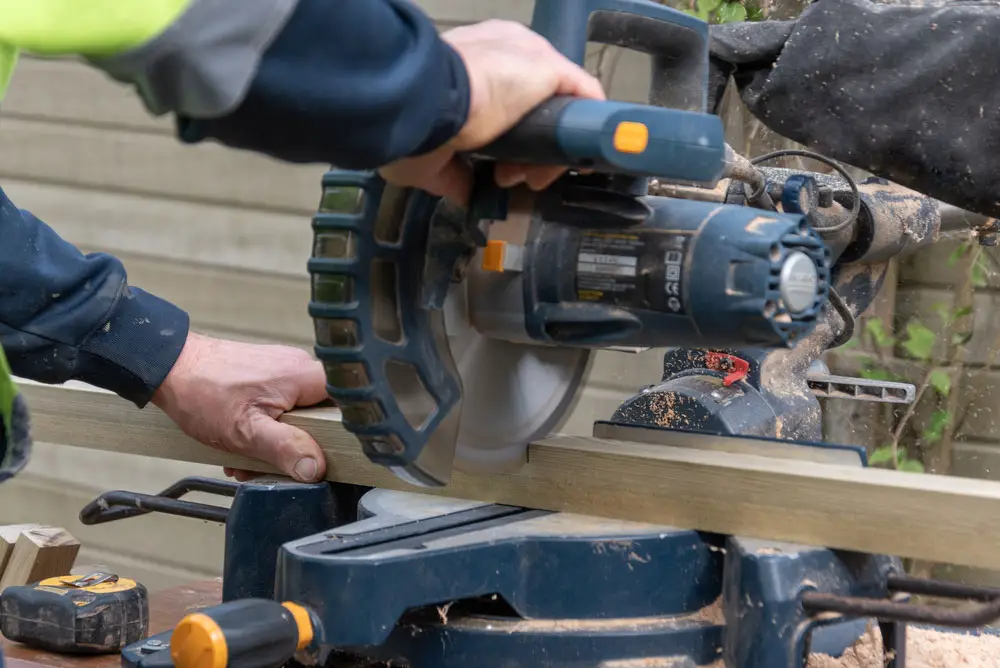 (carpenter using a cordless circular saw)
Having gone through this read, you should have no more questions about what circular saw blade size best fits your project. 
Remember to consider other aspects when choosing your blade. The blade type, power source, and power rating are all essential features to consider.
DIYers who want to work on simple projects can settle for a side-winder. A corded worm drive circular saw would suffice for more professional and heavy work.