The types of substances/materials diamond blades cut through are too many to start listing them singly. Aside from being expensive, diamonds are the hardest mineral known. The addition of diamonds is why diamond saw blade differ from metal blades.
However, only a few participants in the diamond saw blades industry know that diamond doesn't cut, they grind. As a newcomer or enthusiast, it's essential you know this. Going through this article, you're sure to understand diamond saw blades deployment, marketing, opportunities, challenges, and all others in full.
Table of Contents
Section1: Current State Of The Diamond Saw Blades Industry
Currently, several industries use diamond saw blades to cut and resize hard and stiff materials. These diamond saw blades are metal blades with diamond (synthetic diamond) bonding. However, depending on its uses, diamond saw blades have different grit sizes.
Recently, diamond saw blade tools have expanded in their application. Not only people in the stone quarrying industry are making use of it, but it has also been following new trends.
The market for diamond saw blades in some areas of the world; Asia Pacific, North America, Latin America, Europe, and the Middle East & Africa.
The critical region for these tools is the Asia Pacific. The cause of this development is the rise of the semiconductors industry. The expansion in the building and construction industry in the Asia Pacific region also contributed to it being a critical region for the diamond saw blades tool.
Europe and North America are also closely following the Asian region. It is a top part for the use and marketing of diamond saw blades due to Europe being the location for the largest stone quarries of granite, marble, and slate, while North America is also enjoying a rise in their building and construction industry which directly influences their demand for diamond saw blades.
Also, based on the consumer industry, diamond saw blades are currently categorized into building & construction, electronics & semiconductors, mining & stone quarrying, gems & jewelry, and more.
Section 2: The use of diamond saw blades – you should know
'Efficiency starts with the right tools.'
We need to understand that selecting diamond saw blades for specific use must follow certain factors such as concentration, bond type, the diameter of blade both in and out, the thickness of material to be cut, diamond type and more.
Failure to follow these factors, the material worked on might be roughly or not correctly done, or the diamond saw blade could also get spoilt. Currently, the different diamond saw blades found in the market are circular, gang, band saw blades. The circular saw blades can further be split into the segmented, continuous rim, turbo, and slotted, each with a different bond types, geometry, and uses.
For example, the continuous rim saw blades are mostly applied to cut/grind brittle and soft materials that are vulnerable to chipping. These include granite, glass, porcelain tiles, vitrified tiles, and ceramics.
Having accurate and sufficient knowledge about the material to be worked on can be of immense benefit to the diamond saw blade operator and distributors. Distributors must know the type of material to cut and understand if rebar could be present.
Diamond saw blades use include both metallic and nonmetallic machining. Buildings and buildings, semiconductors, and aerospace will use them.
We'll be looking at its importance in the next section.
Section 3:Diamond saw blade is crucial in applications
Currently, in some industry, diamond saw blades are indispensable to their operations. So there is no loss as a participant of the industry. No other tools have been invented to substitute the uses of diamond saw blades.
As a small distributor, having issues on increasing leads on your sales, it is because you're not exposing consumers to enough significance of diamond saw blades. Diamonds are the hardest known materials. Abrasives, diamond saw blades, drilled and ground hard materials will use it.
Diamond saw blades are also used to produce high precision and accuracy cutting. Imagine a situation where diamond saw blades are not available; These levels of accuracy and accuracy are not achievable. Anyone underrating the diamond saw blades industry is not getting it right and needs to look to it's not ending list of importance before jumping into conclusion.
Section 4: Diamond Saw Blades Purchase
Since there are a variety of diamond saw blades, selecting the right diamond saw blade for a specific job sometimes seems like a difficult task. The consequence for not using the correct diamond saw blades can range from a rough job to ruined blades. For the user, making the right selection when purchasing a diamond saw blade is crucial to having a satisfying career, and for the small distributors, it is a means to build their feedback.
When buying a diamond saw blade, you should remember that each diamond saw blade is made for a specific purpose. For example; there is a diamond saw blade for cutting tiles, and you shouldn't buy the one for cutting marbles. Ensure the blade aligns with the job to have a cleanly done duty at the end.
 The best quality diamond saw blades at affordable rates can be found at https://www.nccuttingtools.com/ . You can find all the sizes and shapes of diamond saw blades with us. We also ensure that our blades are perfect for your professional task and provided a manual for an easy DIY job.
With 21 years of professional services, we know just what you need for the right price.
Section 5: Social debate on diamond blades
As a consumer, while choosing a diamond saw blade, a little knowledge and research will not hurt you. As a small distributor, you should be able to give professional advice to your clients. Here are the thoughts of professionals about diamond saw blades;
They may not last forever, but diamond blades have one significant advantage over their competition. They don't wear as fast in diameter as some other abrasive, as a cutting blade, they last longer – Darrel Adamson, owner of Engrave-A-Crete in Mansfield, Missouri.
When you decide to use these diamond saw blades, It's also important to realize that they don't cut. They grind the material through friction surrounding the diamonds and matrix – Bruce Coleman, a product manager with Multiquip in Carson, California.
When using these tools, you must know that there are several different concrete conditions to consider when choosing the best blade. On top of the list is to know if the job can be green or cured concrete – Bryan Jones, a product manager with Husqvarna in Olathe, Kansas.
Horsepower is a big issue in blade selection. "You also need to know how deep you're going to be cutting and how fast your saw is turning. There's a certain rpm (revolutions-per-minute) limit to every sized blade. – Glynn of the US saw.
Diamond saw blade sellers are looking for sales, what are you looking for, I think they will know very well.
"Many of them will send you a blade to test out to see if you like it. Get to know your sales reps and talk to them. – Lobdell.
Due to diamond saw blades are important to whatever material you're processing, So the best research decision and more research, so don't be too lazy to do this. Fortunately, we at https://www.nccuttingtools.com/ is more than ready to provide you with such information, and as a small distributor also, you shouldn't be reluctant to do this for your clients.
Section 6: The Potentials Of Diamond Blades And Maximizing Them
The core of a particular industry is a tool that is rarely available. One of such device is a diamond saw blade. They are essential to keeping operations in these industries running, and a massive move in assuring their productivity is understanding its potential and getting the most out of it.
As a consumer, understanding these potentials will save you money and time, and as a small distributor, it will make you a cut above the rest.
Maximizing these potentials depends on manufacturers' understanding and ability to communicate diamond saw blades' initial application conditions, blade performances, operation conditions difference, and consumers' knowledge and expertise to interpret those messages.
By the above-described embodiments may be implemented to develop a diamond saw or hide its use.
Manufacturers rarely produce products that satisfy the level of performance desired by end users. This is why manufacturers need to help consumers with the provision of significant recommendations that will help consumers change the operating conditions of these blades so they can customize them to their needs without violating or abusing their use which can be consequential.
For example, if by wrong interpretation or without assistance from the diamond saw blade manufacturer, a consumer decided to customize continuous rim diamond saw blades to cut a sturdy material, slow cutting occurs, and the hard plastic destroys the bond between the metal and diamonds.
We provide our customers with customizable diamond saw blades that fit their specifications. Our commitment and quality materials provide diamond saw blades whose potential is second to none.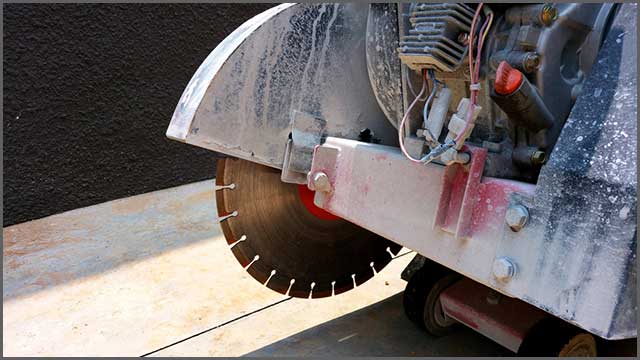 Summary
The market for diamond saw blades keeps getting bigger and bigger every day as also its importance, which makes every party involved in the industry a winner already. Some blades are trusted to cut materials of any density effectively.
This is why we're concerned with you getting the most from your blades, and if you are getting in, we are made for you also.
We help you avoid the most significant problem faced by most end users, which is using the right diamond saw blades for the right tasks, and if you've been reading this article, this shouldn't be your worry again.
For quality diamond saw blades and a users guide, be free to contact us on https://www.nccuttingtools.com/