Do you work on woods? Do you use the miter saw on any task? If yes, then you must know about the miter saw blade.
Honestly, it's a difficult task to choose the right miter saw blade for your project when you have so many options because there are various factors to put into consideration when selecting the miter saw blades that even a professional get into confusion.
This article will give you an ultimate guide that will make you pick the right miter saw blades for whatever project you've. But first, you need to understand its uses.
Table of Contents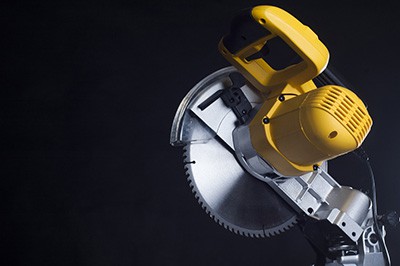 Section 1: Uses and Advantages of the Miter Saw Blades
Uses Of Miter Saw Blades
The miter saw is a saw that makes precise crosscuts. The miter saw blades are put to use to ensure these cuts are precise and net. Miter saw blades allows you to make excellent miter cut and trim your woods. It's efficient for working on both softwood and hardwood, various timbers or plywood, giving all a superb cut.
When the miter saw blade is in use, Adjust pressure with high precision, against pressure to minimize the sharp edge vibration. Is useful when working on the hardwood.
When you're doing your woodwork project, you're to cut with precision and accuracy. With all the work done. Different blades for a different project, I'll be giving you some of the top rated products to use;
●Dewalt Compound Miter Saw blade: Its main component is made of tungsten carbide, which allows it to provide the woodworker with a smooth and fast cut. Using a miter saw, it is ideal for cutting plywood, chipboard, softwood, and hardwood.
●Freud Miter Saw Blade: This has a general woodcutting purpose but ideal for crosscuts in soft and hardwood. It has high precision and accuracy when cutting through plywood and chipboard that is less than 1 inch thick.
●Makita Miter Saw Blade: This is one of the most economical. You can cut soft aluminum and some metals with it, but not continuously. It can cut plywood, softwood, and hardwood smoothly.
Understanding miter saw blades use one thing; knowing what factors to consider when buying is also another thing.
https://en.m.wikipedia.org/wiki/Miter_saw(The miter saw is from Wikipedia)
Section 2: What To Look At When Purchasing Miter Saw Blades
Since there are various types of miter saw blade, selecting the right one could be difficult. Below is the information you need to purchase the right.
●Type Of Saws: When deciding what miter saw blade to buy. You need to add the saw you need to use.consideration. You could have a table saw, a circular saw, a miter saw, and so on. Often, some blades can work with more than one saw, but it's not always so. You can use the play type, and we can find on the edge or user manual. So when purchasing a miter saw blade, you should be sure to use it with a miter saws so as avoid inaccurate cuts and potential hazard. After settling for a specific saw, you have to figure out the actual size of blade you should use. An 8.5 inches miter saw blade would not fit into a slot that suits for 10 inches.
●Type Of Miter Saw Blade: There are three popular categories of miter saw blades. They could be carbide-tipped blades, steel blades, or high-speed steel blades. All are carrying out different purpose when put to proper use. The carbide-tipped is for delicate woodworking tasks. The steel blade is the best for cutting softwood, but it's not so easy when cutting hardwood. The high-speed steel blade, stronger than the steel blade, is your best option when working on a broader range of cutting tasks. The type to use depends on your job and the kind of saw you're using
●Type Of Cuts: The type of cut you're looking to make should also be a factor when selecting a miter saw blade. The reductions could be subtle or course. Although there are blades that could do both, it's best when you choose a specialized one. When making crosscuts on chipboards, plywood, it is best to use an excellent cut specialized blade. When making rip cuts on materials like softwood, plywood, hardwoods, it's best to use a coarse cut specialized blade
●Blade Teeth: Another essential factor to consider when purchasing a miter saw blade is the teeth. After settling on the type of material and cut you want to make, it is essential to select the right miter saw blade with the correct tooth type base on the content and cut. The number of teeth varies according to the wound. When making a rip cut on natural woods, a 24 tooth miter saw blade is the best. With a lesser teeth number, there is a more substantial area between the tooth; this area contributes to the blade movement when cutting through more significant woods. When making a crosscut, a 60 tooth miter saw blade is the ideal miter saw blade to buy.
If you want to make most out of the miter saw blade, you're looking to buy. We must consider these factors.
Section 3: Maintenance of Home Depot Saw Blades
Regular usage of your miter saw allows materials such as sap and resin to accumulate on them. These materials make the miter saw blade less efficient during cutting. If it's not maintained correctly, you're running the risk of replacing the miter saw blade without getting value for your money. Here is a list of things you should consider doing to keep your miter saw blades in the best condition.
Blade Cleaning: Regular cleaning of your miter saw blade does not allow sap and resin to accumulate on the surface and thereby reducing its effectiveness when cutting. Get a reliable cleaning solution, spray it on both sides of the blade and allow it to settle for some minutes before wiping them off with cotton or silk.
Blade Lubrication: After cleaning the miter saw blade with the cleaning solution, the lubricant on it might have worn off. Prevent edge rust we must replace, and also helps the miter saw blade to make cleaner cuts on wood. So after cleaning, lubrication is essential.
Proper maintenance of the miter saw blade can prolong its lifespan and also keep it in an excellent working condition. Allows you to achieve your dream wood project.
Section 4: How Should We See The Miter Saw?
I'm a Trim Carpenter now for 24 years, and I have used a lot of in this time. And though I have used better than this one, I have not used a better at this price. If I want to spend over $100 on a blade, I can get better but for the buck; this is the best blade I have found. Cheap enough to use everyday on all types of wood, from ultra hardwood to softwood, you will not find a better . I love this blade and will buy more when I need to. – Crownman on the Makita miter saws blade.
These are excellent blades for contractors, DIYers, or someone in between. They are not as good as the shop blades used by woodworkers, but only because the teeth don't have as much carbide so they can't undergo sharpening as many times.
They cut nicely, and the combo offers the ability to use the right blade for the task. – ZD on Dewalt miter saw blade.
The heavier/thicker plate material of these blades doesn't deflect like most miter blades do, offering better, more accurate cuts.
The only downside is the full kerf will take a little more oomph for your saw's motor to cut through the hardwoods, so be aware of that. The tradeoff is worth it though. – Stinkysquishy on Freud miter saw blade.
I'm yet to be in disappointment with any Freud circular saw blades. I use them on my Ridgid 10″ table saw, 10″ Delta miter saw and on my Ridgid 12″ sliding miter saw. This particular blade was for my sliding miter saws, and it has dramatically reduced the problem of rough cuts on hardwood veneer plywoods. I also use Freud combination and heavy-duty rip cut blades. Their heavy-duty rip cut blade gets my "best in class" award. The edges are noticeably quieter than others I've used. – All Smith on Freud miter saw blades.
Are There Alternative Saw Blades For Miter Saw Blades?
Miter saw blade is not the only home depot saw blades that is available to work on woods or nonwood materials, but it's of immense usefulness. We will use other saws, but none provides the versatility miter saw module offers. The miter saws blade is of different sizes, tooth number, tooth geometry, tooth kerf, tooth angle, tooth design.
Summary:
A good quality miter saws blade might do a lot of good to the project you're trying to achieve. It makes an effective and fast cut on any material you're working on, and the cut surface looks smooth. A right blade also slides through materials smoothly, thereby saving your miter saws motor from damage.
Safety is a big deal, so when working with the miter saws blade, it should happen under a safe working environment. This article will guide you in picking the right miter saws blade for your project, and if there is anything you're unsure of, be free to contact us through https://www.nccuttingtools.com/.