Ring saw blade is an ideal cutting tool for hard surface materials. It makes use of an abrasive coating, unlike other saws that use "blade teeth" for cutting.
Therefore, as a user of cutting tools, why have ring blades and how to work have become the primary task of most people.
This information will not only aid you in selecting or producing the right ring blade but also ensures maximum use and proper maintenance.
In this writeup, we'll take our time in unraveling this information and teach you how to use them to your advantage.

Figure 1: Circular saw isolated on a white background.
Ring Saw Blades Come in Various Types
Although all ring saw blades have one thing in common and that is the materials for producing them. Yet they come in different types with variance in areas such as work specialization, features, mode of operation, manufacturing process, and more.
To have a clearer picture of this, let's quickly talk about the various types of ring saw blades.
●Abrasive Ring Blade
If you are looking for a saw blade that will improve your ring saw precision and make it highly effective, your best option is the abrasive blades. They are the best for precise cutting on any hard materials.
However, their downside is that they reveal lots of dust and also get very hot after long use. Therefore, it is not advisable if your job requires using a ring saw for a long period, or if dust could hurt your production process.

Figure 2: An abrasive disc for metal cutting
Other than this, an abrasive blade is one of the best ring saw blades you can ever lay your hands on.
●Wet Cutting Ring blade
Unlike abrasive ring blades, wet cutting blades are good for cutting hard materials, and you don't have to nurse the fear of dealing with much dust. Also, the usage of water in cooling the blade erases the fear of getting hot due to long usage.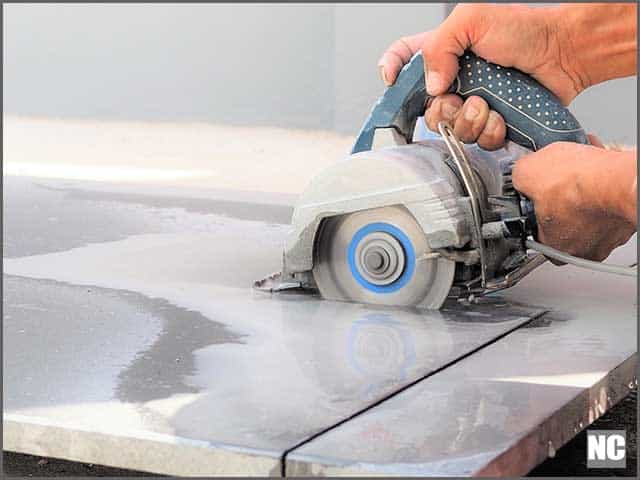 Figure 3: Close up worker use wet sawing machine for cutting marble stone
Consequently, it cuts quickly, nicer, and gives shapes to cuts than any other saw blades. It gives it an astounding reputation and makes it high in demand.
Nevertheless, it has its downsides. And that is the fact that it doesn't work for all ring saws. Thus, you must be extremely sure that your ring saw can use this type of blade before you opt for it.
●Laser-Welded Ring Saw Blades
Similar to its name, this ring saw blade undergoes welding using a laser to make it suitable for its work specialization. Furthermore, this ring blade is best for cutting hard materials such as diamond, concrete, bricks, to mention a few.
Also, you can use it to cut small openings, adjust doors or windows opening as well as pipe cutting in installation jobs.

Figure 4: Cutting disks with diamonds
●Diamond Ring Saw Blades
It is an all-round ring blade and the most perfect for every ring saw. On its side are diamonds in smaller size glued to it. It makes it very sharp, strong and allows it to cut through hard materials effortlessly.
Consequently, this makes every diamond ring saw highly durable, wear-resistant, and brings out the flexibility in your ring saw no matter how hard the materials you are cutting are.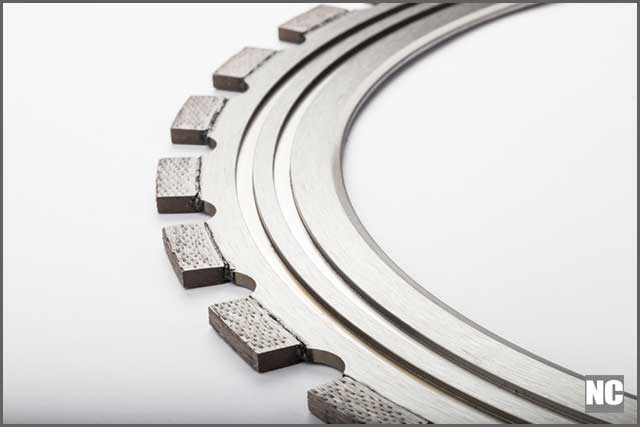 Figure 5: Diamond Blade Sawing
Working Mechanism of Ring Saw Blades
Ring saw blades are unique in this aspect. Unlike others that vibrate when in use, ring saw blades spin in a circle, thereby reducing the risk of chipping the material you are working on, and even produce more wear on the blade.
As you know, ring saws are handheld saws, which means you can use them in areas where bigger saws cannot reach. What's more? They are very versatile and have loads of benefits.
Regardless, you must entrust it into capable hands if you want to make maximum use of it and long-lasting.
Materials Used in Manufacturing Ring Saw Blades
Like we earlier said, the ideal materials for manufacturing ring blades are diamonds. Your blade must be extremely sharp and strong to cut through materials like gemstones, asphalt, stone, concrete, diamond, and so on.
Thus, the reason why most cutting tools manufacturers make it a common initiative to use diamond in manufacturing ring saw blades.
Proper Maintenance- The Key to Long-Lasting and Effective Ring Saw Blades
It is not only true to ring saw blades but to every machine. While buying the best ring blade for your ring saw is important, it may not have much impact on your business if you don't know how to manage it effectively.
Therefore, before you buy your blade, endeavor to know the rules guiding its maintenance and see if it's something you can adhere to. If it's not, it will be better to look for another blade, else it will, in most cases, be a loss of time, money, and energy.
To be on a safer side, you can carry your operators along and put their opinion regarding the selection into consideration when buying your blade.
Best Way to Buy Ring Saw Blade
Is there a sure way to get the best ring saw blade? It has been a common question regarding ring saw blades. Although we can't categorically say that there is a foolproof way to buy ring saw blades, that doesn't make it unachievable.
You can either buy it online or go to a physical store. However, everything cuts down to knowing what you want and channeling your energy to finding the right source for your ring saw blade.
●Know what you want
What are your objectives? Which blade is best suitable for your job scope? What is your budget? Providing answers to these questions will give you an upper hand, which, in turn, allows you to create a picture of what you want in your mind.
●Finding the right source
There are lots of self-acclaimed best manufacturers of cutting tools out there. But if you do not want to fall victim to substandard tools, you must ensure you are going for the best either as a result of excellent reviews from past buyers or recommendations from reliable sources.
According to research, one proven and leading company when it comes to buying grinding and cutting tools is NC Cutting Tools. With amazing reviews from past buyers as well as their matchless reputation, NC Cutting tools remain at the top on our chart list.
Buying from them will undoubtedly leave you with a great experience.
To Customize or Not
Honestly, customizing your ring saw blade has a lot of advantages and makes your work easier, faster, and better. However, it is imperative to know if customizing your blade is worth it or not.
For instance, if your work doesn't require frequent use of a ring saw or if you are still new into your business, customizing your ring blade may not be necessary.
But if you are into your business big time and usually use the machine for a long period, then customizing is not just necessary but compulsory. It will give you a competitive advantage over your competitors and bring out the best in you, your operators and business generally.
Frequently Asked Questions on Ring Saw Blade
Below are some of the questions you may likely have regarding ring saw blades. However, if you don't have the answer to your question here, feel free to contact us.
1.How deep can a ring saw cut?
A typical ring saw blade can cut as deep as 275mm. However, the depth largely depends on factors like the type of ring saw. Your ring saw blade, and the materials you are working on.
2.How do you change a blade on a ring saw?
Changing your ring saw blade is not something anyone can do, and explaining it in words may be quite tasking and confusing. But not to worry, the video below will certainly serve as a guide in changing your ring saw blade effectively.
Final Thought and Recap
The information above will surely enhance your knowledge of the ring saw blades. However, it doesn't just end at that if you want to achieve your desired result.
You also need to have the right tools at your disposal, and that can only achieve this if you have a seller that gives you more than value for your money.
NC Cutting tools are there to help you with getting anything related to grinding and cutting tools. Their product, over the years, speaks a lot about their reputation.