Would you like to have an amazing saw blade clipart on your website? If this seems like a great idea, but you don't know how to find it or create it. There is no need to worry because you've come to the right place!
In this article, we will show you everything you need to know to make clipart. You can use the guide to turn any illustration into clipart. Since we are focusing on saw blades, we will be telling you a bit about this tool as well. So, let's not waste any more time, and start immediately!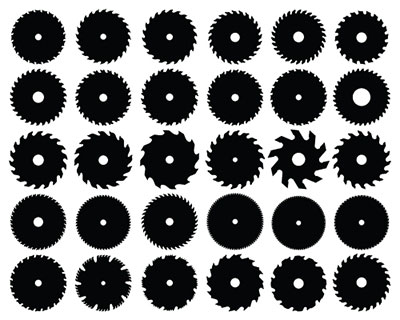 Section 1: First You Have to Understand What A Circular Saw
A saw blade is the integral component of any saw because it is in charge of the actual process of cutting. The type of the blade and the material used for its design depends on the saw you purchase, and the application you plan to cut.
Carbide and steel are the primary materials used in making the blade. Although carbide is a better option as it can remain sharper longer, it is also more expensive.
1.1 Saw Blade Element
Some of the crucial elements of the blade are:
• Teeth number – this can significantly affect the cutting action. A small number of teeth means you will cut off more material, but a high number of teeth means you can make a smoother and more precise cut.
• Teeth configuration – some common types include flat top (used for ripping), alternative top bevel (crosscutting), and combination (general purpose).
• Gullet – it is the gap between the blade's teeth. A full gullet will secure a larger chip of material cut.
1.2 Saw Blade Types
Now, let's take a look at the common types of saw blades:
• The band saw blade – the teeth are on a single side, and the blade is a long bland welded into a circle. Although it runs at slow speed, it can handle heat well and doesn't produce a lot of waste.
• Rip cut – you make this with a rip saw blade. It is mostly used in woodworking when you need to cut parallel to the workpiece's grain.
• Crosscut – you use this saw to cut at an (almost) right angle of the workpiece's grain.
• Plytooth – you will find these on circular saws, and it is often used for plywood as it minimizes splintering.
• Strobe saw blade – also used with circular saws; it can cut through uncured or green wood.
• Dado blade – it is another standard option for circular saws, and its great advantage is that it can make adjustable wide-grooved cuts.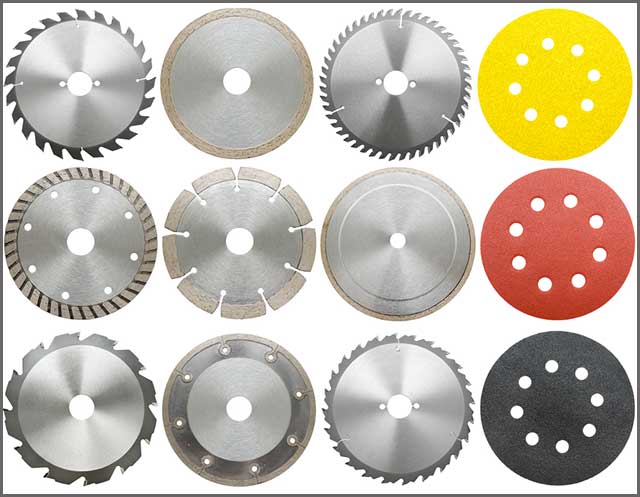 Section 2:How Is Saw Blade Clip Art Developed?
The clip is a graphical term that allows you to make pre-made illustrations of images in any medium. You can find it in both printed and digital media these days, but the main focus is on the electronic form.
2.1 Brief History
Although the printed clipart was present long before the 1980s, it was then when clipart became widely popular. That is when personal computers became accessible to people with an average budget. The first professional clipart library appeared in 1983. Some commercial uses use these illustrations, such as presentations.
It didn't take long for companies focusing on designing clipart to start working. We could see clipart on discs, floppies and other media, too. It had first introduced Adobe Illustrator in 1986. That gave people the freedom to modify this new art form and even participate in its creation.
During the 1990s, many companies decided to offer clipart online. You could choose the desired illustrations from thousands of them posted on the website, but they were mostly copyrighted.
Although clipart was a big part of Microsoft Office software, the company stopped including it in their products. That is because you can easily find the illustration you need online nowadays. A simple web search will guide you to many websites that specialize in clipart.
2.2 File Formats
When it comes to electronic clipart, you can find many different formats. However, they come down to two different format types:
• Rasterized (bitmap) formats – these include JPG, GIF, PNG, BMP, TIFF, etc. Although they are lighter and somewhat easier to edit, rasterized formats also have limits in terms of resolution quality.
• Vector formats – these include EPS, AI, WML, SVG, etc. They can secure a crisp and clear image, but they can be significant in size. Professionals often use these formats in their work.
Section 3: Why Would You Need Saw Blade Clipart?
If you have never used clipart before, you may be wondering what its benefits are. Let's take a look at the list of some advantages you can expect if you focus on these illustrations:
 Plenty of clipart images already available – if you take a look online, you will find thousands of pictures in various categories. Whatever type of clipart you need, the chances are you can find it on the internet.
 Many illustrations are free of cost – unlike real images that cost money to use on your website, clipart is often free. That means you do not have to invest anything to post fresh images in your articles!
 You can use your drawings – the next best thing about clipart is that it can turn your pictures into illustrations. You can find a guide on how to do this below!
One thing you should make sure is that there is no copyright on the clipart you want to use. That shouldn't be an issue since there is a vast choice of options you can pick from for your illustrations.
Section 4: How to Make Your Clipart Guide
Would you like to know how to design your saw blade clipart? Here is a simple step by step guide that will help you with that!

Step 1: Draw a Saw Blade
The first thing you want to do is to draw a saw blade. Make sure to use a blank piece of white paper. You shouldn't use colored or lined paper because that makes it harder to convert drawings into clipart later during the process.
You don't want the drawing of the saw blade to be too tiny. It is advisable that it takes at least a quarter of the paper's size. You also want to use dark-colored ben or pencil. A black marker or crayon can also be suitable because the goal here is to enable a computer to distinguish your clipart from the paper's background clearly.
It is also wise to draw a single image per paper piece as it will also help with editing you need to do later.
Step 2: Scan the Drawing
The next thing you should do is to scan the paper with the drawing. The process is different on each scanner, but you probably have official software you received with the scanning device. Alternatively, you can use graphics software (see next step) and import it directly.
The important thing is to scan in a high resolution, so go for at least 300dpi (dots per inch). The idea is to get a clear and high-quality image, which is why a high number of dpi is advisable.
It is crucial to mention that you want to scan your paper as a picture. That means you should avoid the "PDF" format. Instead, go with "JPG," "PNG," or "GIF." Finally, don't forget actually to save the photo in one of these formats.
Step 3: Use Your Graphics Software to Edit It
It is up to you to choose the software you want to use. If you are already comfortable with a particular program you have installed, go with it. The experts recommend using either Adobe Photoshop (you have to pay for it) or Gimpshop (it is free).
Here is a list of things you should do with your photo editing tool.
1. Open the scanned image of your drawing. Click "Open" inside the program, and navigate to the folder where you saved the scanned photo.
2. You will notice the picture on the screen. If it's necessary, rotate the image. You can also adjust brightness and contrast if you are not happy with how the image looks. The goal is to have a crisp photo with a bright white background.
3. Choose the "Magic Wand" from the available tools. Click anywhere on the environment, and notice how the device selected it. Now, press right click on your mouse and choose "Inverse." The idea is to select clipart only.
4. Go to the Edit submenu (or press CTRL+C) to select the drawing for copying. Now, open a new document with a transparent background and paste the clipart into it.
5. You can adjust brightness and contrast again if necessary. If you are comfortable working in Photoshop, you can experiment by adding shadow effects, blurring the image, or making other adjustments.
6. Once you are delighted with the photo, save it as an image.
That's it, you've just created your clipart! Now you can use it in your documents, on the website, or wherever you want.
It is worth mentioning that you can also use PowerPoint and other software to make clipart. Some people are even drawing it on PC, but that takes somewhat advanced skills, which is why it may be wise to stick to this beginner's guide.
This video from YOUTUBE tells how to draw a circular blade in Corel Draw. If you are interested, you can find out.
Conclusion
You can find saw blade clipart on the internet, and you will have a vast choice of illustrations to choose for your application. However, it is also possible to design your clipart as long as you stick to the instructions mentioned in this article.
The process should be straightforward, and the only thing you need is a little drawing talent. And if drawing is not among your talents, you can always ask a friend or a professional to draw the saw blade for you. You can take it from there, and turn it into clipart on your computer!
Meta Description: Take a look at our detailed guide and find out everything you should know about saw blade clipart, including how to make it from scratch!