The pain of purchasing the wrong item is not describable. This article saves you the opportunity to choose wisely depending on the task at hand and the saw of your choice. We understand that you might be in a dilemma about what to buy. It is why this article has been written up for you. Suppose you're planning on purchasing a saw but are unsure what to buy. You've come to the right place between the scroll saw vs band saw. We'll enlighten you on the uses and advantages of the two saws.
Table of Contents
Section 1: When do we need a Scroll Saw?
What is a scroll saw, first of all? A scroll saw is an electric or pedal-operated saw; wood/metal operators use it to make complex curves in wood, metal, or other materials.
The size range could be as small as 10-12 inches to about 30 inches for the industrial user. The magnitude of the work you want to do determines the throat size you should buy.
You should use a scroll saw when you want to cut intricate curves and joints during your woodwork. The purpose of designing these is for them and they perform the tasks quickly and accurately.
They are also useful in making dovetail joints in woods and are as commonly helpful when working on thicker intarsia jobs. Over the band saw, the scroll saw has the advantage of cutting extremely tight curves and making pierce cuts.
The scroll saw should be your choice when working with small materials of little thickness, like wooden letters or plaques.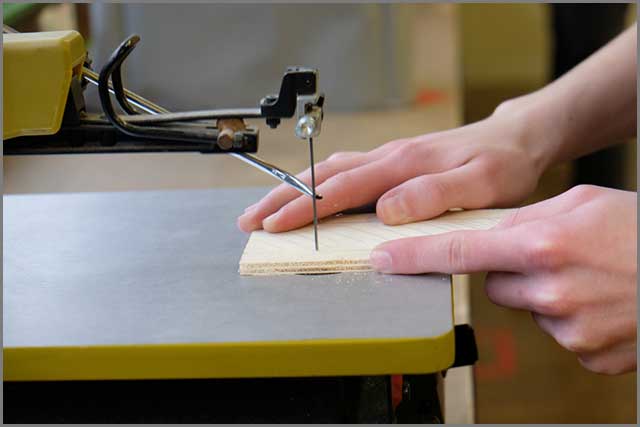 Section 2: When do we need a band saw?
The band saw is a power saw used principally in wood, metalworking, and lumbering. They are advantageous over the scroll saw in that they can cut uniformly and in many intricate shapes.
Band saws can be small or medium-sized, large (double cut, re-saws, and head saws), and usually vertical; that is, they must be mounted on a flat surface, like a bench.
The cutting saw blade here is kept fixed. And the workplace moved around the blade, making it a better choice for cutting shapes and edges.
The other option is to purchase a flat design that holds the workplace while it swings around it. This design/configuration is not utilizable in cutting edges and shapes but useful in long cuts, like pipes.
The band saw has had several improvements to better adapt them to either woodworking (usually lighter and less complex) or metalworking.
The latter incorporates a welder, coolant, power feed mechanism, and, recently, double metal blades/bi-metal blades.
Section 3: In These Cases, Will Abandon Scroll Saw VS Band Saw
The scroll saw should not be your choice if you'd be working on wood thicker than about 1 inch. And when you are making straight cuts through a material. When you're also looking to make straight rip cuts, the scroll saw should not cross your mind. It is because they have features that make them useful for only curves and useless for straight lines.
It would be best if you didn't use a band saw to make inside cuts when you are or will be too lazy to do more sanding. Considering how rough the edges of a band-sawed material turn out.
The speed and aggressiveness of the band saw make it useful for rip cuts and thicker materials than the scroll saw can handle. The band saw should not be considered when making inside reductions too. It would damage the final looks and integrity of the wood.
Section 4: Similarities And Differences Of The Scroll Saw VS Band Saw
Apart from the fact that the band and scroll saws are both power saws used to make cuts in objects, there are not many similarities between them. Even though they might look alike, they have incredibly different peculiarities and functions.
While a scroll saw uses a short blade that moves up and down, the band saw runs on two and sometimes up to four wheels with circular and very flexible blades. There's no argument that the band saw is more potent than the scroll saw because it also cuts through metals.
The band saw can also cut through any material thickness just as long as you can fit the workpiece. The band saw is also more suitable for making long rip cuts. A band saw is also a versatile tool.
There's no doubt that the band saw has more advantages than the scroll saw, but you can make plunge cuts with a band saw. It is not possible with a group saw.
Section 5: Public Testimonials About The Two Saws
Here are some public reviews about the scroll saw:
I saw me a few days ago. I made a lot of wooden crafts, so I want to try this. They usually use a full-size rolling saw, so my expectations are high. It is not disappointing. The handles are 3/4 "better than my big saw. It will cut 1 1/2", but you have to slow down a bit. You won't be slower than a bigger saw.
I spent more than five hours in the studio today, most of the time using the Dremel reel saw. – Tim (2015)
I am very impressed so far. It is my first time using this saw, so I watched some YouTube videos to help me understand some tips.
Got a reward! Because I know what happens, I can quickly apply what I have learned and complete my first project successfully. I know more practice, I will become a professional! – Amazon customer, 2013
Suitable for light woodworkers. Good quality. I use it to make spruce and other wood up to 1/4 inch. I did use it for some oak barrels and saw it slow down a bit, but it still did the job. Motor speed control is excellent. I also got it with the foot pedal, which allowed me to hold the workpiece with both hands while starting and stopping the saw.
Overall, I am delighted. – Christian (2016)
Here are some about the band saw:
This saw can cut metal pipes, brackets, etc. Unlike a tortuous reciprocating saw, this is simple and fast. I have nothing to make me complain. – Horse Short (2018)
This is your tool if you don't like to use a hacksaw. I built an audio cabinet for the sound system of my music group and had to use a considerable amount of threaded steel rods to adjust the side dimensions, all of which were trimmed to correct the length.
The idea of handling dozens of cuts through the threaded rod (leaving the rod end to accept the nut) did not satisfy me. – Stibal (2017)
Section 6: Can The Two Saws Be Used Together?
Are you considering getting both saws and wondering if they can or cannot work together? The scroll saw and the band saw might look similar, considering that both feature a work table and table; after this, they are not interchangeable.
Well, there are cases where you may need both. With a scroll saw. You can't make straight rip cuts in thick woods. Also, you can't cut out super tight curves with just a band saw.
With this said, it is better to have both saws if you're facing financial constraints. You should get the one whose capabilities suit you most.
When working on various projects, having both a scroll and band saw in your possession is justifiable. Since they are both different tools with different capabilities, you'll surely find a way to use both.
Summary:
In summary, before purchasing just any of the two saws, you should consider your pocket and the work you want. As said earlier, the scroll saw has more significance when working on much smaller pieces of wood, when you are into beautiful work and works that require fine, intricate cuts and details.
The band saw handles more complex actions, larger pieces of wood, and even metals. It is also generally more expensive than the scroll saw. If you need any questions and would like to consult an expert, be free to contact us at https://www.nccuttingtools.com/.