Finger Joint Woodwork is a joinery method that aims to simplify and beautify joints. A finger joint's ultimate purpose is to hold joints together by interlocking them and preventing them from coming apart.
Finger joints are famous for making furniture and numerous woodwork that require a neat finish and appearance. However, several important steps to pay attention to when making finger joints exist.  
So, in this article, you will understand how to make a finger joint and other joinery methods throughout this short read.
Table of Contents
finger wood joints
Section 1: What is The Finger Joint Woodwork?
1.1 What are finger joints?
The finger joint is a joinery method in woodworking that is popular for woodworking joints in making boxes and other solid shapes. These joints help to join pieces of wood together to form a greater length.
1.2 Types of finger joints.
1.2.1 Square finger joint
This joint is one of the most common out there. Nevertheless, you can design it by joining different wood stocks from one end to the other. 
1.2.2 Stepped finger joint
This joint finger type has a relatively simple design, with its manufacturing coming from stacking multiple saw blades with different blade sizes and cutting the wood stock.
1.2.3 Slanted cut finger joint
The diagonal cut finger joint is angular. Also, it is characterized by cutting with a predetermined blade tilt angle at a trigonometric calculation.
Section 2: The Finger Joint Woodwork– How to cut finger joints?
2.1 Which blades should you choose?
So, to begin, you must choose the most suitable blade for your project. As a rule, you should use a combo blade on your saw. However, it would be best if you avoided combo blades having Alternate Top Bevel (ATB) teeth.
The ATB teeth cause your joint to be flat at the top. Your best option would be the ripping blade or a blade with a flat top tooth.
2.2 What tools do you need?
Here is a list of all the tools you will need:
Dovetail saw
Coping saw
Chisels and a mallet
Small try square
Bora Clamps
Glue
Armor Tool Bench
Table Saw
Dado Stack
2.3 Setting up the cut and key.
Put your miter in the space of your table saw and select a piece of wood for a patron. Then, holding the patron against the miter measure, make one cut with your sharp edge.
2.4 Test cuts.
Now set the height of the blade just above the thickness of the wood that will be cut. Therefore, we recommend making a test joint on a piece of wood, similar to what you are doing. 
It's conceivable that the supporter may require slight acclimations to ensure that the joint is the appropriate fit.
Also, you can make the changes by releasing the screws holding the sponsor to the miter check and making slight moves nearer or further away from the sharp edge. 
To begin the joint's cuts, place your first board vertically against the patron and the edge flush to the stop and clip it set up. Make the main cut with your hands and fingers securely away from the cutting edge.
Also, at that point, unclamp the board and slide the space you slice onto the stop. Presently you can clasp the board set up and make your subsequent cut. Rehash this cycle until you arrive at the contrary edge of the board.
2.5 The Finger Joint Woodwork– Cutting the joints
As you progress to the tail end of your board, you will most likely have an incomplete cut. At this point, toss your board to face the backer. Hence, slide your first cut into the slot.
Furthermore, take your second board and flush against the first board and clamp it in place to be cut by your blade.
After cutting through both boards, separate the second, slide it against the stop, and then continue to cut until another edge. 
finger jointing process
2.6 Assembly.
After completing your finger joint, the next action is to assemble the joints. However, cutting a bit higher than your board depth is essential to ease the cutting process and cater to parallax errors.
2.7 The Finger Joint Woodwork– Clamping.
Counterbalancing the clamps within the fingers guarantees you will call the corners tight for clamping box joints. 
Click for a video with up-to-date information on finger joints and how to make a perfect fitted finger joint.
Section 3: Is The Finger Joint Woodwork the same as the box joint?
Most people regard the box joint and finger joint as the same. However, woodworking specialists believe there are intricate characteristics that make them different. Let's take a look at how these joints differ.
The Finger Joint Woodwork vs. Box joint
You will find finger joints common in woodworking for combining stock of larger surface areas. The Finger Joints fingers are usually tighter and have a spike-like shape compared to the Box Joint.
The most significant advantage of this kind of finger joint is joining two straight stock bits and joining different moldings.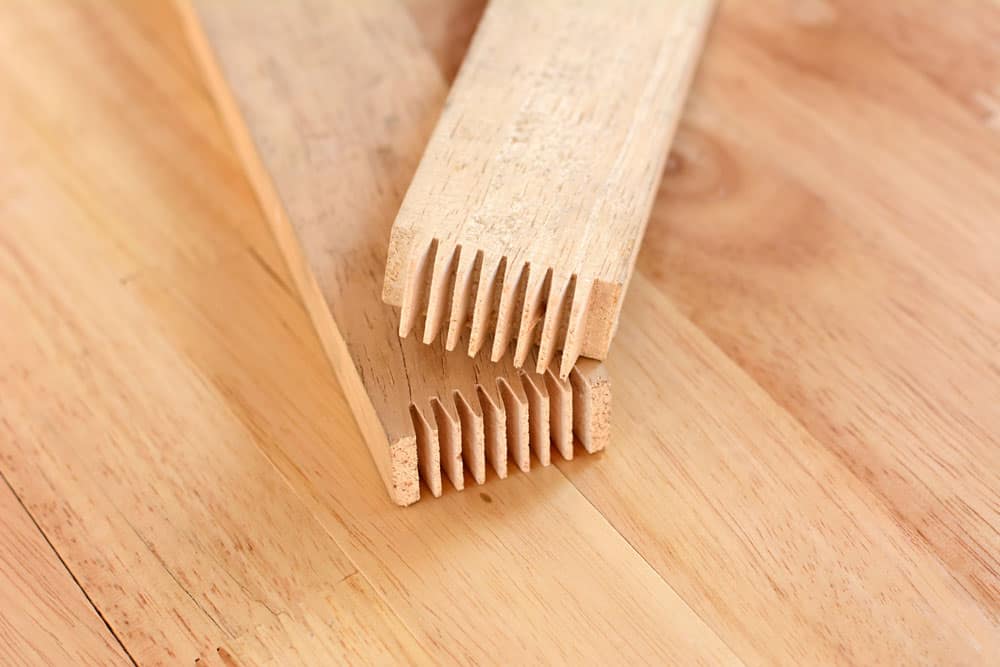 finger joint
In contrast,  box joints fill a vastly different need. A box joint is like a dovetail joint. However, a major difference is that the cuts here are not strict. Instead, they are frequently rectangular. 
box joint
Summary:
The finger joint is suitable for many applications, and this article has covered essential steps you must follow. Additionally, it would be best if you worked with trusted manufacturers and suppliers of saw blades and woodworking equipment. NCCuttingtools has got you covered. We have experienced professionals as well as top-quality tools.