Multi-tool blades serve a wide range of purposes, such as polishing, scraping, cutting, sanding, and the likes. Ranging from cutting to routing, and sanding, a multifunctional tool is quite an essential component in any tool kit. With such a tool, you can easily switch from one productive activity to another, doing it quickly and efficiently.
Multi-tool blades come in different types, sizes, and qualities. More so, it is quite a necessity to know the prerequisites for choosing a good multi-tool blade.
So, this article encompasses the various uses of multi-tool blades as well as the crucial things to watch out for in picking one.
What are multi-tool blades?
As an umbrella term, multi-tool blades house the various types of blades which we use for multifunctional purposes. Blades such as carbide multi-tool blades, multi-tool tile blade, multi-tool metal cutting blades, multi-tool diamond blades, and oscillating multi-tool blades are the type of multi-tool blades we have.
They are tools that we use for various activities, such as stated above, and they differ in their multiplicity of function. We use multi-tool blades for a wide range of constructive purposes.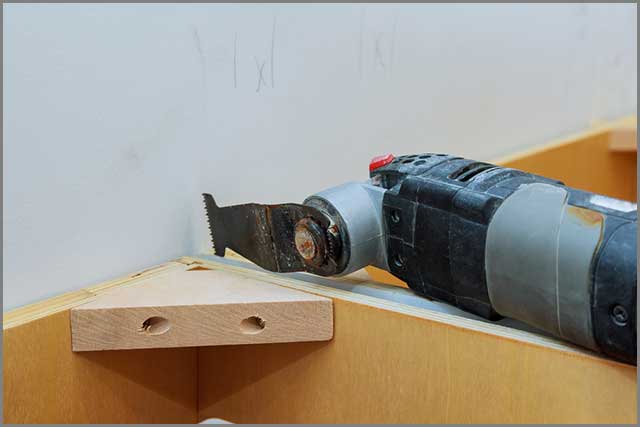 Figure 1. A multi-tool power blade
Selecting a Multi-tool Blade
Before selecting a multi-tool blade, there are certain factors that we must crucially consider if we are to make an ideal choice. Your selection must be based on these factors. You shouldn't procure any kind of multi-tool blades until you have assessed them with these factors.
Below are some of the tips that you must consider before picking one.
1.Check for whether it is compatible with your oscillating tool.
One of the most prominent features of oscillating tools is their versatility. They are versatile in the sense that you can quickly select a wide range of accessories and blades to handle jobs such as polishing, sanding, cutting, to mention but a few.
Oscillating tools originate from different makers and, as such, come in different types, shapes, and sizes. Thus, it would be frustrating to realize that you got a blade that is too big or too small for your oscillating tool. So the moment you find the right blade for the task, make sure you check if it is compatible with your oscillating tool.
Figure 2. Multifunction power tool
2.Consider the design of the blade to determine its ease of use.
It is another critical factor to consider when selecting your multi-tool blade. It is crucial to consider the design of your tool blade because this determines how comfortable you will be working with it.
However, the design of a blade will determine how efficient it would be at cutting into various materials. You wouldn't want to be buying a 63mm blade to fit in a tight gap that is only suited for a 30mm or a smaller blade.
More so, when checking for the design of a blade, it is advisable to go for blades that have a "cut in" so that you have more mobility and better control when plunging into a material.
3.Check for the multi-tool blade manufacturer.
The manufacturer of a multi-tool blade is a very crucial factor to consider. You should ensure that the manufacturer of the blade you are buying has an efficient and reliable track history.
In essence, you should buy from a well-known manufacturer that people have vouched for over the years. Buying from just any manufacturer is risky as you may be buying a fake product from an unreliable source. Ensure you buy from a manufacturer that has a trusted brand.
However, if you require a manufacturer with reliable products, you can contact NC Cutting Tools. NC Cutting Tools is a highly prominent brand that deals with the sales of quality tools for construction. We have been in the business for numerous years, and we have gathered our trustworthiness as a result of the quality items we trade.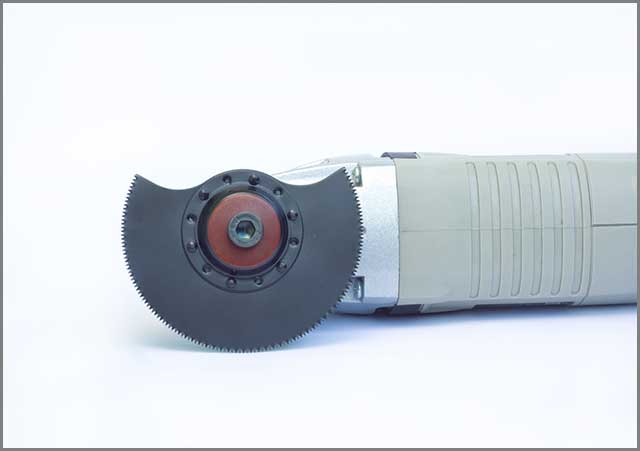 Figure 3. A Multifunction saw blade
4.Crucially consider the speed of the multi-tool blade.
The speed of the multi-tool blade is quite essential as it ensures how quick you are in handling some projects. Projects, such as sanding, may require sanding pads, which will run at slower speeds, but to conclude a nail or meter-cutting job, you will need sturdy blades running faster.
The speed of the multi-tool blade is quite essential, and blades such as carbide multi-tool blades and multi-tool metal cutting blades must run at a considerable level of speed for you to conclude your project quickly and seamlessly.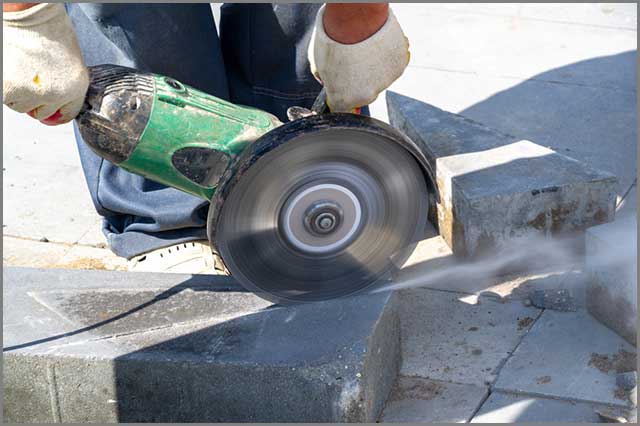 Figure4. An electric saw cutting stone
5.Reflect on the pricing
It would be best if you considered the price of the multi-tool blades. Of course, you do not have to empty your pocket simply because you need to purchase them. There are some blades which are affordable and which meet your requirements.
All you have to do is to ensure it is compatible with your device. You must ensure the blade you procure falls within your financial capabilities. Multi-tool blades come in different prices and quality. Still, you should go for affordable ones as long as they meet your expectations.
It is quite financially safe to procure items within your budgetary constraint.
6.What materials will you use?
What type of materials will you process? You must also consider what materials you shall use the multi-tool blades on to determine the right blade to go for. It shall help dictate your selection.
Various types of materials require different types of blades for good results. Different types of multi-tool blades serve different purposes. Therefore, you must make sure to choose a blade that is suitable for the material you are using.
To do a neat job, you must select the blades which fit that specific task. In doing so, you do the job perfectly.
7.The materials of composition
It is also necessary to consider the build-up material of the blade you intend to use. A tasking job will undoubtedly require a blade that possesses durable and robust materials. It will ensure that the blade carries out the task without breaking.
You must be keen on looking out for the build-up materials to determine how well it can withstand terrific projects. Moreover, it will also help you in discovering whether the blades are of inferior materials or not.
When you want to procure any multi-tool blade, try as much as possible to check out its build-up materials critically.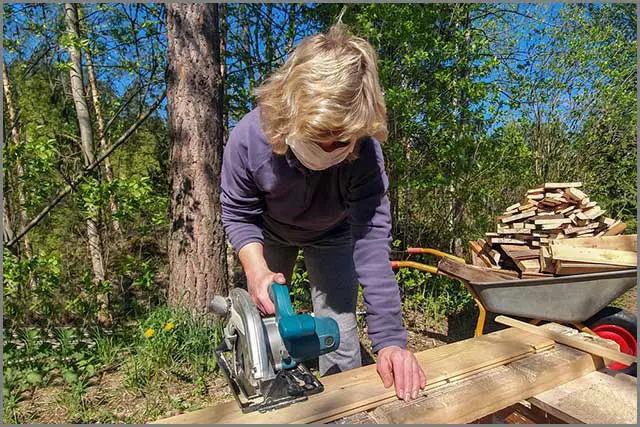 Fig 5. A masked woman using a circular blade to cut wood
Frequently Asked Questions About Selecting Multi-tool Blades
1. How can I improve my technique for general woodcutting?
To improve your general woodcutting, you could try using your blade to make a score cut to have a definite bearing of your desired cut. The shallow cut will help you to keep track of your cut calculatedly.
With each new pass, you would now be able to keep extending the length of the cut with the blade.
2. Should I use a Coarse or Fine tooth blade for deep plunge cutting?
Even if you are dealing with hard or softwoods, coarse blades have the advantage over fine tooth blades. It is because, as you cut deep into the wood with a coarse blade, the sawdust build-up will occur without binding because of the availability of blade clearance.
So, using coarse blades is much better.
3. When do I use the circular style multi-tool blades?
You use the circular style multi-tool blades for panel cutting and stock materials, which are thinner. The circular style blade is perfect for long and thin cutting spans in materials such as plastics, wood, and thin metal sheets.
4. What is an oscillating multi-tool blade used for?
The oscillating multi-tool blade is one of the handy and multifunctional equipment you can have in your tool kit. We use it for a plethora of tasks such as sawing metals, drying walls, making large holes, undercutting doorways, removing grout, cutting off nails and screws, and so many others.
5. What makes an oscillating tool better than regular tools?
Oscillating tools are better than other regular tools because it is quite multifunctional. It serves a wide range of purposes, and it is present in many types of toolboxes.
When you use an oscillating tool in handling big projects, the level of dust (which will inevitably erupt while working) won't be as much as when other regular tools are in use.
Besides, an oscillating tool enables you to do the job quickly and efficiently. It also ensures that a construction job is less hazardous.
Summary and Final thoughts
Multi-tool blades are tools for working on a wide range of constructive activities, and they have a place in every tool kit.
If you have a job that requires the use of multi-tool blades and you don't know the right manufacturer to patronize, look no further.
NC Cutting Tools have the best multi-tool blade on the market.
We sell nothing short of quality, and our tools are quite affordable. So, contact us today to get your multi-tool blades at an affordable price.