The best Foam cutting tools are one of the key tools for DIYers, but how do you know which ones will work best for your needs?
The different brands and types can make shopping for a new tool overwhelming.
In this guide, I will show you the different foam-cutting tools available and help you choose the best one for your needs.
Table of Contents
Comparison Of The Uses Of Different Tools
The 6 Best Foam-Cutting Tools in 2022
1. GOCHANGE 3-In-1 Hot Wire Cutter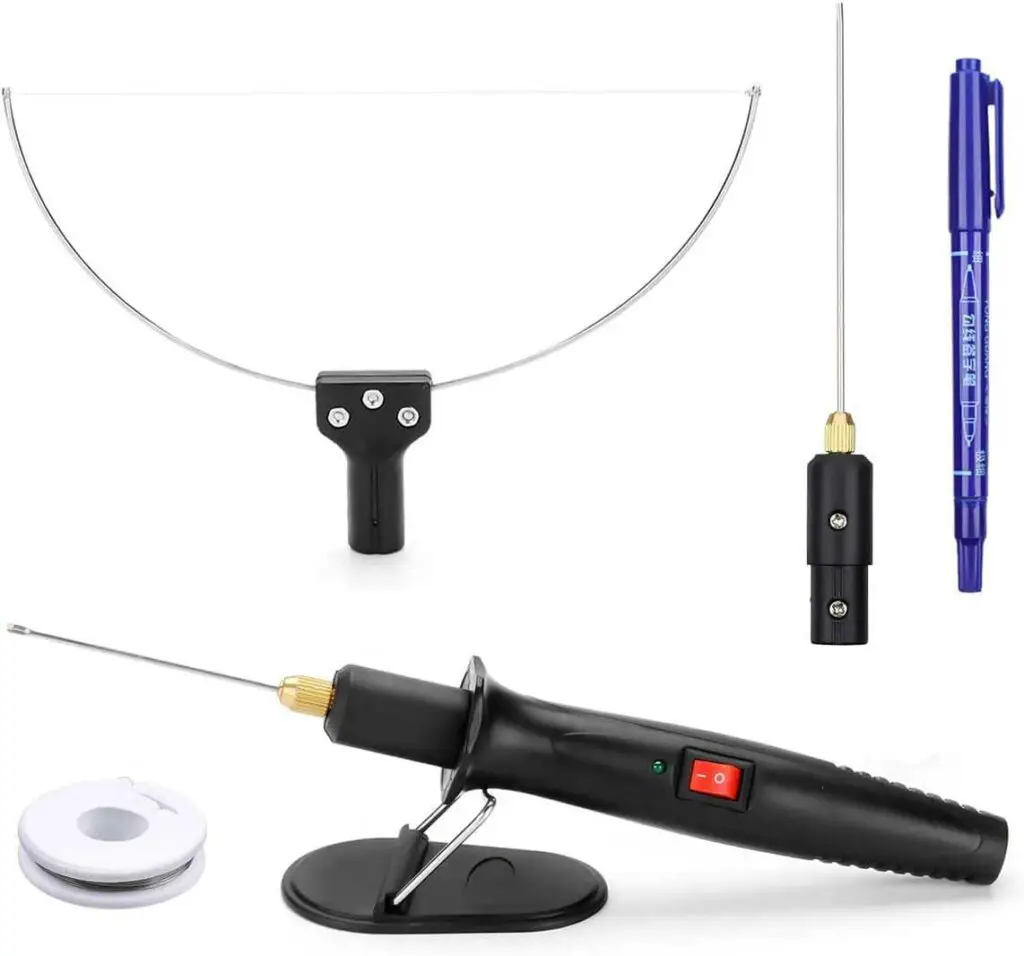 Basic Features
13.1 ounces
Stainless steel blade material
Anti-skid design
Heating needle
On/off button
Advantages & Disadvantages
Firstly, with an 18W power output, this foam cutter can quickly cut through the foam.
Secondly, it allows you to cut foam from any angle, giving you greater flexibility during the cutting process.
The blade is versatile, including creating art pieces and carving foam.
Moreover, the replacement wire for a perfect accessory if you want to keep your cutter in working condition during damage.
Furthermore, the tool's return policy is perfect if you want to return your product.
Also, the steel blade is durable enough, standing the test of time.
Notwithstanding, this tool's wire can get worn down quickly and break down. Make sure to replace it when this happens. 
Customer Reviews
"Easy to use; heats up fast; a little slow to cut through 1 1/2′ foam insulation board but worked adequately if you take your time. Great for small craft projects."
2. GOCHANGE Styro Cutter With Power Light
Basic Features
1.62 ounces
Polystyrene handles material
Stainless steel blade
Ergonomic handle
Reliable return policy
Advantages & Disadvantages
Firstly, this cutter has an on/off switch for easy operation and an LED indicator for added safety.
Moreover, the comfortable grip handle ensures a full grip and precision on large projects and helps you operate the cutter at different angles without strain.
Next, the 2mm stainless steel needle heats up quickly within 10 seconds and remains rigid when cutting and carving.
Furthermore, this cutter cuts the styrofoam smoothly and quickly with clean edges and no debris.
Then, the cutting tool comes with usage instructions so new and inexperienced users can use it hassle-free.
However, this cutter can only cut through low-density foam.
Customer Reviews
"My shipment arrived quickly and completely. The box & instructions are simple & straightforward.
It reaches operating temperatures relatively quickly, but the round design leaves a void for any resting position."
3. Walnut Hollow (Small) Hot Knife
Basic Features
5.6 ounces
Ships locally and internationally
Reliable return policy
Metal and plastic material
Affordable
Advantages & Disadvantages
Firstly, it easily cuts through several materials, including foam and plastic.
Moreover, it seals edges for a clean look.
Additionally, it includes two hot knife points and a tool stand.
Next, it comes with usage instructions so new users can easily use it.
Furthermore, it's versatile and ideal for shaping, cutting, and carving.
In contrast, this tool is only suitable for smaller projects.
Customer Reviews
"Bought this for EVA foam cutting, and it works well. Need to ensure it heats to the correct temperature before trying to use it.
The blade stays relatively sharp but fouls after cutting for a longer period."
4. Romech Pro Electric (Large) Hot Knife
Basic Features
Safe metal hook
Copper blade holder
3 lbs
16-level temperature knob
Advantages & Disadvantages
Firstly, it cuts through materials smoothly and fast, sealing the edges.
Secondly, it has an adjustable power dial that lets you control the heat intensity.
Additionally, it is ideal for commercial and industrial use; it can cut through several materials, including ropes, ribbons, and fabrics.
Furthermore, it comes with accessories such as a blade guide, cleaning brush, and hex wrench.
Moreover, this tool has a 45-day money-back guarantee, so you can claim your money back if unsatisfied with the purchase.
Next, the 12-month warranty lets you repair this cutter without incurring additional costs.
Nevertheless, this knife can reach very high temperatures; make sure to use it in a well-ventilated area.
Customer Reviews
"The first cutter arrived, but there was something wrong with it. However, as soon as I got word from the vendor, they immediately shipped a new unit. I've been using it for a while, and this thing is GREAT!"
5. OLFA Heavy-Duty Utility Knife
Basic Features
2.5 ounces
Stainless steel blade material
Manually-retractable handle
Quality carbon steel blade
Reliable return policy
Advantages & Disadvantages
Firstly, the heavy-duty blade has Japanese-grade steel for unmatched sharpness and edge retention.
Additionally, the 18mm blade has multiple snap-off segments that are razor-sharp, making it ideal for industrial or construction applications.
Moreover, the handle has high-impact ABS plastic, providing extra leverage for difficult projects.
Furthermore, the tool's ratchet-based locking system provides custom cutting depths so you can diversify your projects accordingly.
Next, the blade slider has a wheel locking system for safety purposes.
Also, this heavy-duty utility knife can cut several materials, including vinyl, cardboard, and acetate. 
However, the tool might not produce smooth cuts cut like tools with a heated element.
Customer Reviews
"I bought this knife solely to cut up Amazon and other boxes for the recycling bin. So far, so good."
6. Hercules Hot Wire Cutting Table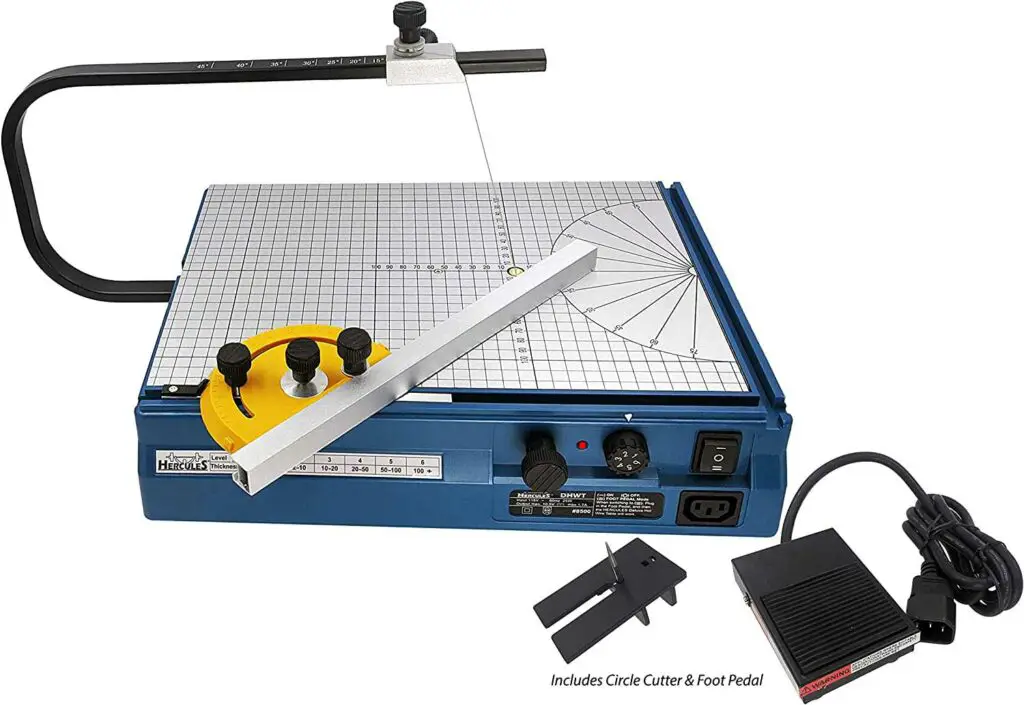 Basic Features
9.13 lbs
Aluminum material
6-foot power cord
Reliable return policy
Adjustable temperature
Advantages & Disadvantages
Firstly, it cuts all types of foam materials seamlessly.
Secondly, it's versatile and suitable for various users, including designers, architects, decorators, and artists.
Furthermore, it comes with accessories such as a locking protractor, foot control pedal, and perfect circle guide, so you don't have to buy these add-ons separately.
Moreover, it generates several shapes effortlessly – polygons, cubes, cones, etc. You only need to adjust the angle of the hot wire.
Also, the working surface is durable and has an easy-to-read protractor and grid.
Conversely, this tool can't cut through high-density foam material and isn't suitable for heavy industrial use.
Customer Reviews
"Nice hot wire cutter; my only complaint is the fence not staying in place when I tighten it down to lock.
For the hotwire, it has very nice clean cuts and a nice temperature range."
Conclusion
I am sure this guide will help you make a better purchase decision when shopping for foam-cutting tools on the market.
Yet, if you have any questions or comments, do not hesitate to contact us today.