Best Tools for Paper Cutting Art, Paper-cutting art has become popular over the years.
It's a great way to add color and pattern to your home or office.
There are several tools available for paper-cutting art, and it can be daunting to decide which one is best for you.
This guide will go over some of the best options to make an informed decision.
Table of Contents
What Papercutting Equipment Do You Need?
A child is cutting colored paper with scissors.
Blades: They work in tandem with a scalpel for creating papercuts.
Cutting mat: It helps protect your table.
Pencil: It helps draw your papercuts before you create them.
Metal ruler: It helps cut straight lines.
Tracing paper: It helps get your designs down on paper.
Scalpel: It helps make detailed cuts as it's comfortable to hold for longer.
Backing material: It helps frame your papercut design.
Best Papercutting Tools
1. Cricut Explore Air 2 Cutting Machine

Basic Features
Cloud-based app
One-year warranty
Enhanced speed
Wireless Bluetooth connectivity
Reliable return policy
Advantages & Disadvantages
Firstly, this cutting machine is versatile, helping you work on various projects, including vinyl decals and custom cards, in no time.
In addition, it runs two times faster than its predecessor, boosting productivity.
Moreover, it comes with Bluetooth connectivity, so you can easily connect it to your computer or mobile device without any cables or adapters.
Also, the cutting Machine has an app with several customizable projects and designs.
However, this tool can be a bit noisy when in use.
Customer Reviews
"It was easy for me to use and learn; you can use it on your phone or a computer!"
2. Firbon Titanium Paper Trimmer
Basic Features
Security safeguard
Extended ruler
Versatile
11.7 ounces
Spring-loaded blade system
Advantages & Disadvantages
Firstly, the blades are razor-sharp for clean and precise cuts.
Secondly, the handle is comfortable and easy to grip for effortless cutting.
Additionally, the base is strong and stable for increased stability during cutting.
Furthermore, the measuring plate provides a 45- to 90-degree angle for precise cuts.
Conversely, this tool is a bit poor at cutting thin straps.
Customer Reviews
"This paper cutter is exactly what I needed — compact, lightweight, and affordable. The blade is sharp, and I could easily cut six pages of paper simultaneously."
3. Swingline Guillotine Trimmer
Basic Features
Plastic material
10-sheet capacity
2.3 lbs
Built-in safety features
Long-term performance
Advantages & Disadvantages
Firstly, this trimmer comes with a light plastic base that is easy to transport.
Next, it cuts up to 10 sheets simultaneously, enhancing productivity.
In addition, its alignment grid ensures accuracy for unmatched projects.
Also, it has safety features, including a guard rail, for added protection.
Notwithstanding, the tool may not be able to deliver straight cuts.
Customer Reviews
"This is a wonderful tool to make cutting easier on me as a first-grade teacher who makes lots of games and other materials. My ONLY complaint is that it doesn't have suction cups or something to better keep it in place on the table."
4. Fiskars Rotary Cutter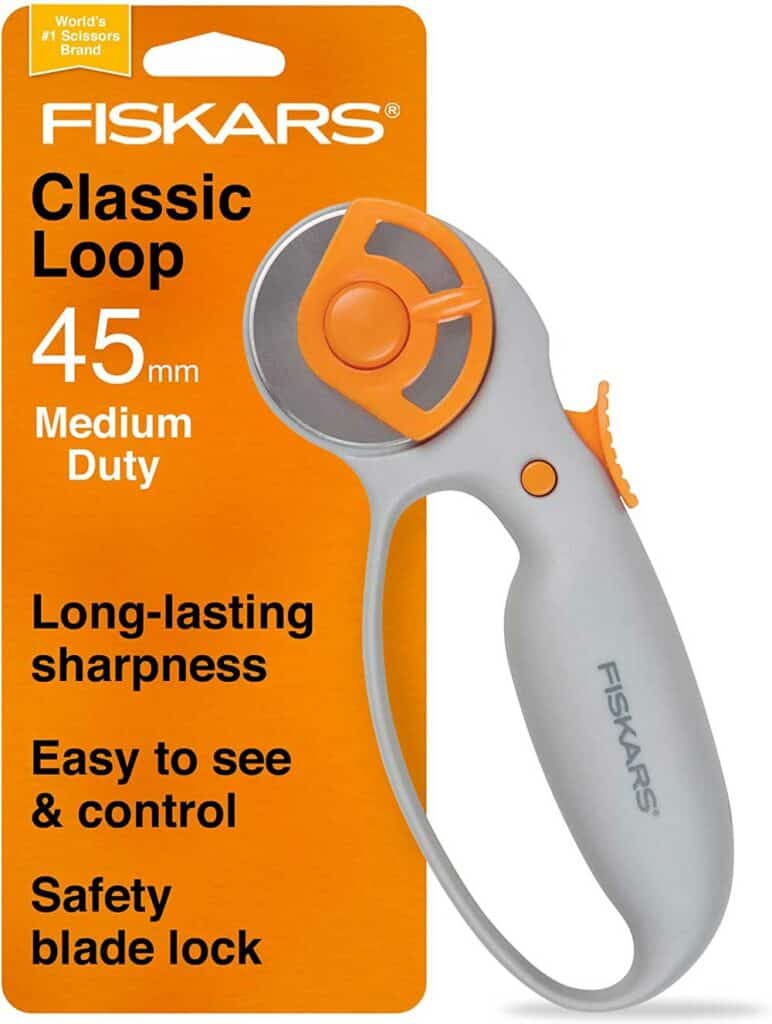 Basic Features
Long-lasting sharpness
Full lifetime warranty
Safety blade lock
Curved comfort handle
0.16 lbs
Advantages & Disadvantages
Firstly, the rotary cutter has soft-grip touchpoints for added comfort during cutting.
In addition, its auto-retracting blade guard makes for safe storage.
Moreover, it is versatile and can cut multiple layers of paper, felt, and fabric.
Next, its precision-ground steel blade stays sharper longer than other rotary blades.
In contrast, the tool may not be able to cut through thick materials.
Customer Reviews
"This rotary cutter feels much more ergonomic and comfortable than my standard one!"
5. Rotating Blade Paper Craft Cutting Tool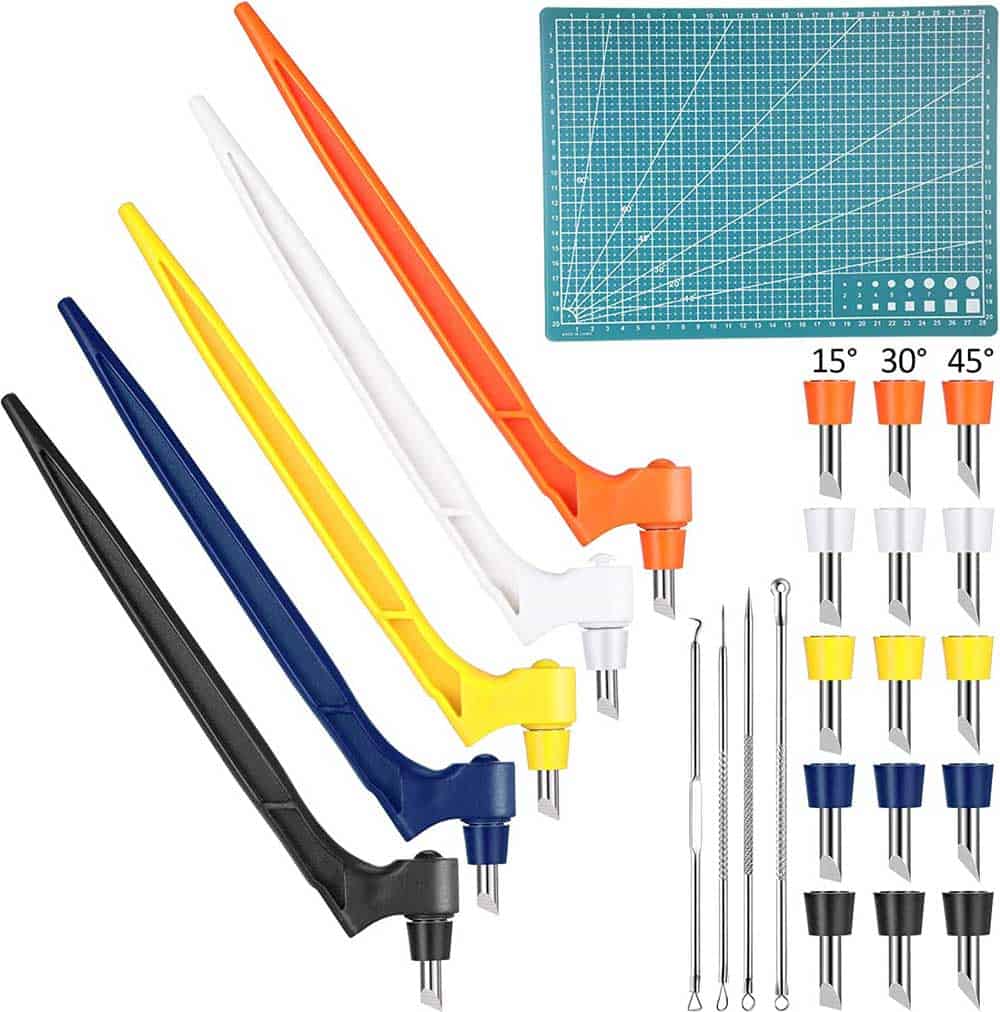 Basic Features
Stainless steel material
Non-slip design
Flexible and sturdy
7.5 ounces
Includes accessories
Advantages & Disadvantages
Firstly, this tool has a 360-degree rotating blade for a seamless cutting experience.
Furthermore, its stainless steel material is unlikely to rust, fade, or deform.
Next, it comes in 5 colors (yellow, black, orange, white, and dark blue), so you can have your pick.
Also, it includes accessories, such as weeding needles, so you don't have to buy them separately.
However, this tool's blade comes a bit blunt, and you may need to sharpen it before use.
Customer Reviews
"They worked just as described."
6. X-Acto Craft Knife

Basic Features
Aluminum blade material
Non-retractable handle
O.8 ounces
Safety cap
Zirconium nitride-coated blade
Advantages & Disadvantages
Firstly, it has an 11-fine-point blade for precision cuts.
Additionally, the easy blade-change system makes for stress-free blade swaps.
Moreover, the tool's safety cap makes for worry-free portability and storage.
Furthermore, the knife's lightweight aluminum handle lets you control the tool hassle-free.
Nevertheless, this tool doesn't come with extra blades.
Customer Reviews
"Great knife other than the blade comes loose easily no matter how hard you tighten it. This would be great for crafts where you don't need to use it frequently."
7. DIY SELF Hobby Knife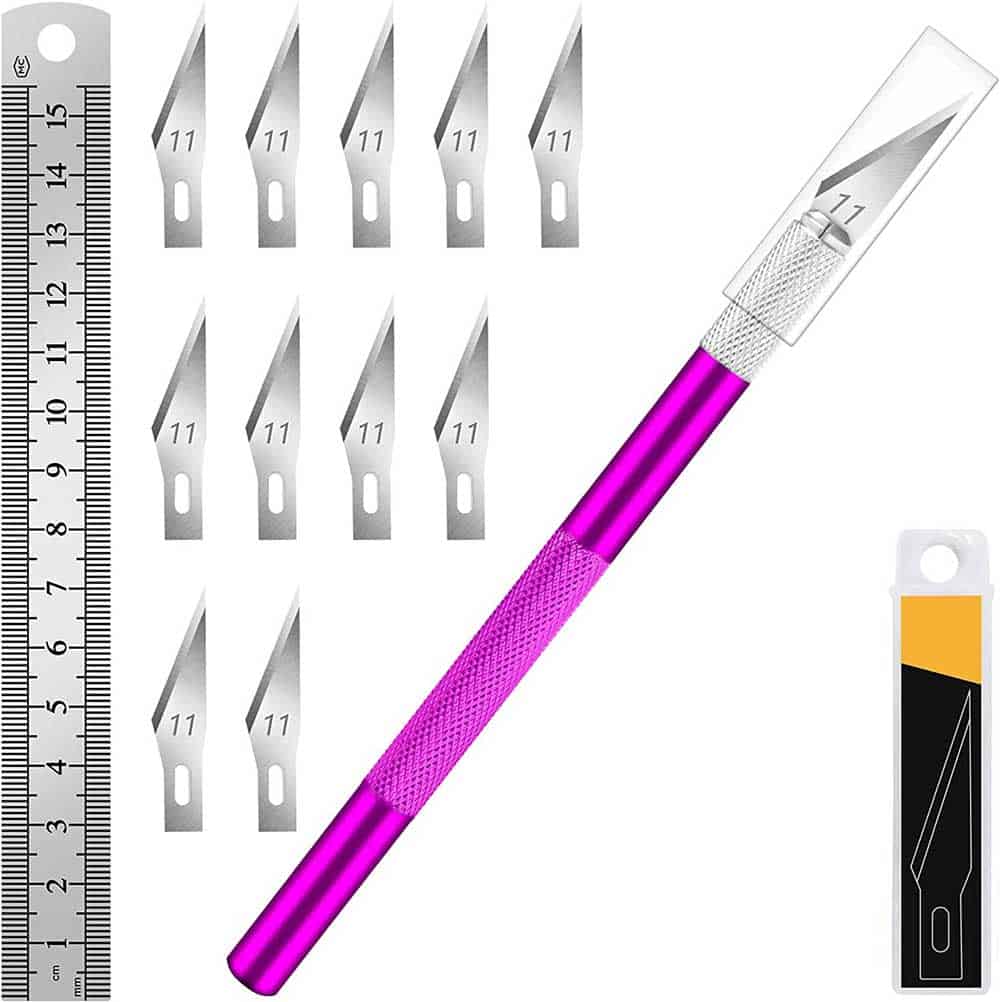 Basic Features
Stainless steel material
Protective cap
0.074 ounces
Long-lasting blade
Advantages & Disadvantages
Firstly, the lightweight metal handle offers a more steady grip during cutting.
Then, the easy-change blade system lets you change the blades in no time.
In addition, you get reliable customer service (when you buy this product) for a memorable buying experience.
Next, the set of knives comes with extra blades, so you don't have to buy them separately, saving you money.
Nonetheless, the design is not durable.
Customer Reviews
"Nice and sharp. So many extra blades were a great value for the money."
8. QIQQIKIN Craft Paper Puncher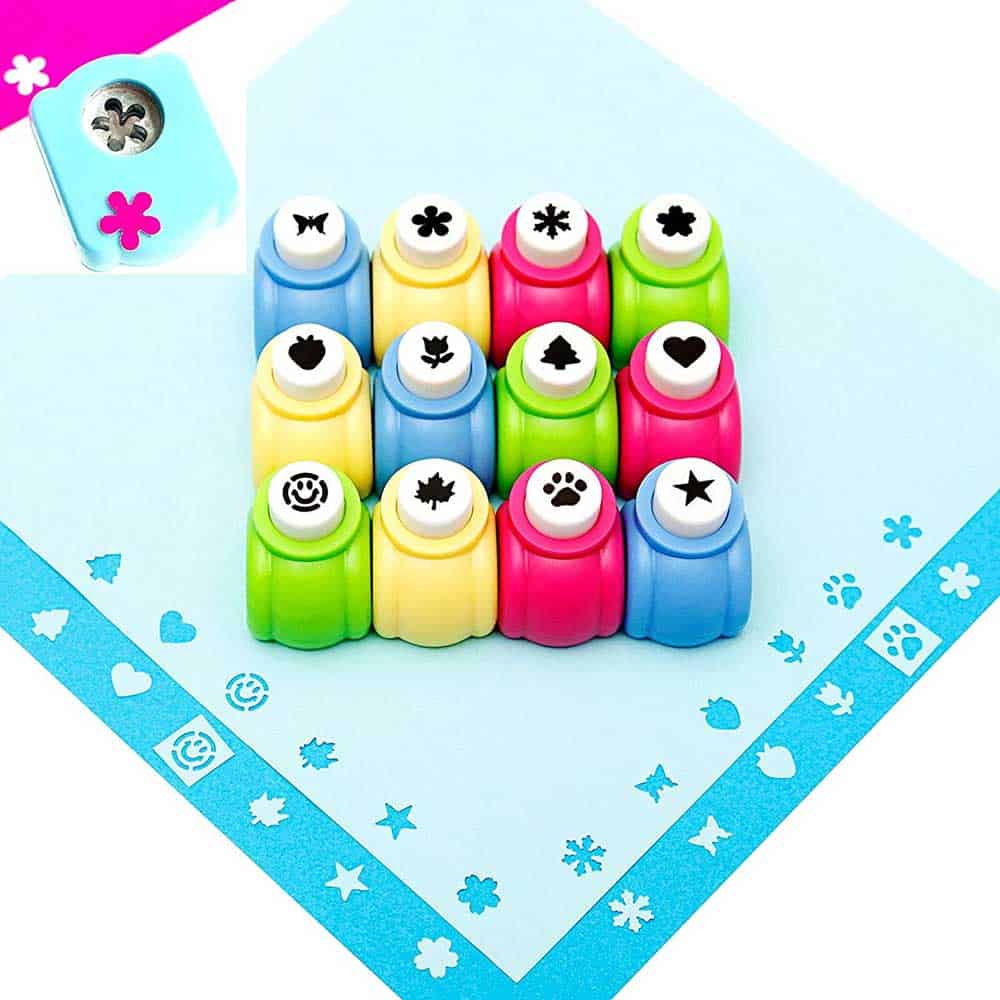 Basic Features
12-sheet count
Multi-purpose
12 ounces
High-grade alloy material
Reliable return policy
Advantages & Disadvantages
Firstly, it boasts high-grade zinc and plastic alloy to stand the test of time.
Secondly, it cuts through cardstock smoothly, unlike other cutters.
Next, it's versatile and works for different projects, including scrapbooking, gift wrapping, journaling, etc.
Moreover, the package includes different puncher shapes, which have assorted colors.
Notwithstanding, this product works best with thin paper only.
Customer Reviews
"The hole punchers work as expected. The cuts are clean and neat, even in more complicated shapes like the paw or the snowflake.
On the downside, it is only possible to punch holes near the edge of the paper sheets if you don't want to fold it and have two+ twin holes."
9. Amazon Basics Craft Scissors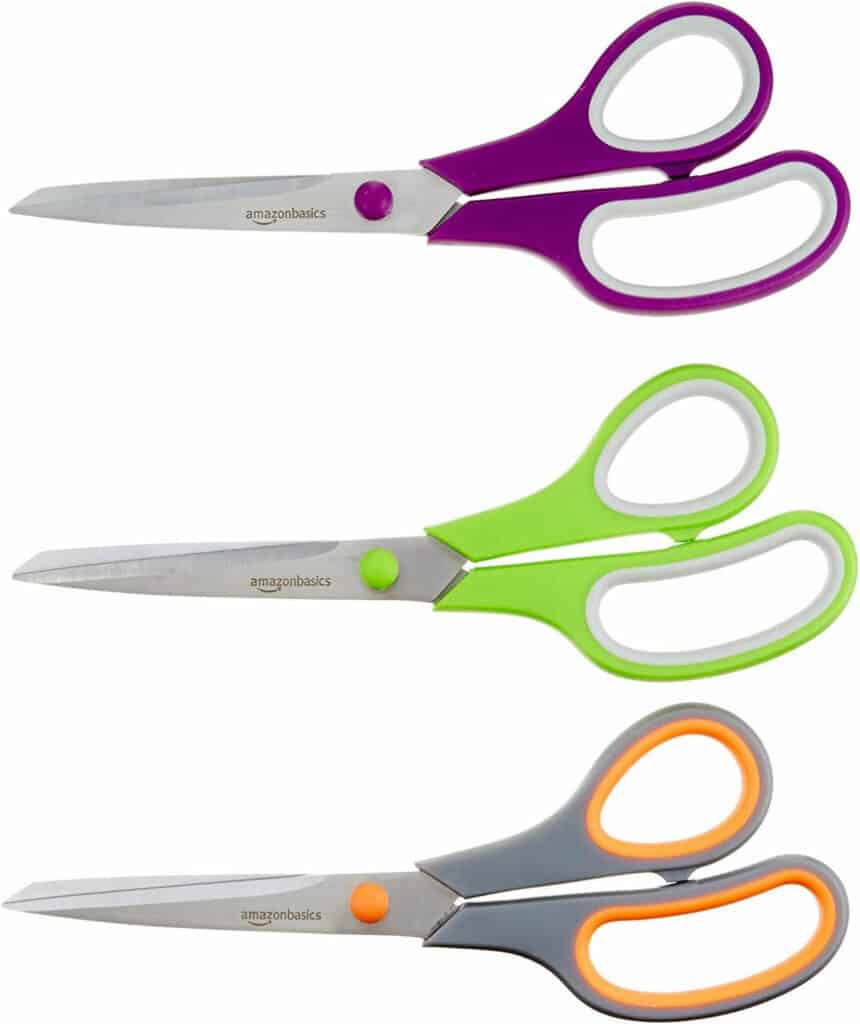 Basic Features
Stainless steel material
PVD coated blades
Adjustable pivot
Ambidextrous hand orientation
2.88 ounces
Advantages & Disadvantages
Firstly, the high-performance PVD-coated blades are sturdier than stainless steel.
Next, the bacterial adhesion decreases the amount of bacterial adhesion on the blade surface, making the scissors user-friendlier.
Moreover, the soft comfort grip makes these scissors comfortable and easy to use.
Also, the product comes with a reliable return policy, so you can return it if you are unsatisfied with your purchase.
Conversely, the blades are a bit short – according to some users.
Customer Reviews
"Great product and strong. They were bigger than I expected, but they are sturdy and cut through just about anything."
Conclusion:
Hopefully, now you know where to look when it comes to buying the best tools for paper-cutting art. Still, if you have any pressing questions, feel free to contact us.