Even the simplest woodworking project requires having the right equipment. For example, choosing a suitable rip fence helps to reduce material movement. However, your primary consideration is to pick suitable woodworking table saws.
The table saw is important for professionals and DIY enthusiasts. It's a versatile power tool suitable for various wood types. Thanks to the ease of use and accuracy, it can prove a crucial asset in your workshop.
Our guide offers everything you should know about how to pick the best table saw for woodworking.
Table of Contents
Section 1: Woodworking Table Saws–What Are the Benefits of Using a Table Saw?
Check out the main reasons why you need a table saw:
Versatility – these units are capable of working with different materials. Woodworkers will appreciate their suitability for both soft and hardwood.
Easy to use – even if you are a DIY newbie, you'll quickly learn how to operate a table saw.
Accuracy – the smooth and accurate cuts to achieve with this tool are impressive.
Speed – table saws can handle great rates up to 5,000 RPMs, which is convenient for big projects where you have a lot of work.
Always remember that it's crucial to pick the right components to ensure maximum performance. Therefore, you'll also need to choose the right table saw blade for your project.
Section 2: Woodworking Table Saws–Major Table Saw Types
Caption: A table saw cutting wood
When choosing the type of table saw you require, you must consider how you plan to use it. Here is an overview of the most common categories available in the market. 
2.1. Portable and Jobsite Table Saws
A portable table saw is suitable to use at job sites. Therefore, it's perfect for professionals who often move from one location to another.
It is light to ensure more straightforward transport and usually has foldable legs for the same reason. While versatile, it might not be the best choice for challenging projects and rough applications.
2.2. Contractor Saws
If you need a durable and heavy-duty table saw, you won't go wrong with contractor units. These saws are extremely stable and offer a generous table to work on your projects.
However, they are also heavier than portable units, which makes them hard to move. So, they are perfect for people who plan on acquiring a tool to keep in a single location.
2.3. Cabinet Saws
A cabinet saw is a variation of a contractor saw with one important difference. It has a motor inside the closed cabinet, usually below the table, used as a working surface.
Therefore, you might even have some storage room next to the motor. These devices are durable and long-lasting, and capable of handling demanding projects.
2.4. Benchtop Table Saws
As the word suggests, these table saws come with a benchtop. It acts as a working surface and can be portable or stationary. If we are talking about mobile units,
They should be light to ensure they are easy to move around. However, it's also important that the benchtop size suits your needs. 
Section 3: Woodworking Table Saws–Factors to Consider When Purchasing a Table Saw
As you can see, not every woodworking table saw is the same. Therefore, it's critical to select the one that meets your expectations. Apart from basic characteristics, such as motor and table, here is what to consider during the selection process.
3.1. Fence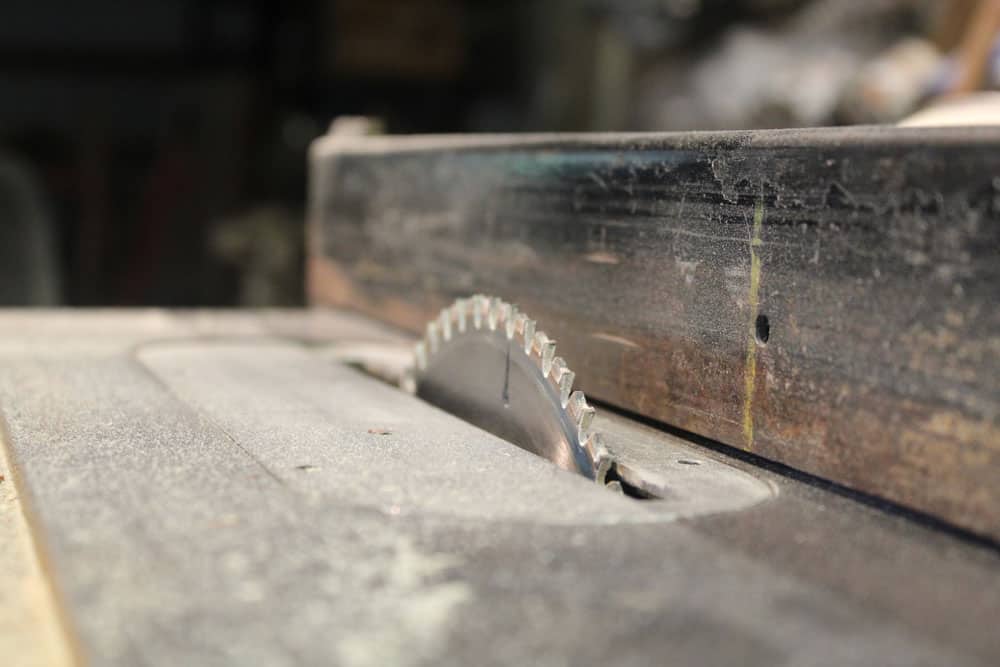 Caption: A closeup of a table saw blade and fence
You want to look for an adjustable fence that's easy to operate. Once you find the desired setting, the fence must maintain it to ensure optimal accuracy.
Therefore, a reliable fence plays a crucial role in woodworking. The T-style fence is the most common because it's solid and most comfortable to use, but it depends on your requirements.
If you don't have a rip fence, you can check out this video to learn how to create your own. However, please note that the ones coming with the tools are usually more reliable. 
3.2. Tilt
It's up to you to pick whether you need the tilt mechanism on your tool. A professional table saw usually has a left-tilt option because the fence is on the right.
However, it might be easier to go with a right-tile mechanism if you are left-handed. The bevel adjustment is usually from 0-45 degrees.
3.3. Dust Collection
If you have ever worked with table saws, you know they create dust. Therefore, your tool should have a function to collect dust to ensure smooth operation.
Apart from better results, it will preserve the motor and the tool. Those who plan to work in their garage or another indoor space should have a dust collection system. It's why most cabinet saws come with these units.
3.4. Miter Gauge
A miter gauge serves to adjust angles for cutting. Therefore, it increases the tool's versatility and value for money. You can pick between T-shaped and rectangular slots.
It's vital that the mechanism works well and remains in position. Miter gauges depend on whether you require them, but they can significantly add to a table saw.
3.5. Safety Features
Caption: A man with safety equipment operating a table saw
Any table saw buying guide would tell you that safety is crucial when using power tools. Here are the critical things to consider when selecting a table saw.
3.5.1. Large Paddle-Style Switch
These buttons allow you to deactivate the saw with your knee or leg. Therefore, they are a convenient way to keep your hands on the material while turning off the unit.
The feature becomes vital if something goes wrong and you need to deactivate the tool immediately.
3.5.2. Riving Knife
If you check out the blade, you'll notice the riving knife behind it. Its task is to ensure the components of the application you are cutting remain separated.
Therefore, it prevents kickbacks and other mishaps. Thanks to that, it increases the overall safety when working with the tool.
3.5.3. Anti-Kickback Pawls
These paws are an addition to riving knives and serve to prevent kickbacks. They are nothing but metal pieces loaded with a spring. The pawls have teeth that go in the tabletop's direction.
Therefore, they grab the wood and keep it in position to reduce the risk of kickbacks.
3.5.4. Blade Guards
Blade guards are vital to protect the blade from harming anyone close to the tool. They don't participate in actual operation, but you guard the blade after completing the work.
Therefore, even if your body touches the blade, it won't scratch or cut you. 
3.5.5. Blade Brake
Blade brakes feature an advanced system that deactivates the blade if someone gets in touch with it. Some manufacturers implement this function as a vital safety option, but it increases the device's cost.
Another problem is that the brakes will stop the blade, but you'll have to replace it because later. The working process involves damaging the blade, but that extra expense could be worth the additional safety.
3.6. Cut Dados or Rabbets?
You could describe a rabbet as a recess at the workpiece's end in a rectangular shape. On the other hand, a dado is a cut you make in an application to place another component in that workpiece.
The choice is a matter of preference, and these options are often present in furniture and cabinet making. Those picking a dado blade will require strength from their saw, so portable tools might not be an option.
34.7. Other Specific Applications
Here are some extra options to take into account when choosing a table saw:
Extension wings – can you insert wings on the tool's sides? You can make your extension wings if these don't come with the product.
Fence rails – These could be convenient if you need to perform a longer cut. 
Portable base – a base with wheels could allow you to move a heavy tool around the workshop.
Section 4: Woodworking Table Saws–How to Choose the Best Table Saw
Caption: A contractor using a table saw
It's time to learn how to pick the best table saw. While it should meet your budget, it must offer plenty of bang for the buck. These functions will help to increase the tool's value for money.
4.1. Rip Capacity
Woodworking often involves ripping, which means cutting in the grain's direction. You can measure the rip capacity by checking how distant the fence is from the blade.
That's the maximum rip capacity. However, please note the bigger the rip width potential, the higher the tool's price.
4.2. Beveling
The beveling option allows the angling of the blade quickly. So, that positioning can be to different angles. However, the usual options are 0-45-90 degrees, and it's up to you to choose. Most tools will adjust the maximum cutting depth based on the angle selected.
4.3. Cut depth
The cutting depth will depend on the blade's size. For example, if you have a ten-inch blade, you probably won't get a more significant depth than three inches.
However, if you choose a 12-inch tool, the depth increases to four inches. It depends on your requirements, but analyze the cutting potential when choosing the device.
4.4. Table Size
The actual table is your operating space when working with the saw. In portable units, these surfaces don't excel 19×22 inches to maintain compact size and portability.
The stationary units could have a 22×24-inch table. However, adding extensions to increase that surface to 60 inches in width or more is possible.
Summary
That rounds up everything you should know about the Woodworking Table Saws. It's vital to underline you shouldn't rush your decision when choosing the tool.
If you need assistance in picking the right equipment, don't hesitate to contact NCCuttingtools.
The company has experts to help you during the selection process, and they also design top-quality tools that will exceed your expectations!