If you are looking for a worthy laser-cutting machine, you may realize that many options vary significantly in price. 
This guide will help you plow through the overwhelm and find the best laser-cutting machine based on what you plan to do with it, your budget, and your space.
Table of Contents
The Best Laser Cutting Machines Now
After weeks of testing and comparing top-selling laser cutters at every price point, here are our top 3 recommendations.
1. Editor's Choice- Ten-High Upgraded Version Co2
2. Best for Beginners- ORTUR Laser Master 3 10W
3.  Budget Pick- Atomstack A5 20W
But before we jump into the products, let's learn more about laser-cutting machines.
What is Laser Cutting Machine?
A laser cutting machine, or laser engraver, creates permanent patterns, shapes, and designs on surfaces. It etches many materials from wood, stone, marble, cardboard, aluminum, and even glass.
It could be a good alternative if you don't have a table saw blade or a leather cutting tool.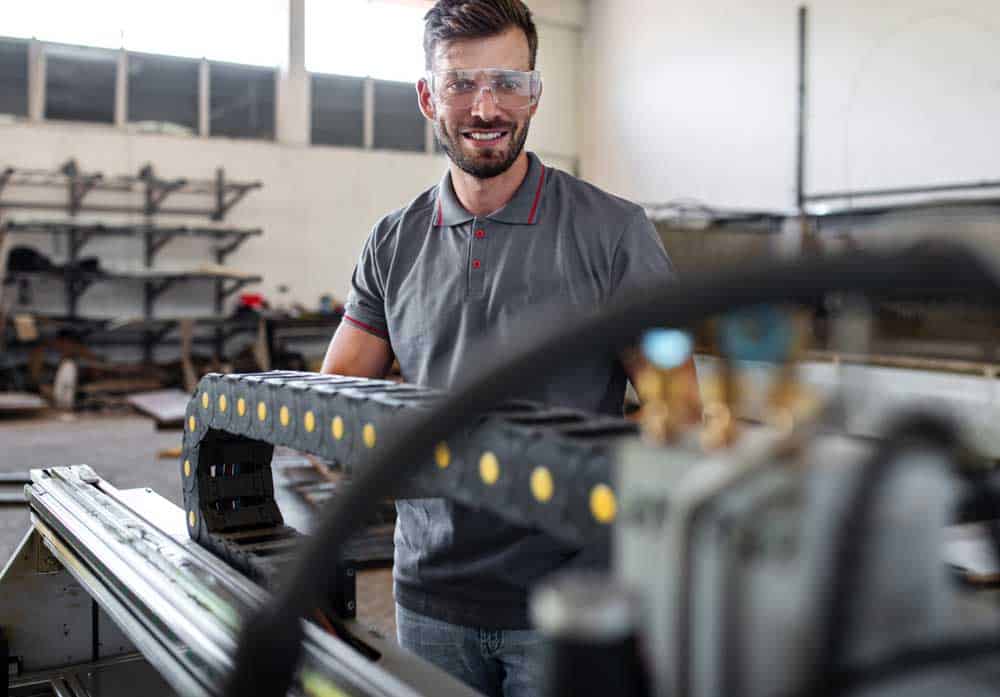 Working with a laser-cutting machine
Types of Laser Engravers
There are three types of laser engravers in the market now;
Diode Laser. These are the smallest, least powerful laser cutters, hence the most affordable. They are well suited for cutting and engraving materials such as paper and cardboard. The diode in this type of laser is an optoelectronic device that converts electric energy to high-intensity light used for engraving.
CO2 Laser Engraver. Co2 laser engravers use carbon dioxide beams instead of electric light to penetrate materials. They are the most common laser cutters for business use, with prices ranging from a few hundred to $10,000 or more. However, due to their size and power, they require more aggressive cooling and ventilation.
Fiber Laser Engraver. Fiber laser engravers produce strong beams through fiber optic cables. They are the most powerful and hence the most expensive type of laser cutters, with an entry-level option costing $10,000 or more. However, fiber laser cutters offer faster cutting speed, and it's the only device that can cut through metal.
Settings of a Laser Cutting Machine
The right laser engraving is highly dependent on the material you will use. Each material has a different vaporization temperature, determining how quickly the engraving can appear.
However, it's the laser setting that determines the output of the cutting machine.
For example, faster speed means the laser will spend little time on the material. The four types of laser cutter machine settings include;
Power
Power settings determine the amount of energy level in the laser device. When power increases, the energy levels go up as well.
You will decide the power level to use depending on the hardness and thickness of the materials.
For instance, deeper cuts and thicker walls require more energy than thin conical shapes.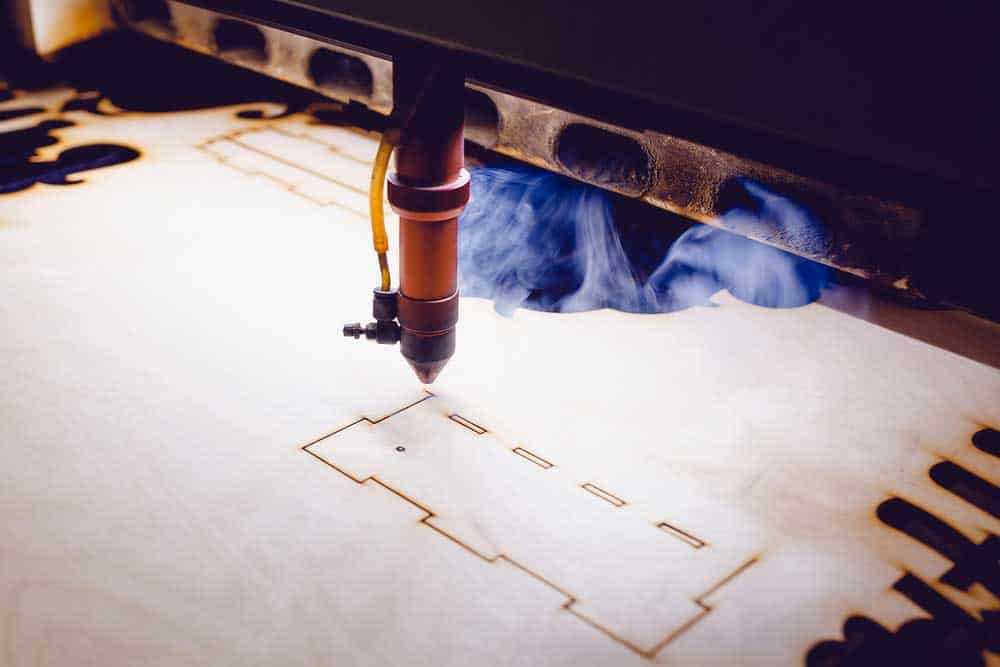 Laser cutting machine drawing a pattern
Speed
There is a direct correlation between power and speed. A lower speed means slower cutting but deeper cuts, while higher speed leads to faster cutting but shallow cuts. 
Frequency
Frequency refers to the number of laser pulses generated per second. For example, a co2 laser engraver can have 1000-60,000 Hertz (HZ) frequency.
The higher the frequency, the more laser pulses, which means more heat during cutting.
Unfortunately, the higher frequency could mean too much heat leading to charring and melting, so you want to hit the perfect balance with this setting.
Focus
Finally is the focus, which means concentrating the light on a specific area to facilitate precise cutting or engraving. The thickness of the material you are cutting determines the focus.
To adjust the laser focus, look down the z-axis of the material. Measure the material thickness and then adjust the engraver's backups accordingly.
You can focus on a laser engraver using one lens or multi-lens optic.
A man working with a laser-cutting machine
Factors to Consider When Choosing the Best Laser Cutting Machine
Whether you are looking for a home laser cutting machine or a commercial one, there are a few things you need to pay some mind to.
The budget is a big consideration, but you must also consider others.
These will help you choose laser power and bed size.
Price/Budget
The most high-value laser engravers are costly because of their quality output. But paying thousands of dollars for a hobbyist machine may not be worth it.
Determine the ROI of the machine you are about to buy and put a price on that.
For example, if you want to start a business requiring a high-power, fast, and efficient engraver, by all means, spend a little more money to get quality.
Material Options
A good CO2 laser engraver should sort all your needs unless you plan to deal with metal.
For a hobbyist engraver dealing with paper and cardboard at most, go for a diode laser that will sort out your needs.
Engraving Size
Ideally, you want a machine with a bed size capable of cutting your largest component.
Check the standard sizes of materials you want to be the engraving and buy a machine best suited for that.
It also means considering the size and space you have available.
Laer cutting machine working on wood
Software Compatibility
The ideal situation when buying an engraving machine is that it comes with its software and saves you that hassle.
However, many machines require you to buy the software separately because of the different operations.
Do your due diligence to find out if the software your preferred laser machine needs is readily available, affordable, and easy to use.
Customer Support
Lastly, It's possible to run into difficulties during operation, and you need someone who is a call away to help sort out the problem. Thankfully, most reputable manufacturers do have this service.
Best Laser Cutting Machine
1. Editor's Choice: TEN-HIGH Standard Version CO2 Laser Engraver and Cutter
Features
Power: 50W
 Speed: 3600mm/min
 Engraving area: 400 x 600mm
Laser Type: CO2 Gas
 Engraving accuracy: 0.15mm
Advantages & Disadvantages
Version CO2 can cut through all materials except metal and has a huge engraving area of 400x600mm.
As for safety, Version CO2 has a suspension system that shuts off the laser if the door opens.
This machine also has a ventilation fan and a separate accessories exhaust pipe to keep the smoke moving. 
On the downside, figuring out the speed and power settings takes time and a lot of trial and error.
2. Budget Pick: ATOMSTACK A5 Pro 40W Laser Engraver Master
Features
 Laser power: 40W
 Laser output optical power: 5.0-5.5W
 Laser wavelength: 455±5nm
Engraving accuracy: 0.01mm
 Focusing method: fixed-focus laser, no focusing
Advantages & Disadvantages
It has a laser protector filters most UV light away from your eyes. 
In addition, the 50% smaller focal spot makes for very precise engraving.
This device is compatible with mature engraving software and supports Mac systems, thanks to Lightburn. 
It has a super easy-install design and a durable metal frame. 
However, you must find compatible software and figure out the steps without help, except maybe the internet.
3. Best for Beginners: Ortur Laser Master 3
Features
Speed: 0-20,000mm/min
Engraving Area: 400 x 400 mm
 Laser: 10W LU2-10A
Laser Accuracy: 0.05 x 0.1mm    
Advantages & Disadvantages
This device has improved higher-quality engraving features, including TRUE 10W laser power, air assist, dual fans, and WIFI connectivity.
 The laser cutter also boasts wide compatibility with various engraving software such as Lightburn and LaserGRBL.
The package comes in a big, well-organized box with an instruction manual with step-by-step building instructions. It will take about 45 minutes to set everything up, or less if you follow the YouTube video.
Unfortunately, this laser machine comes with a European power supply, which is garbage. Make a point to replace that with a 2v AC adapter; you should be good.
4. Best Portable Laser Cutter: LaserPecker 2(Pro) Laser Engraver
Features
Engraving area: 10 x 10cm
 Power: 5W
Speed: 600mm/s
Laser spot: 0.05mm
Advantages & Disadvantages
It is compact and weighs only 2.2kg, making it easy to carry.
The dual-lens galvanometer technology makes it run faster than other laser cutters of the same power.
It's also packed with safety features, including a protective shield, overheating protection, goggles, motion detector, overheat shutdown, and password lock.
This machine requires no tedious installation and set-up and easily connects with your phone or PC. 
However, the software that comes with it is wanting, so you may want to contact customer support for better options.
5. Best Under $1000: NEJE 3 Max A40640 Laser Engraver
Features
Engraving area: 460x810mm
Power: 10W+
Speed: 1000mm/s
Laser spot: 0.05mm
 Cutting thickness: maximum 30mm
Advantages & Disadvantages
NEJE A40640 is the first dual-beam engraving and cutting machine with a zoom design on the market
The A40640 short focus is great for hard engraving materials like stone and MDF, while the long focus has better depth and smaller angles more suitable for wood and other materials. 
As if that wasn't impressive enough, this machine boasts the largest engraving area at 460x810mm, which you can expand to 1030x810mm.
On the downside, this machine is quite powerful, so always have a disposable surface underneath your material because you will burn through several materials by mistake.
How to Use a Laser Engraver?
Using a laser engraver is a 5-step process;
Prepare the materials. It would be best to prepare the hardware, i.e., the material you want to cut (wood, paper, glass, etc.)
Prepare the machine by turning it on and entering the settings depending on the material.
 Open the laser case and place your material where you plan to cut.
Use the software to draw your desired design, resize it, and save it.
Once everything is ready, go to File and then Print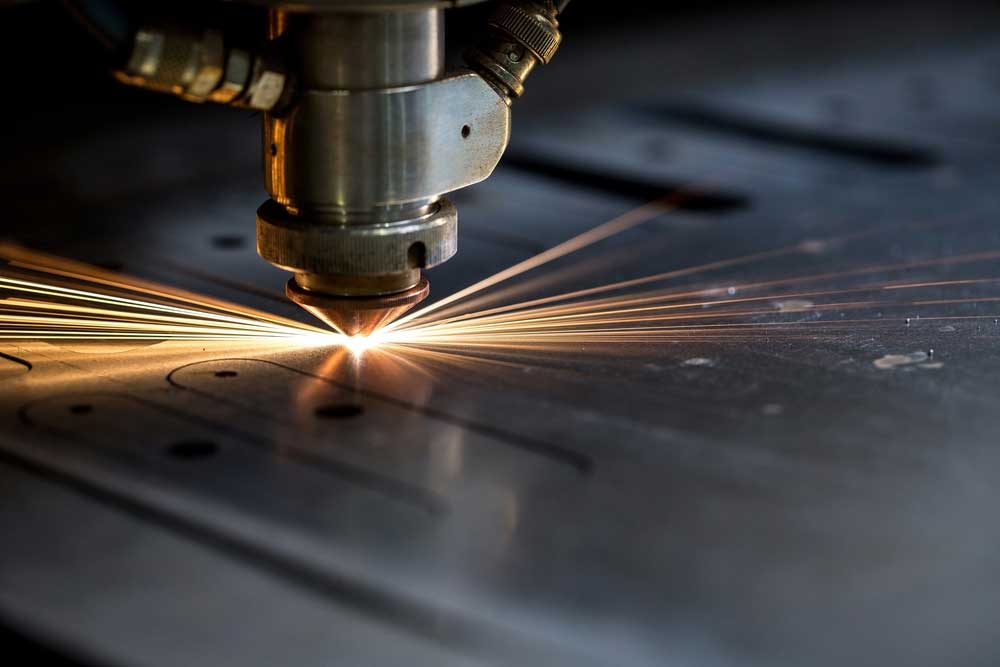 Laser Cutting Machine on metal
FAQ
What's the Difference Between a Laser Engraver and a Laser Cutter?
While the two terms refer to the same equipment, a laser cutter can cut through materials faster and with higher and lower engraving standards.
What are some Laser Engraving Safety Precautions?
Laser engravers can be quite dangerous and toxic. As safety precautions, protect your eyes with laser safety glasses and wear personnel protective equipment (PPE) to protect your body from fumes and particulates.
Consider also working in a well-ventilated space, especially with CO2 laser engravers.
Feel free also to check out these laser safety and maintenance procedures.
Conclusion
This list of laser-cutting machines only includes options the average Joe can afford. We have a home-use budget option and a professional-grade laser engraver at around $3,000.
We love the NEJE 3 Max A40640 Laser Engraver the most, however, because it offers all the features of a high-end laser cutter without the high price point.
Feel free to look through the other options objectively and choose the best for your needs.