The cutting dovetail joint is one of the most elegant and striking woodwork joints. You will find dovetail joinery common in the construction as well as drawer construction. Additionally, it is common for drawer fronts because it is a stable, interlocking joint.  
There exist several techniques for making dovetail joints, and it is essential that you understand these techniques. 
This article presents nine essential steps for making dovetail joints in a very simple way. So, this article will help you to deliver outstanding structures using the dovetail layout.
Table of Contents
Section 1: What is the dovetail joint?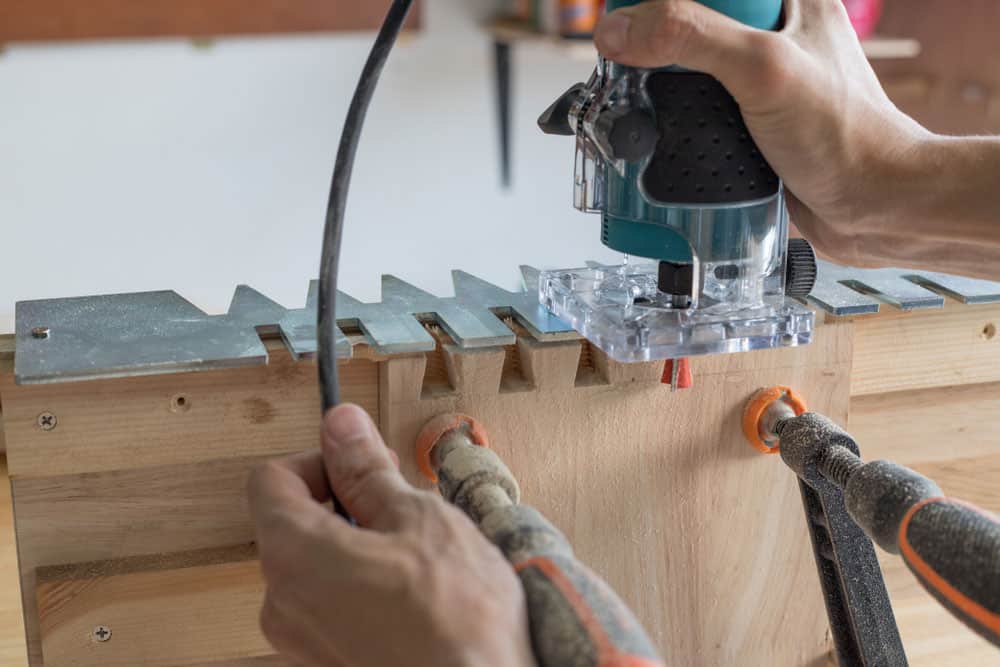 Construction of a dovetail joint.
The dovetail joint makes the wood have a firm grip and is a common joinery technique in woodworking technology. Examples include woodworks, furniture, cabinets, log buildings, as well as conventional timber framing. Hence, it prevents the easy pulling apart from the woods. 
Dovetail joints consist of pointed mating tails and pins. So, using a dovetail saw, marking equipment, and chisels, it is easy to create a dovetail joint. Additionally, making dovetails by hand affords you the freedom to layout pin and tail spacing. 
A major advantage of the dovetail is that the pins and tails interlock to create a mechanical bond. This mechanical bond protects the joint so the glue doesn't break in the future.
Section 2: Types of dovetail joints.
Dovetail joints are a common choice because of their pleasing appearance as well as their excellent strength. However, there are many various types of dovetails. Additionally, different techniques exist for cutting each type. The kinds of dovetail joinery include the following.
2.1 Through Dovetail Joint
A through dovetail joint is a special type of dovetail joint. Hence, as you assemble the joints, both boards' final grain is apparent. Through dovetails are common in the construction of crates as well as other complex wooden shapes. 
A through dovetail joint in use.
2.2 Single-lap Dovetail Joint
You can also refer to the single-lap dovetail joint as a half-blind joint. Artisans who do not want the end grain visible from the joint's front often use a single-lap dovetail. However, on the ends of the piece, the tails fit into mortises, covering their backs. A single-lap dovetail joint is a suitable choice for fastening drawer fronts to drawer sides.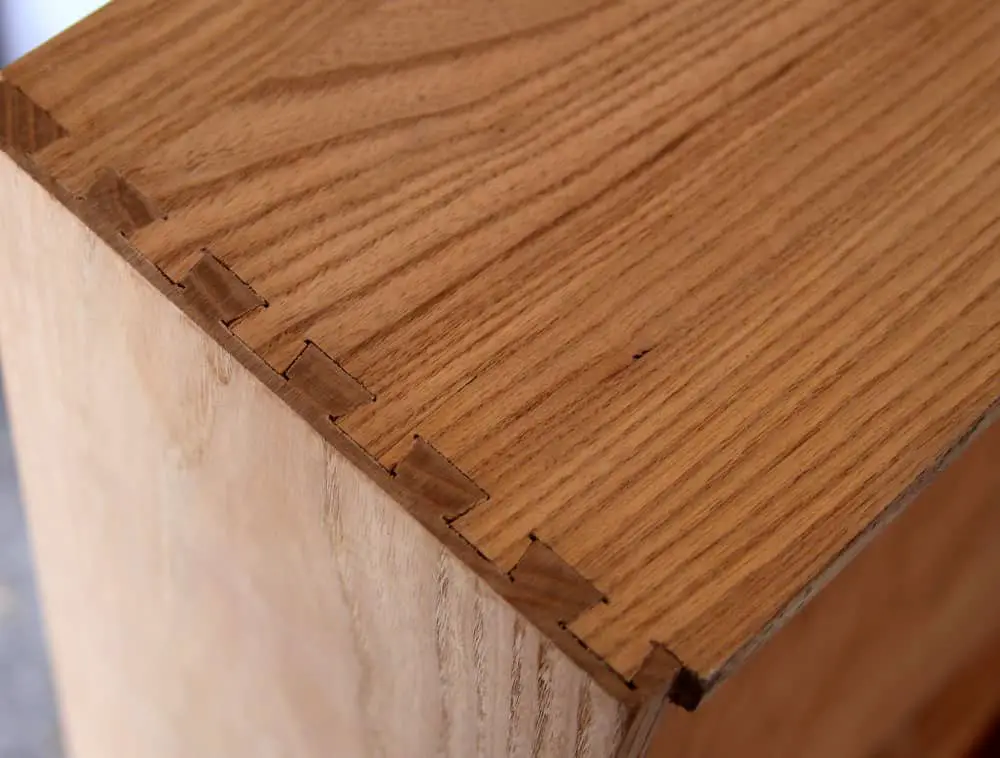 A single-lap dovetail joint is in use.
2.3 Double-lap Dovetail Joint
You can refer to the double-lap dovetail joint as the full-blind dovetail joint. So, just a small strip of final grain shows that the interior of the dovetail is hidden. Nevertheless, it is easier and faster to make than the secret dovetail miter. 
The double-lap dovetail joints are common, especially in more significant cases, such as sideboards or chests. Suppose the end grain is molded together with the long grain edges. In that case, the resulting shadow lines distinctly characterize the piece's design.
A double-lap dovetail joint is in use for a wooden box.
2.4 Secret Miter Dovetail Joint.
Many furniture made by carpenters is often not so stunning because of the visible appearance of joints.  A noticeable row of dovetails isn't always aesthetically pleasing, no matter how elegantly made. The secret miter dovetail joint prevents this because it hides the visibility of the joint.
Additionally, this type of dovetail can provide a lot of strength. You can use them for cabinet shelves, sides, as well as partitions with drawer fronts.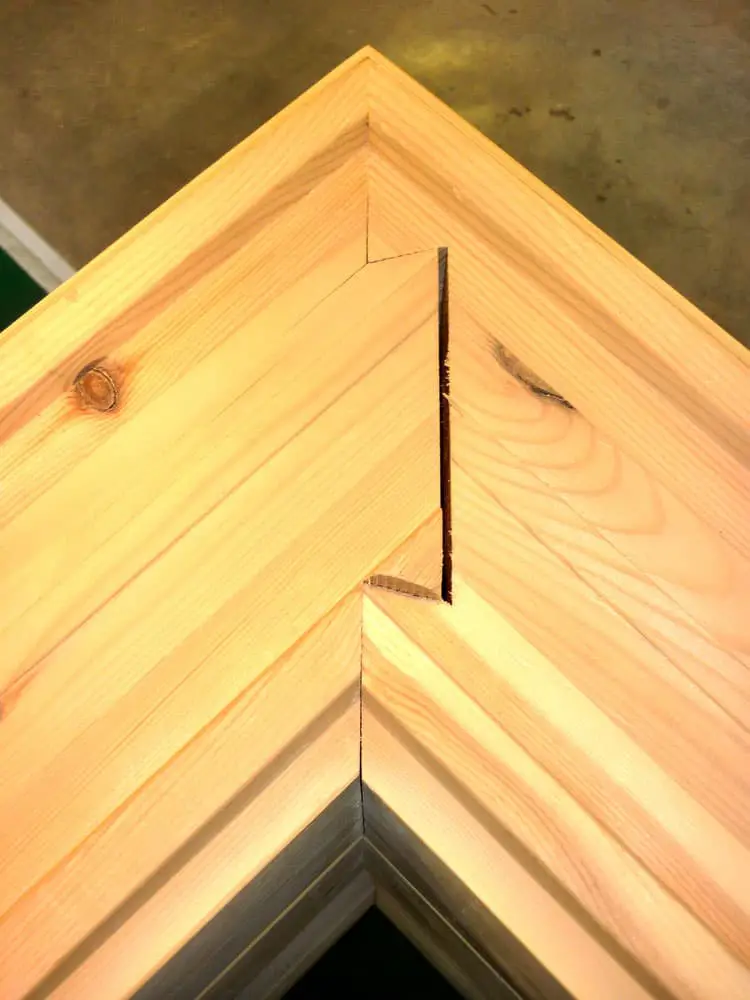 A secret miter dovetail joint is in use.
Section 3: Which way is suitable for cutting the dovetail joint?
Let's take a look at some suitable ways of cutting the dovetail joint.
Using router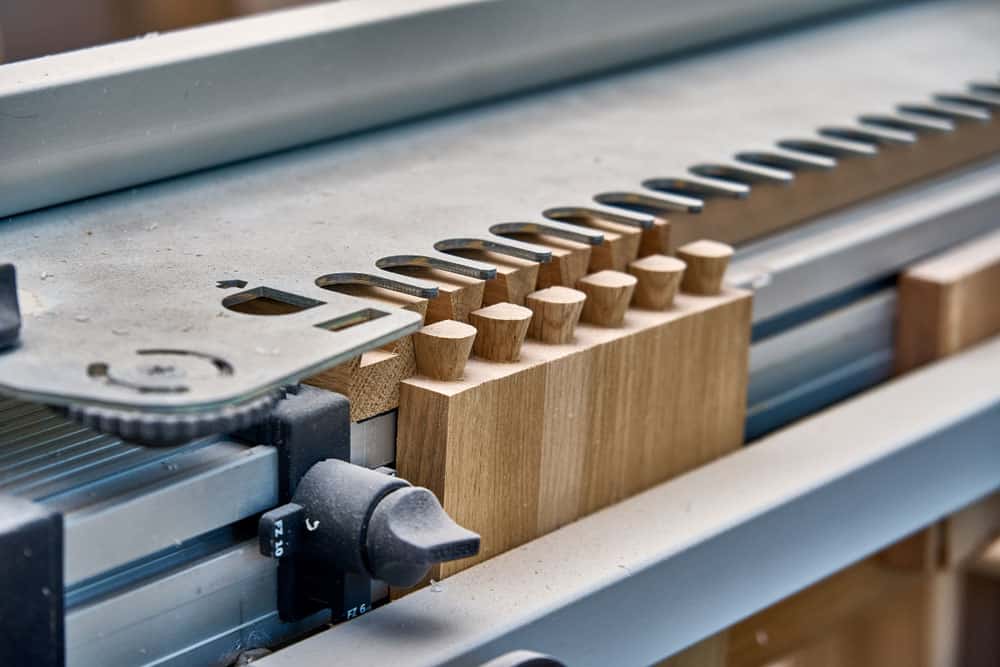 Cut dovetail joints.
A router is a hand-tool or power tool that cuts out hollow areas in rigid materials such as wood or plastic. In woodworking, you will typically find routers as a common tool. Typically in router tables, they are handheld or fixed, with the cutting finishing up.
The router's hand tool type is the original form. It is a specialized hand plane that projects far beyond its base plate with a broad base and a narrow blade. Also, it has a spindle driven by an electric motor. 
Nevertheless, its power tool form is now the more common form. The hand tool version is now often referred to as router planes. It still has a few advantages over some power tools.
Advantages
A router is a versatile tool. Hence, you can utilize it in making other types of joints.
It is simple to set up and utilize. Unlike the chisel mortiser, the router requires less time to set up.
Hand-cut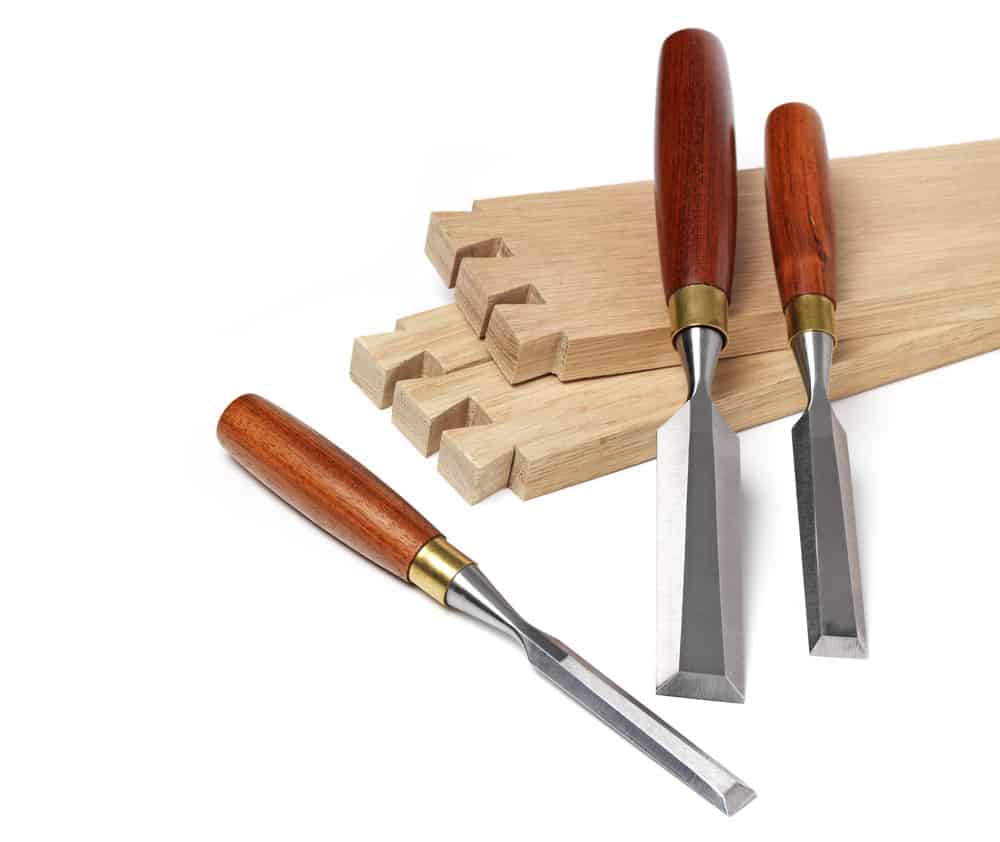 A hand-cut dovetail joint is in use.
A skilled carpenter has been producing dovetail joints for years using compact, precision saws and chisels. Usually, the carpenter ensures careful cutting on both sides of the wood using a chisel to prevent splintering. 
Hand-cut dovetail tenons can also hold the sides of furniture together. These dovetails offer numerous advantages, such as improved strength over extended periods. 
Advantages
Hand-cut allows freedom of design since you will be utilizing hand tools to create the dovetail joint.
It is very affordable.
Section 4: Cutting dovetail joint in hand-cut.
4.1 What tools do we need?
Wood blocks or wood lengths are around 3/4 inches thick and 3 inches wide, and 5 inches high. 
A pencil to mark each piece of wood is needed. 
A backsaw and a coping saw will be useful.
Two Chisels of sizes 3/4 inch and 1/2 inch
A mallet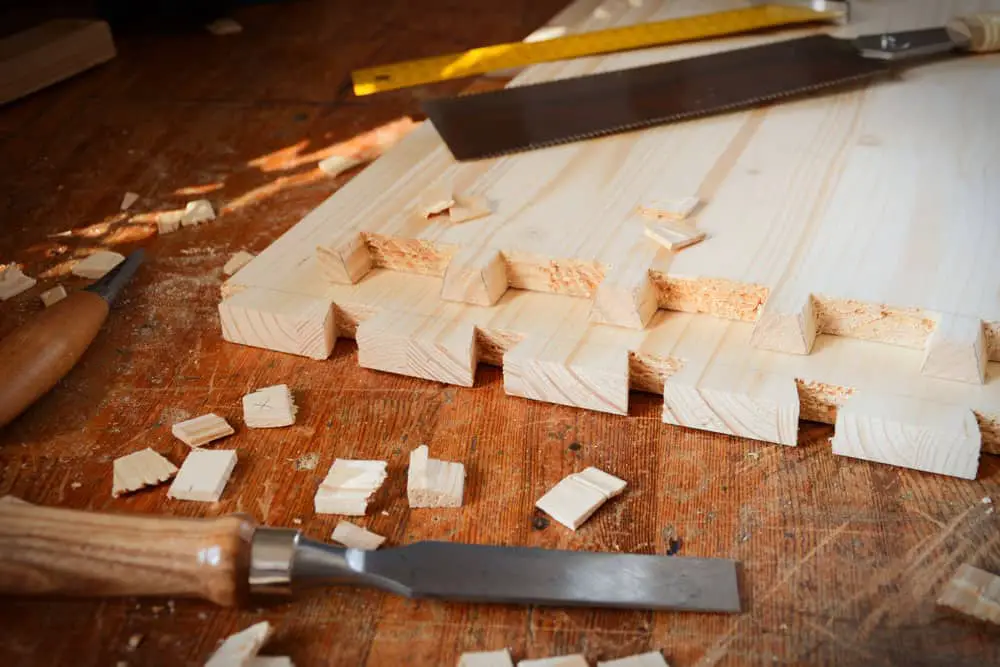 A dovetail joint.
4.2 Mark the Depth
Using a pencil, mark the thickness on all four sides of the wood. For this, you won't need a marking gauge. However, keep one board close and make the marks against the other.
4.3 Mark Out the Tails
Transfer the marks, after marking the depths, to the end of the board. This way, you will create the same trace on the surface of all the boards. Then, transfer those marks across the top square to the board's surface with a square tool. Also, make sure you point out the segments that you need to cut. 
4.4 Cut Tails
Next, you need to cut the tails of the dovetail joint. It would be best if you had a high degree of experience in cutting as well as making a dovetail. Steady hands are very important so as to ensure smooth surfaces.
4.5 Remove Tail Waste
Starting with a chisel (1/16″) from the depth line. You can chop a fast downstroke along the line. Then, at about 30 degrees, the angles are twisted. Next, insert the chisel straight into the stop line. Additionally, clean the wood back to the line for a proper match by under-cutting the joint.
4.6 Mark the Pins
Next, mark the pins on the joints using a cutting knife. Also, ensure you adhere to strict safety protocols to prevent accidents.
4.7 Cut the Pins
The pins of the dovetail.
The pins are cut in the vertical direction so as to obtain depth. Then, use a chisel to remove the waste.  
4.8 Remove Pin Waste
Chisel out the pin wastes after having a clean vertical cut with the hand saw. 
4.9 Final Fitting
The final fitting of the joints
The final fitting is the stage of testing the realistic view. However, you won't get it to fit straight off the saw the first time. The correct position for cutting with a chisel must determine. You can build it by putting two boards together so that they overlap.  Use a chisel to cut the material until the match is tight.
NOTE| Be careful not to remove material from fit angles. It is to avoid having excess gaps after fitting.
4.10 Fit the Joint
After the final fitting, it should require a bit of force to put both boards together. Therefore, you can't just develop the skills overnight. The more often you do it, the better and easier it will get.
For more information about cutting a dovetail joint, watch this video.
Summary
Nccuttingtools have taken you through the steps for easily making dovetail joints. We have experienced professionals to assist you with woodworking tools as well as activities. Do well to contact us for your woodworking tool needs as well as services.