In woodworking, the essential power tools are the miter saw vs. circular saw. Your eventual choice for your project depends on several factors, especially the type of cut you are looking to make.
Miter saws are mostly suitable for trimming, while circular saws are for ripping. Nevertheless, the factors surrounding your choice are not that straightforward.
In this article, there is an outlay of the circumstances surrounding your miter and circular saw choice.
Table of Contents
Section 1 What is a Miter Saw
1.1 What is a Miter Saw?
Miter saws are your go-to saws for angular cuts. This saw is famous for its high-accuracy crosscutting, angle, and combination cutting. In essence, the miter saw is your best choice for making cuts at angles other than 90 degrees.
Check this for more information about miter saw types, sizes, and how to buy.

Figure1: A Miter Saw
Types of miter saws include the sliding miter saw, compound miter saw, compound sliding miter saw, and dual compound sliding miter saw.

Figure 2: A Compound Miter Saw
1.2 What Type of Cutting Can the Miter Saw?
1. Crosscuts: this type of cut is mostly standard. You can make it by cutting through a plane of wood at an angle of 90 degrees.
2. Miter cut: you can make this type of cut by creating a trim at the end of your work wood. A good example is at the edges and ends of your office or home door.
3. Bevel cut: in making the bevel cut, you will cut the end of your wooden board across its thickness. You can easily find such cuts at the doorstep.
4. Compound cut: This combines both the bevel cut and the miter cut. You can find this on trims of crown moldings in your home.
1.3 Features of A Miter Saw
Here is a list of the common features associated with the miter saw:
Step and rotation stop for wood customization.
Sawdust collection mechanism for a neater workspace
Safety accessories like the fence and blade guard
Electric-powered cutting tool.
Miter saw cutting capacity, i.e., all types of cuts possible using the miter saw.
Pros of a Miter Saw.
Below are some of the advantages of using the miter saw.
1.4.1 Precise Cutting and Make Tight-fitting Seams
The miter saw will give you a high-precision cut. This high precision applies to all the cutting types on the miter saw.
1.4.2 Save Time and Have a Fast and Simple Process
With the miter saw, you can make a broader cut quickly. This speed is mainly due to its blade automation.
1.4.3 Safety and Easily Cut Bevel and Cross Cuts
The miter saw moves upwards and downwards when cutting. This cutting style makes it safer to use than its counterparts. Also, you can easily make bevels and crosscuts using the miter saw.
1.5 Cons of a Miter Saw
1.5.1 Poor Versatility
Miter saws have a low versatility because they are stationary and remain in a single location. The miter saw cutting configuration is just of four variants.
It means that it can never produce any other cut outside those four. There are many cutting restrictions with the miter saw. The most important restriction is that you can only cut in a straight line.
1.5.2 Expensive Cost
Miter saws will cost you far more than their counterparts, which is a huge turn-off for most users.
2.5.3 Take up Space
Since you will need to mount the miter saw in a location, it will take up some space.
Section 2 What is a Circular Saw?
2.1 What is a Circular Saw?
The circular saw is a must-have for woodworkers, and most operators do a lot of cutting. This saw's configuration gives it an advantage over other power tools.
Its handheld design and its motorized blade make it flexible. Also, it is the perfect tool for making long cuts.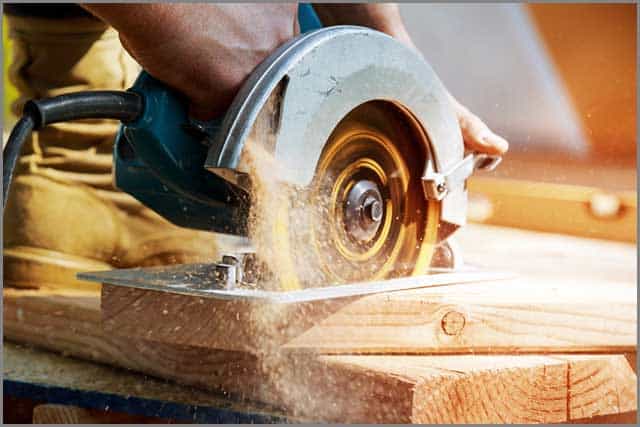 Figure 3: Circular Saw
2.2 What type of Cutting can the Circular Saw be?
There are several possibilities for cuts when using the circular saw. Here is a comprehensive list of the types.
Cross Cuts – this is the essential operation of cutting along the workpiece.
Miter, Bevel, and Compound – Set your circular at 90 degrees and make the miter, bevel, and compound cuts.
Rip Cuts – this is the Cutting across the workpiece with the circular saw.
Dado & Rabbet – you can also make dado cuts with the cuts by making linear lines on your workpiece.
Plunge Cuts – cutting a plan by merely lowering it on a moving circular saw.
2.3 Features of a Circular Saw
The circular saw is a power tool variant, i.e., you can power it with electricity or batteries.
Their blades come in different diameters and thicknesses for various applications.
Their configuration makes them versatile enough to create a wide range of cuts.
There are also unique angle circular saws to allow for specific application and precision.

Figure 4 Circular Saw in Use.
2.4 Pros of a Circular Saw
2.4.1 Almost Cut any Material
The circular saw is one of the most versatile power tools available, making it a must-have for most operators. They can cut metal, pipes, tiles, stonework, plastic, etc. You can move them to any location you see fit for the project.
Great for Rip Cutting, Long Cutting, and Straight Cuts
The Circular saw cuts across longboards quickly. It carries out this operation with ease and reasonably precisely. The circular saw is a perfect match for making straight cuts in woodworking.
2.4.3 Cost-effective
This saw sells far less cheap than the miter saw. About 1/3 of the miter saw the price.
2.5 Cons of a Circular Saw
Cut with the Jagged Edge and not Suitable for Bending and Angled Cuts
The tool's sloppiness makes the circular saw sometimes fall short in making the perfect angular cuts. Using the circular saw can sometimes lead to rough tear outs.
This flaw is because of its toothed blade configuration. It often results in cuts with jagged edges.
2.5.2 Risky
The handy configuration of the circular saw that makes it flexible is also a cause for concern. It is because it leaves you open to fatal accidents from its tooth.
Section 3 Main difference Between Miter Saw and Circular Saw
Below is a table summarizing the major differences between these two types of saw.

3.1 Do you need both of them
Ultimately, it is safe to say that both saws have their respective uses. Depending on your project's scope, you must own it before you can choose which of both saws. It is safe to say that having both won't be a bad idea.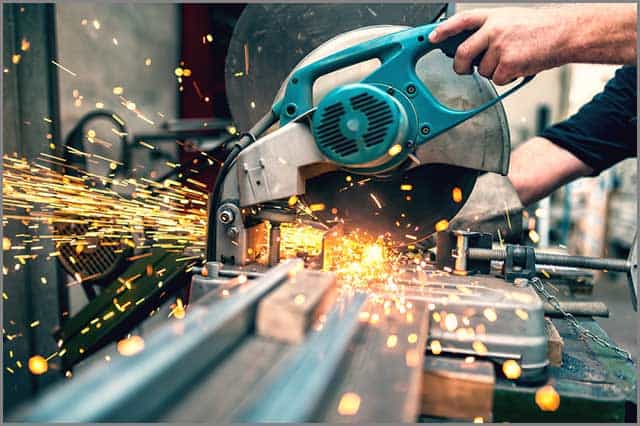 Figure 5 Industrial working using the miter saw.
Section 4 Which one Should you get between the Miter Saw and the Circular Saw?
Below is a table that provides the necessary information to help you in making the best saw choice. The facts are presented based on ease of use, type of cuts, storage and portability, project plan, and price.
Section 5 How to Choose a Better Miter Saw or Circular Saw?
Below is a list of factors you should consider when choosing between a miter saw and a circular saw.
5.1 Power
The higher the power of your saw, the thicker the wood you can cut.
5.2 Blade
Different materials will warrant other blades, so your project scope will determine the type of blade you can use.
5.3 Safety Features
Accidents, when cutting with saws, can be quite fatal. For this reason, most manufacturers are innovating new ways to make cutting safer.
5.4 Precision
Depending on the type of project you are working on, you will need to choose the level of precision you will need.
5.5 Brand
Different manufacturers have their respective advantages, which will go down to your preferred taste and trust in a manufacturer.
Section 6 The best Miter Saws and Circular Saws.
Here is a list of the top 5 Miter Saws
1. 10" Hitachi C10FCG Single Bevel Compound Miter Saw
This is a relatively cheap miter saw. It has all the miter saw's necessary features. With a 15-Amp motor generating 5,000 RPM, this is a must-have for all operators.
2. DeWalt DWS709 12-Inch Slide Compound Miter Saw
For a handy tool with a 15-Amp motor, it sure produces a lot of quality performance.
3. DEWALT DWS709 12″ Sliding Compound Miter Saw
This saw features a 15-Amp electric motor capacity. The motor typically runs at 3800 rpm max.
4. Bosch GCM12SD 12″ Sliding Compound Miter Saw-for a compact design
It packs many firepowers. This saw typically has a 15 Amp/3800 rpm motor
5. DEWALT DWS780 12″ Sliding Compound Miter Saw
A precise tool with a 15 Amp/3,600 RPM.
Top 5 Circular Saws
1. DeWalt DWE575SB Lightweight Circular Saw
A compact and durable tool. The saw features a 15-Amp electric motor. It also comes with a braking system to improve safety.
2. DeWalt DCS391B Cordless Circular Saw
A cordless circular saw with up to 5000rpm. This saw is suitable for speed cutting through rigid materials.
3. Makita XSR01PT 18V Circular Saw Kit
A wireless circular saw that is very flexible and compact for making different cuts
4. SKIL 5280-01 7.25″ Circular Saw
A tool for professionals with a 15-Amp electrical motor for speed cutting.
5. PORTER-CABLE PCE300 7.25″ circular Saw
This is a heavy-duty circular saw with a 15-Amp/5500 rpm for all applications.
Section 7 Safety Tips
1. Install using the Instruction Manual
In carrying out blade replacement, ensure your saw's instruction manual with you to guide you through the process.
2. Always Wear the Correct Gear.
Always wear the correct gear, from the protective goggles to your industrial boots.
3. Check your Blade before Each Use.
Make it a tradition always to check the saw blade before use if any rust or dullness.
4. Set the Right Depth of the Blade when Unplugging the Saw
Make sure the cutting depth is 1/4 inch below the bottom edge of the board to be cut. Which invariably leads to better finishing.
5. Keep the Wires away from the Work Area.
You must keep the wires away from the work area. Ensure that the wires are long enough to complete the cut without jerking the saw.
6. Use Proper Alignment
You have to align your workpiece properly to your saw blade to have a smoother cut.
7. Never try to Twist or Curve Angles.
It would be best if you never tried to twist or curve angles, resulting in poor cuts and even injury.
8. Store Accordingly
You must store the saw in a safe, dry place after use. This method of storage helps to prolong the service life of your cutting tool.
Section 8 Frequently asked Problems.
8.1 How to Make a Sharper Cut with a Circular Saw?
You can make sharper cuts by paying attention to the following steps:
Make it a duty to always check the blade guard control before using the saw.
Look carefully through your saw blade to check for rust or damaged teeth.
For cordless saws, ensure to charge the batteries before using the saw.
Set your saw depth blade to a maximum of 1/4 inch below the board's edge.
8.2 Why does the Edge get Rip when Cutting?
In woodworking, your board edge has to be dead flat to have a smooth and more effortless cut. However, this is not always the case. Most times, you will find boards with rough edges.
It is the primary reason most edges get ripped when cutting.
8.3 Can I Change the Blades of My Circular Saw?
After consistent use due to frequency or time, your circular saw blade will ultimately get dull. At such a point, you have the responsibility to replace the blade to continue getting significant cuts from your saw.
There is an easy way to tell that your circular saw blade is dull. You can tell it is dull when you apply too much force to cut your workpiece.
8.4 Can the Miter Saw cut through Metal?
Most miter saw owners use the tool for woodworking and cutting other softer materials. You must begin to wonder if it can also cut through metal.
Well, the answer isn't a straight yes. Nevertheless, there are still some uncertainties. The reason for the uncertainty is that the miter saw can only cut metal if certain conditions are in place.
Your miter saw blade is the primary determinant of whether or not the saw can cut through metal. While using a standard miter saw blade can't cut through metal, the compound miter saw will do a better job.
In essence, to use the miter saw blade to cut metal, you must tweak a few things. As a rule of thumb, you must change its blade to a variant strong enough to cut metal.
8.5 Is Maintenance of a Miter Saw Difficult?
As crucial as the miter saw is to the woodworker and other users, something of great importance is its maintenance. Constant maintenance will keep your miter saw cutting effectively and faster.
Maintaining the miter saw is not difficult for those that know the value of this tool. A simple cleaning after use and storing in a dry place can go a long way in keeping the miter saw sharp.
8.6 Can Miter Saws Extended?
Yes, you can extend your miter saw. The standard miter saw table width is about 18 inches wide, and some users opt to include extension wings. These extension wings increase the width and length of the support.
Conclusion
Woodworking has been made easier with power tools like a miter or circular saw. These tools, however, have their respective advantages and peculiar applications. Operators must understand the circumstances surrounding their choice of either the miter saw or the Circular saw.
This article compares the miter saw with the Circular saw, highlighting their different strengths and scriptures. You will also find the various applications of both saws and how to use them for woodworking activities.
In conclusion, as you continue to look out for helpful tips on which power tool to use for your project, NCCuttingtools is the place to go. Click here for a video detailing how to use the miter and circular saws.