If you plan on using a miter saw, perhaps you are unsure which type is right for you. Users can pick between single and double-bevel miter saws, which creates confusion.
This article will compare these to help you find a suitable tool for your upcoming project. We will discuss the cut types and other advantages and drawbacks of these products.
Once you finish reading, you will have the information to choose between a single and double miter saw.
Table of Contents
Section 1: What Type of Cut Can a Miter Saw Make?
Here is a quick overview of ways how a miter saw can cut:
Crosscut
Bevel cut
Miter cut
Compound cut
The exact tool you use will determine the capability of performing specific moves. Miter saws are specific because users can place them at different angles depending on the desired outcome.
1.1. What Is a Bevel?
A miter saw with a bevel features a vertical or horizontal slope angled at a certain degree. The most common option is 45 degrees.
If you perform a bevel cut, you go through the board's thickness at the desired angle. That is its main characteristic and the feature that makes it different than other cuts.
1.2.Crosscut
A crosscut is the simplest cut made with a miter saw. That is because it uses a 90-degree angle. In other words, this is a straight cut, both up and down.
Although it is easy to perform, a crosscut adds to the versatility of miter tools. Supporting this cut can come in handy if it is necessary to use a 90-degree angle.
1.3. Miter Cut
Do you have a picture frame in your home? Its corners are the most common example of a miter cut. You might find other places with this cut type.
A miter cut is used for an angled cut performed with your tool that goes across the board. The angle might be at the standard 45 degrees, but you can adjust it to your requirements.
Feel free to choose as long as the tool supports the desired variation and you are skilled enough to perform the cut.
1.4. Bevel Cut
Unlike the miter cut that goes across the board, the bevel cut uses a different approach. It moves through the material's thickness to deliver the desired results.
Although 45 degrees is the most frequent option used by both amateurs and professionals, you can also choose the desired angle.
1.5. Compound Cut
A compound cut is the most complex cut to make with this tool. It acts as both a miter and bevel saw at the same time. That means it delivers both a bevel cut and miter angle.
It doesn't take a lot of skill to perform the compound cut. You can execute this function as long as you know how to operate the tool.
Section 2: A Single Bevel Miter Saw – Basic Overview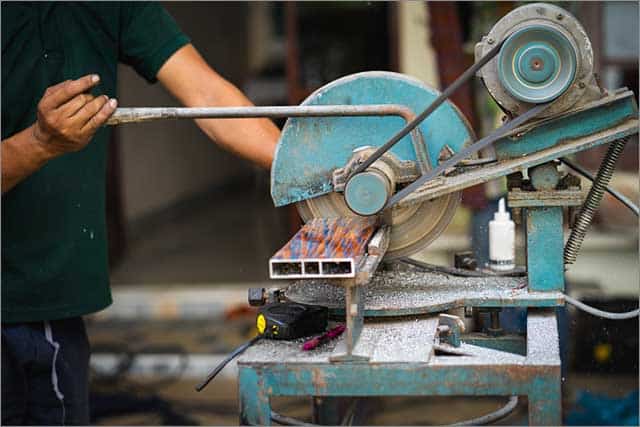 Caption: A technician holding a single bevel miter saw
The main characteristic of this tool is that it can bevel in a single direction. If you are in front of the machine, pivoting to the left. A single bevel miter saw cannot go over 90 degrees vertically.
What if you need it to cut in the other direction? It will take manual work – the user needs to turn the application to maintain the same cutting direction while getting the desired results.
2.1. What Tasks Is This Saw Suitable For?
Do you want an angled cut on an application? You will benefit from a single bevel tool. These products are light and easy to move around. You can take them with you if you work at multiple locations.
The only hassle is that flipping the board is necessary for cutting in the opposite direction. Please note that you should be careful. Those who want identical results should get the board in the same position.
The tool is great if you plan molding, frames, or trim projects in the future.
2.2. Pros and Cons
Advantages:
Light and portable tool you can move around easily.
Suitable for beginners and only a small learning curve is involved.
Fairly versatile and a useful choice for both DIY enthusiasts and professionals.
Affordable and budget-friendly price tags.
Drawbacks:
It is a hassle to rotate the application to perform the same cut on the other side.
Users will need to be patient since cutting might take time.
It might be tricky to operate on long wood pieces.
2.3. The Best Single Miter Saw
If you want the best miter saw, these are the winners in the single bevel category.
Metabo HPT C10FCGS Compound Miter Saw
Major Features
A 10-inch compound tool.
Bevel range from 0 to 45 degrees.
Miter range from 0 to 52 degrees.
Its 15Amp motor has high power.
Metabo designed a high-quality single-bevel miter saw. This 10-inch tool features a horizontal handle to ensure that beginners find it easy to hold. It provides both confidence and the option to maneuver the unit easily.
You can pick between multiple options for the desired bevel and miter angles. The powerful motors will ensure tackling the hardest applications, and the large table secures you can easily position the material.
WEN MM1011 15-Amp 10″ Single Bevel Miter Saw
Major Features
A 10-inch tool.
Bevel range with a max of 45 degrees to the left.
Miter range with a max of 45 degrees to both sides.
And the admirable capacity of the tool.
WEN MM1011 is a single bevel sliding compound miter saw of compact size. Its size doesn't compromise its admirable capacity. You can place a baseboard with a max of 6 ¾ inches and crown molding with a max of 7 ½ inches.
The miter range goes to both sides, while the bevel only pivots to the left. Beginners can rely on the laser guide to perform an accurate cut.
Section 3: A Double Bevel Miter Saw – Basic Overview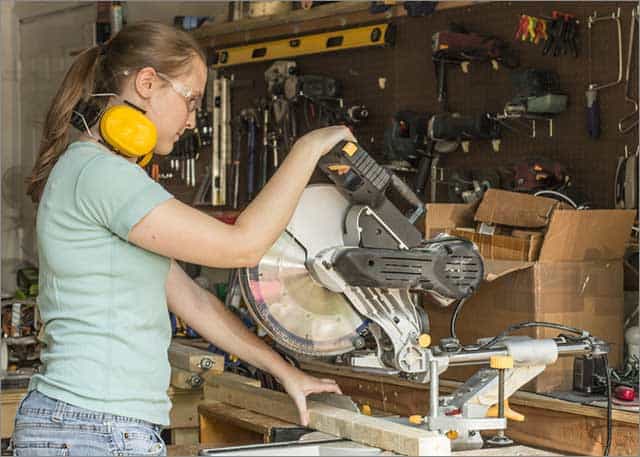 Caption: A carpenter working with a dual bevel miter saw
You will also find it under the name dual bevel miter saw. Whatever you call it, this tool's main characteristic is beveling in two directions.
Imagine yourself in front of the sawing machine. The double bevel miter saw can pivot lefts and right from your body's position. This option allows you to perform two opposite cuts on the same material without moving it.
3.1. What Tasks Is This Saw Suitable For?
This tool is quite versatile thanks to the option to move in multiple directions. Professionals and DIY experts often use it for handmade projects.
It is convenient for those where custom dimensions are necessary. Crown molding and trim are only a few examples of using the double bevel unit.
For starters, using this type is faster. That is because you don't have to pause to adjust the board. It also ensures no danger of positioning it badly during the flipping process. Instead of flipping, move the saw itself and continue the job.
3.2. Pros and Cons
Advantages:
Suitable for professionals and DIY experts.
Versatile and precise at doing the job.
It's an excellent choice for handmade items and projects.
Speed up the cutting process by not turning the material.
Drawbacks:
Its price tag is a bit higher than for a single bevel saw.
It is hard to perform fancy and detailed crown molding.
3.3. The Best Double Miter Saw
The market offers an extensive choice of double-bevel miter saws. That is why we picked some top-rated units and reviewed them below.
Bosch CM10GD Compact Miter Saw
Major Features
The gliding system ensures maximum accuracy.
It has a15 Amp powerful motor for tackling tough applications at a maximum of 4,200 RPM.
A 10-inch blade diameter.
Mite options go with a max of 60 degrees on the right and 52 on the left.
Bosch is a reputable brand in the power tool industry, and this double-bevel compact miter saw is one of their flagship products. It features a space-saving design and a blade that's ten inches big.
As for angle cutting, the miter range is 52 degrees to your left and 60 degrees to your right. That should give you plenty of options to find the desired position. Feel free to use the advanced gliding system to maximize accuracy.
DEWALT Miter Saw, 12-Inch
Major Features
15 Amp powerful motor with 3,800 maximum RPM.
Its Fourteen positive stops of the miter detent plate.
Capable of performing bevel and crosscut.
The bevel can reach 48 degrees on both sides.
It is a premium and pricey tool, but that doesn't stop it from being lightweight. Users don't hide their surprise when they see the DEWALT Miter Saw's potential that features a 12-inch blade.
The product offers positive stops at 0, 33.9, 45, and 48 degrees. Bevel adjustments are simple, and working with this unit should be a piece of cake. The tool is durable and should serve you for a long time.
Section 4: The Key Differences Between Single Bevel VS. Double Bevel Miter Saw

Caption: Single bevel miter saw while operating
It is time for a big showdown. Now that you know both basics, here are the main differences between these miter saws.
4.1 Speed
While talking about speed, it is critical to note that single and double-bevel saws are equally fast. However, one important difference in the working process makes double-bevel units faster.
If you need to cut on opposite sides of the material, a single bevel tool will require you to rotate the material. That means stopping the cutting process, flipping the application while ensuring you position it optimally, etc.
However, a double bevel machine can cut in another direction, so you don't have to reposition the material. That saves you time, which subsequently makes this tool faster.
4.2 Accuracy
Whatever you do with a saw, you want the cutting results to be as precise as possible. Miter saws can deliver accurate cuts, but the secret lies in how single and double units work.
Flipping the material with the single bevel unit means you need to reposition the application. What if you position it wrong and don't get the same cut as the first one?
It will ruin the overall result, which is why double-bevel units can be a better option.
If you are looking for the highest precision level, dual bevel tools are the right choice. However, that doesn't mean single-bevel saws can't be accurate – it will just take more effort on your side.
4.3 Cost
Is the price of the desired saw your primary consideration? A single bevel unit is more affordable than its double counterpart.
That is because it is not as versatile as the double tool. It would be best if you need more manual work when performing identical cuts in opposite directions.
However, a single bevel miter saw is cheaper, so beginners love it. Professionals and frequent users might appreciate the versatility of the dual bevel unit despite its higher price.
4.4 Warming it up
The tests didn't show a big difference in warming up these two tools. It might take a bit more time to warm up a larger miter saw than a compact-sized one, but we are still talking about a difference measured in seconds.
That means single and double-bevel miter saws will be ready to use quickly as soon as you position everything.
4.5 Range
The range involves the number of angles you can use for cutting with a specific saw. It is critical to note that the ranges of both saws are quite impressive.
While it depends on the unit, most tools have multiple positive and negative stops. That means you can use it at 45 degrees and 15, 30, 60, 90 degrees, and maybe even other stops. It doesn't connect to the miter saw type but rather the actual unit or brand regarding range.
4.6 Ease of use
If we are talking about ease of use, you could say that single-bevel saws are the winners in this category. Using them is quite basic, and even beginners will feel right at home when operating them.
Those with more experience might go with double-bevel miter saws right away. While these units come with a learning curve, they are more versatile than their single counterparts.
4.7 Convenience
It seems that double-bevel tools are a tad more convenient than single units. That's because they work in multiple directions. Users can pivot them in both directions, which secures additional versatility.
That also secures there is no need to reposition the material while operating. Instead, moving the saw is enough to make another cut on the opposite side.
That is why dual-bevel miter units are more convenient, although single-bevel tools have a shorter learning curve.
4.8 Portability
The rule is that single-bevel miter saws are lighter and smaller than their double counterparts. Thanks to that, they are also more portable and suitable for moving from one place to another.
Portability might become important if you are often working on multiple job sites. You should go with a single bevel unit if that is your concern.
An Overview of Differences Between a Single Bevel and Double Bevel Miter Saw
Section 5: How to Cut Bevels and Angles
Did you know that angle and beveled cuts are possible with your miter saw? Now, here is the main difference between the two:
Bevel cut – you tip the saw blade.
Miter cut – you angle the workpiece.
These are both angled cuts, and the rest is the only terminology. Here are a couple of quick steps to perform an angled cut:
Position the material properly.
Adjust the saw to get the desired angle.
Make sure it is safe to start operating the tool.
Perform the desired cut.
It is possible to make a bevel cut by turning the material on its edge. Since miter saws are versatile, they are used in various ways to get the desired results.
You can always count on video tutorials to help you. For example, this video will assist you in making the perfect 45-degree angle cut.
Section 6: Which Type of Miter Saw Is Right for You?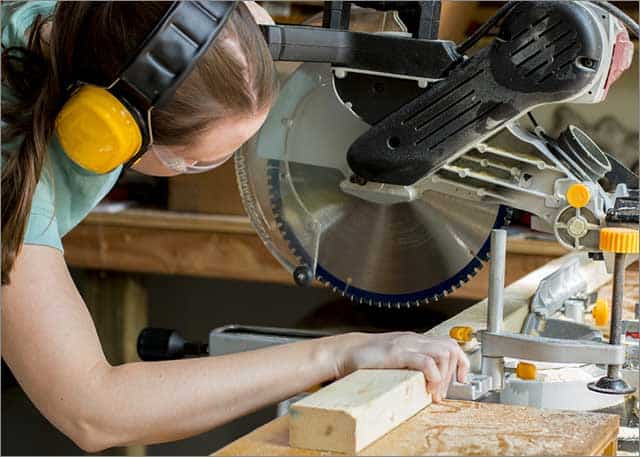 Caption: A dual bevel sliding compound miter saw while operating
Which is better – a single or double bevel miter saw? Both tools are great, so choose based on the tasks you need to perform.
Both options can deliver precise and relatively fast cuts. Here are some pointers to use when choosing the desired type of miter saw.
Here is when you should go with a single bevel miter saw:
You are planning a picture frame or similar projects.
The project involves making angled cuts in multiple planes.
You won't be requiring miter cuts frequently.
It's not a problem to reposition the material when you need to cut on both sides.
It might be better to go with a double-bevel miter saw in these situations:
You plan on using the saw frequently for miter cuts.
The project requires the highest level of precision on both sides.
You are an experienced cutter or a professional.
It is a hassle to rotate the material to cut on both sides.
The project includes delicate crown molding.
Section 7: How to Choose the Right Miter Saw?
Miter saws are incredibly versatile, so their popularity is only rising every day. You can use these tools in woodworking, carpentry, furniture-making, remodeling, and many other industries.
The trick is to ensure you find the right miter saw for your project. Here are some tips you can use during the selection process.
7.1. Know the Type of Miter Saw (Basic and Compound)
If you are a beginner or DIY enthusiast, you need a tool to provide consistent results. Feel free to pick between the following:
A basic miter saw – these are suitable for basic projects and crosscuts, but they can't perform a bevel cut.
Compound – unlike the previous units that only execute miter cuts, these can perform bevel ones, too.
It is an option to go with sliding compound miter saws. These are quite common, but you will need sufficient skill. Their price tag is also higher, especially when compared to basic units.
7.2. Consider What Features You Need to Look For
When it comes to cutting tools, there is never a one-size-fits-all formula. One user might find a single bevel miter saw better, while another might prefer a dual bevel unit.
That is why it is all about the features you need. The experts recommend dust collection to keep the cutting process mess-free. Beginners can also benefit from laser guides. These will help you achieve maximum accuracy while cutting.
7.3. Plan and Take Your Time
It's impossible to stress enough how important it is to take your time when picking a suitable saw. You should trust comprehensive guides and articles written by professionals like this one.
Also, take a moment to understand what features you need. That is the best way of ensuring you find a product that exceeds your expectations.
Section 8: Frequent Problems
Our experts gathered users' most common miter issues while choosing a suitable tool for their project. Check out the answers below!
8.1. Are a 10-inch and a 12-inch Miter Saw Different, and How?
These are the two main miter saw sizes available, and their construction is similar. However, those two inches change their performances significantly.
The 12-inch miter saw is capable of cutting bigger applications. However, that also means executing a task will take more time since the blade will not rotate as fast.
It would be best if you need more skill and patience to achieve the desired precision.
The preferred accuracy might be easier to achieve with a smaller 10-inch miter saw. A 10-inch unit can only cut six-inch applications, and 12-inch tools can cut up materials with a max of ten inches in width.
8.2. What Miter Saw Should I Use for Crown Molding?
If you are making custom crown molding, you can't go wrong with a double-bevel miter saw. These are precise and capable of delivering the desired results with accuracy.
You can also do crown molding with a single bevel saw, but achieving the same precision level will be hard.
8.3. What's the Maximum Cutting Width of a 12 Miter Saw?
Here is the main thing about the 12-inch miter saw. You might think it can cut materials with a max of 12 inches wide, but that's not true.
It can cut a 2×6 material at 45 degrees but a 2×8 application at 90 degrees. The overall board width it can cut usually reaches 7 ½ inches.
8.4. Is It Better to Use a Sliding Miter Saw?
Are you thinking about getting a double-bevel sliding miter saw? These are simple to use and are perfect for those who are only entering the world of miter cutting.
The downside of sliding miter saws is that they are not the best choice for thick materials. If users should cut large applications, perhaps it is smart to consider another option.
Summary
That rounds up our article, and we hope it provided sufficient information on different miter saw types. You now know the meaning of bevel and the pros and cons of single and double units.
The final advice we will give you is not to rush your decision. Consider the characteristics you need for the upcoming project and pick accordingly.
You can always count on NCCutting Tools to deliver high-quality products. The company offers various saw blades and can accommodate personalized orders. Don't hesitate to call us today to discuss your miter saw requirements!