Finishing is a vital part of most handcrafts, and the same also goes for sculptors or operators that work with concrete. 
It is very important to sand and polish the edges or surface of the concrete countertop so as to have a pleasing aesthetic finish. It helps to improve the concrete quality since it removes flaws and blemishes. 
Hence, this article presents everything you need to know about making a perfect concrete countertop.
Countertop concrete polishing
Section 1: In what condition can we polish the concrete countertops?
Leave your concrete for a few days so as to allow for adequate curing. It guarantees the cement matrix almost no internal moisture. Hence, most quality concrete countertop mixtures take about two days for adequate curing. However, in colder regions or cooler seasons, you can allow for four days of curing. 
After leaving your concrete for adequate curing, you have to create profiles before sealing your concrete. Profiling your concrete guarantees the sealer builds up a decent mechanical bond with the surface. Before sealing the concrete, it is vital to have a matte finish to prevent any reflection.  Profiling also eliminates surficial material or foreign substances that would meddle with shaping a decent bond. Nevertheless, there are some popular profiling techniques, namely, etching and honing.
Cleaning should follow right after profiling your concrete.  It would be best to clean the concrete to take care of any scratches or flaws formed due to profiling. So, you can use a soft cushion foam along with clear water to wipe the concrete surface. 
Finally, your concrete should be arid after applying the sealer. Dry concrete allows the sealer to have a firm hold of the concrete. In contrast, moist or wet concrete will hinder the cure, causing ineffective sealing of the concrete countertop.
Cured Concrete
Section 2: What kind of concrete countertop look do you want?
Smooth Polish
The smooth polish offers you the smoothest sheen any polisher technique can offer. However, to get this sheen, hone your countertop lightly with your diamond pad and hand polisher. They are also famous for their excellent absorbent feature for dust and small particle dirt. 
Salt & Pepper Polish
This type of concrete polish is the easiest to achieve and is suitable to hold stains and colors better than smooth polish. So, to get this surface, you need to expose the underlying sand in the concrete mix. However, this requires a level of expertise, as you have to watch out not to expose the aggregate layer.
Aggregate Polish
It is the most attractive concrete finish type and most sought after. Nevertheless, for this concrete finish, you will need to expose the aggregate layer of your concrete countertop.
Section 3: What tools do we need when polishing?
You will need a wet concrete polisher. So, as a rule of thumb, the handheld version with variable-speed capability is more preferred. 
A set of diamond polishing pads, the grain size ranges from fine to coarse to allow polishing. 
A large squeegee will be needed because it helps to control the flow of the liquid on surfaces.
Safety glasses and earplugs: for protection.
Chemical hardener additives.
Need for a trash can so as to ensure that you always maintain a clean environment.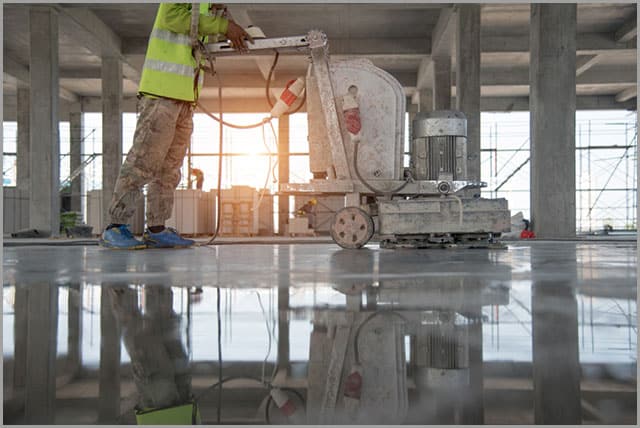 polishing concrete
Section 4: How to polish concrete countertops?
4.1 Choose the right diamond polishing pad based on your project.
Polishers use polishing pads for any finishing they need to make and many factors in choosing the most suitable pad. However, the most vital factor would be the type of project you are undertaking. You can read more about how to choose the right diamond polishing pad.
4.2 Polishing preparation.
It is pertinent to allow the concrete countertop cure for a minimum of ten days and a maximum of thirty days. It allows you to get the best performance from your concrete. However, any attempt to polish your concrete countertop outside of this will give you a flawed project. After curing, use your squeegee to wash the surface of your concrete so as to remove any debris.
4.3 Clean and repair holes.
Sometimes your concrete countertop can have holes or scratches. In such cases, you can use a patching mixture to fill in the cracks or gaps.
4.4 Initial polish
You can start out polishing the countertop with a coarse pad as the workpiece demands. So, an important rule would be to work your way around the entire surface of the countertop, including its edges. However, bear in mind that you must consistently apply water as a form of lubrication.
4.5 Honing the Surface with a Coarse Grit Pad
Use correct protection equipment like goggles and earmuffs.
You should use a handheld wet concrete polisher with variable speed settings. Also, ensure that the water source and tool are attached securely. The tool must be capable of releasing water while you grind the concrete surface. 
Attach the polisher and the coarsest grit grinding pad(diamond). As a rule of thumb, the set of grinding pads should be compatible and should range from fine to very coarse.
Apply even pressure to the tool after holding it level to the concrete surface. 
Hold the tool level and apply even pressure to the concrete surface.
Buff out knocks or bumps to accomplish an even surface texture with the main pass.
You should polish the surfaces after attaching a protective skirt to the tool. 
4.6 Using Finer Grits to Create a Sheen 
i.Switch to the following level grit and go over the whole surface once more. If you start with a 50-grain mat, change it to a 100-grain mat to reduce the texture. 
ii. Use a handheld diamond grinding tool to clean difficult to-arrive at zones. 
iii. Progress from the coarse-grit cushions to the medium-grit cushions. 
iv. Use medium-fine grits to make a smooth surface. After you finish the 400-grain mat, please change to an 800-grain mat. Also, rehash the way toward cleaning all surfaces of the countertop. 
v. Use the best grits to accomplish a sparkling completion. After the 800-grit cushion, you can stop with a 1,500-grit cushion. This grit will give a smooth-to-the-contact surface and smooth sheen. 
4.7 Treating the Concrete 
i. Rinse the countertop with water. 
ii. Treat the concrete with any paint or corrosive stains whenever wanted. As a rule of thumb, you should use paint or corrosive stain medicines on the surface at this stage before sealing
iii. Apply one layer of concrete sealer to the surface with a cloth. 
iv. Let the sealer completely cure before making the most of your new countertop. Permit the surface to dry totally to achieve the best results.
Section 5: What do we need to pay attention to when choosing a polishing pad for concrete?
As a rule of thumb, when buying polishing pads, you need to ensure it is suitable for use with your grinder and designed to be used on concrete. There exist polishing pads in the market that are not compatible with concrete. You will typically see many operators using pads designed for granite being used on concrete. This is wrong!

Concrete has a rough, hard aggregate in a relatively soft matrix, whereas granite is uniformly hard. If you use pads designed for granite on concrete countertops, they will not last long in operation and won't work effectively.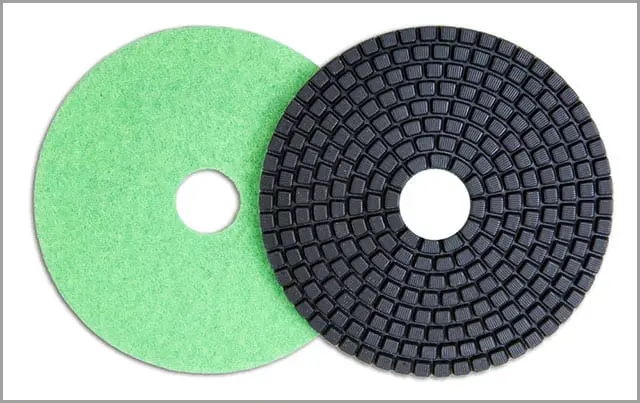 polishing pads
Section 6: Tips for Achieving the Best Results
Here are some crucial steps you should follow to achieve the best results.
Make sure your concrete countertop spends a minimum of ten days to cure before polishing. Failure to do this can leave you with a softer concrete with poor workability.
Make samples if you can to reduce errors on the main concrete countertop.
Ensure to keep the polishers and pads as even as possible to avoid having swirl marks on your workpiece.
You can make use of accessories like a skirt to keep concrete chips from spraying into the ceiling. 
Make sure to keep water flowing on the polisher's point of contact and the concrete for lubrication. It will reduce wear on the pads. 
Keep polisher in the same configuration sequence with the pads you opt to use.
Click for a video with up-to-date information about polishing the concrete countertop.
 Summary: 
Polishing is a vital part of concrete finishing today as it helps improve the beauty and quality of the concrete. Furthermore, concrete countertops polishing is relatively easy to achieve as long as you possess the needed knowledge. 
In conclusion, as you continue to look out for helpful tips on how to polish your countertops, look no further; NCCuttingtools has got you covered.