Wood saw blade is essential to get your wood project to the peak. It is necessary to know that the success of your project depends much on the type of tools you use.
Whether you are a distributor, a factory owner, or an individual who works with wood, choosing the correct saw blade for wood might be challenging. We have gathered tips on choosing the best saw blades for wood.
Getting your wood project off the ground comes in handy after you have gone through the following tips:
Table of Contents
1. Select Wood Saw Blade According to Wood Type
Knowing the nature of the material you are about to lay your hands on is often a great idea. In woodwork, the strength of the wood determines the type of cutting tool to be used, especially the wood saw blades. A hand table cutting saw blade, which is flexible and made up of less quality material, is unsuitable for a complete wood log.
Hardwood: Generally denser, but it is not necessarily harder wood. Usually, the hardwood comes from deciduous trees, which decay every year. Hardwood grows slowly so that the density will be greater; cutting will require more skill and a blade with stronger hardness. And we need to pay attention that such density makes it easy to produce cracks during the cutting process. We have to choose the tools carefully.
Corkwood: The density is lower, but it is not necessarily softer wood. Softwoods generally come from conifers and usually remain evergreen. Pine and mahogany are softwood. Cork is more suitable for producing crafts, so when cutting cork, we can choose small and exquisite cutting tools.
It makes sense to distinguish the material that needs to be cut. You need to choose the saw blade according to the type of wood you need to cut.
(Wood material to be cut–Corkwood)
2. Select Wood Saw Blade According to Cutting Type
If you choose your wood saw blade according to the cutting required, you have undoubtedly gotten the best tool for your project.
To take your project to the peak, you need an extensive background in home repair and remodeling, which cuts across a selection of the best tools for your project.
If you are tearing, finishing, or doing a combined cutting, the right is just what you need. The samples of tools and their effectiveness include:
Also known as the SKIL saw, it can prove to be one of the most versatile tools for woodwork. It is so important that an expert combine it with the right set of blades to build an entire house.
Instead of buying the traditional table saw, you should get a power hand saw for your woodwork. The SKIL saw enables you to do cross, angle, and rip cuts.
You can achieve unimaginable with the right saw blade for your SKIL saw.
A power jigsaw is a cutting tool of great versatility to your woodwork. It is capable of carrying out Curved cutting, which is where the power jigsaw excels. It is also perfect for cutting holes in wood too.
When purchasing a quality battery-powered drill, don't judon't for a drill that runs on at least 12 volts. Also, it is best to get a drill with a keyless chuck. If budget is not a concern, then a half-inch chuck is preferable to the 3/8-inch type. This preference is because of the versatility of the half-inch chuck.
NOTE: The long-term battery life of a battery-powered drill tends to be weak, and to make things worse keyless chucks come loose and slip frequently.
These are excellent tools used every day in woodwork. Although they are crude tools for cutting wood, they enable you to taper wood edges, flatten high spots and correct any imperfections in woodwork.
Think about the types of projects you plan on doing that requires a circular saw and how deep your cuts need to be. The saw blade capacity usually dictates the depth of the cuts.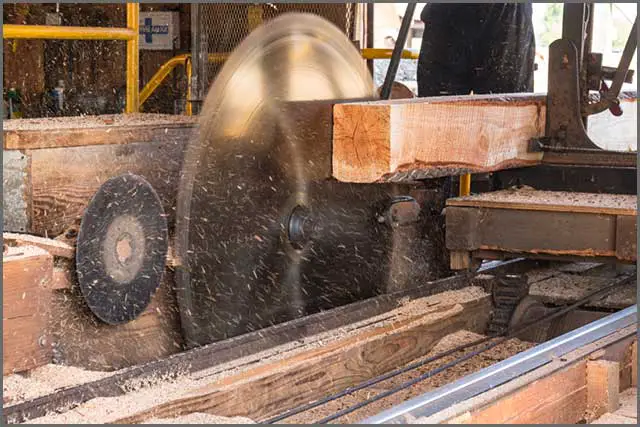 (Rotary saw for cutting wood products)
3. According to the Work Style
Your working style dramatically depends on the type of work at hand. Whether you are doing table saw cutting or SKIL saw cutting, it all depends on the job.
It is essential to bring to our notice that a SKIL saw is a great tool that allows you to use the best blades for cutting wood.
The table saw is perfect for you if you need a fixed workplace and wet cutting. It can help you work faster and improve cutting efficiency. If you need to move the workplace at any time, there are no special requirements for wet and dry cutting, and you can rotate the handheld data, which is more convenient.
(Choose Wood Saw Blade according to work style)
4. Consider Blade Type Based on Cost
Are you tearing wood, finishing a project, or doing the combined wood cutting? It is essential to know that the scope of choice of the equipment you use largely depends on your budget.
Large cutting tools are often more expensive. You can choose the right tool according to your budget. The cost aspect is very important and directly related to the profit and pricing trend of the final product. We suggest that if you need a large cutting tool, you can buy high-quality products to avoid excessive repairs and maintenance costs. If you need more product options, you can contact us.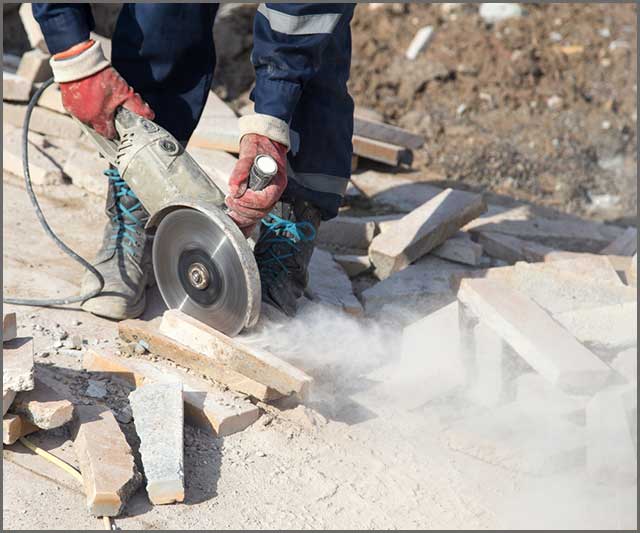 (Circular saw used for cutting concrete)
5. According to the Saw Blade Size, Tooth Density Consideration
While choosing saw blades according to their sizes and density, you should also consider the size of the wood to cut.
It is important to note that most wood blades are crafted from one of four kinds of material. They include:
a.Woodcutting blades made of carbon steel: This blade type is flexible and usually inexpensive. They can be used quickly but also wear off comfortably.
b.Wood blades made of High-speed steel: This type of wood blade is less flexible. They tend to last longer than those made of carbon steel only.
c.Saw blades made of Bi-metal: They are more efficient as they deliver a neat and fast job. They last longer than wood saw blades from carbon steel or high-speed steel.
d.Carbide grit: This is the best material to craft wood cutting blades.Suitable for elements such as fiberglass, concrete panels, and porcelain.
We have concluded that the materials used in the craftwork of these blades are a significant determinant of how expensive the blades would be. It also determines the strength of the blades.
Regarding the strength of the wood you are working with, you should know this formula to select the best blade. Coarse-tooth blades are for cutting natural wood. Serrations blade designed for cutting wood and clean hard plates developed.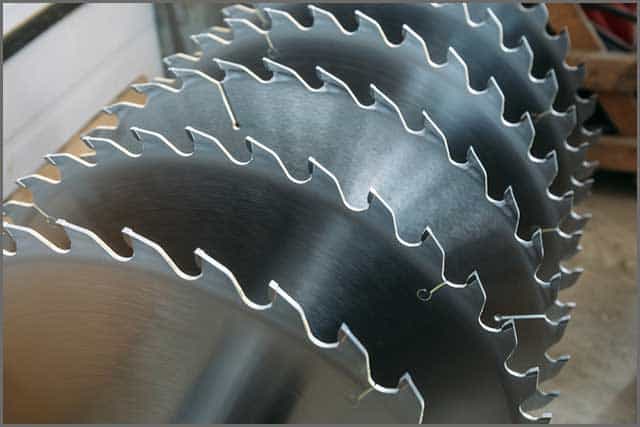 (Circular saw blade with large tooth size)
6. Avoid Rough Saw Blades of Wood
The reasons why you need to avoid rough saw blades of wood:
The primary factor that separates a good piece of woodwork from a mediocre one is the cutting saw blades used.
How clean the woodwork is, tells much about the quality of cutting saw blades used.
Tear-out on a piece of furniture is one of the significant consequences of using a coarse saw blade for cutting wood.
(Smooth table saw)
7. Recommended Types of Wood Saw Blades
Different types of cutting tools combine well with specific blades. If you use the wrong blade, the situation may get worse.
For all types of saws, we recommended the use of certain types of saw blades. Also, some combinations of blades could be used comfortably during woodwork.
A table saw blade must be used for a table saw to ensure effective cutting. Similarly, the miter saw's blsaw'sust use a miter saw blade. Cutting sheets of plywood on a miter or radial arm is not logical. It is also not logical to use miter moldings on a table saw.
Tooth Count also dramatically determines the neatness of your woodwork. It is best to use blades with high tooth count for cleaner cuts, regardless of the material. Also, fewer teeth blades are suitable for thicker material.
We are here to clear up any confusion about selecting the right blade for the right machine, equipment, and woodwork. For the best results, you need the right tools.
Summary
In summary, NCCuttingtools have taken you through the tips on choosing the correct Saw Blade for Woodwork, from the reasons you should choose a specific cutting tool to how you select cutting tools for different wood materials.
Whether you are a dealer, wholesaler, or an individual looking forward to taking your wood project to a higher level, contact NCCuttingtools, as they are readily available to provide you with the needed services. If you need cutting tools, you can contact us.