The drill press is a classic woodworking drill machining tool that is popular for its efficiency and accuracy. Its efficiency and accuracy, as well as numerous functionalities, simplify work and provide usability. 
In recent years, the drill press has become an everyday machine the woodworker must possess in his catalog. Nevertheless, there exist several types of drill presses.
Deciding which press to use can be a daunting task for beginners and even experts. 
This article presents the ultimate guide to a woodworking drill press. The article will introduce to you everything you need to know about the drill press.
Table of Contents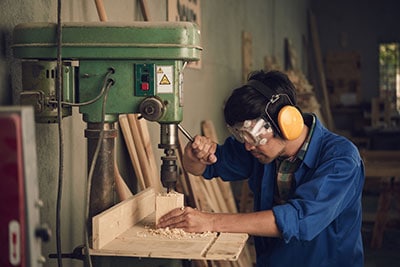 Figure: Operator seen using a drill press
Section 1: What is a drill press?
1.1 Introduction
The drill press is a modern machine that turns a rotary tool to penetrate surfaces. So, the most common use of the drill press is to drill holes on surfaces.
However, replacing this rotary tool(drill) with other machine tools allows for multiple machining operations. Some machining operations include drilling, reaming, tapping, counterboring, countersinking, and spot facing.
1.2 Parts of the drill press
This part of the drill press houses the electric motor and the speed adjustment mechanism. 
The electric motor is the driving force of the drill press.  The electric power is what enables the drill press to cut wood and other materials.
The spindle is the part responsible for the revolution of the drill bit. You can either automatically program its revolution or manually turn the spindle.
Figure: Spindle
Speed adjustment is responsible for changing the cutting velocity. This velocity typically varies from low to high speed depending upon the nature of the material. 
the chuck helps to hold the drilling tool in place. Asides from holding the tool, the chuck also prevents dangerous parts from causing serious injuries.
the table is a part that serves as a surface for the workpiece. About the workpiece, the table part is often customizable to high and low.
The customization helps make sure the workpiece is at the perfect height for the bore's tip. It also acts as a support for the workpiece.
It helps hold the table all over. 

Figure: Table clamp
It is set at 90 degrees on the base and fills in as the drill press's foundation. This part helps to support the table and the head.
1.3 Types of the drill press
Portable Drilling Machine:
its portability makes it famous among small-scale woodworkers and personnel. This portability also makes it a perfect fit for personnel without an industrial drill press setup.
The kind of boring tools utilized relies upon the personnel's workpiece and the hole diameter.

Figure: Portable Drilling Machine
Sensitive Drilling Machine:
It is a specific kind of drill press variation. This variation is seen as including a spindle head and belt drive.
The spindle head, belt drive, and drill press design make this machine ideal for cutting soft and hard materials.
Another peculiar advantage of this machine is its ability to incorporate bench and floor mounting.
Upright Drilling Machine:
Its design features a vertical column. In addition to the vertical column, you will typically see a column mount over the machine's base.
The upright drilling machine is prevalent for medium-scale drilling tasks and projects.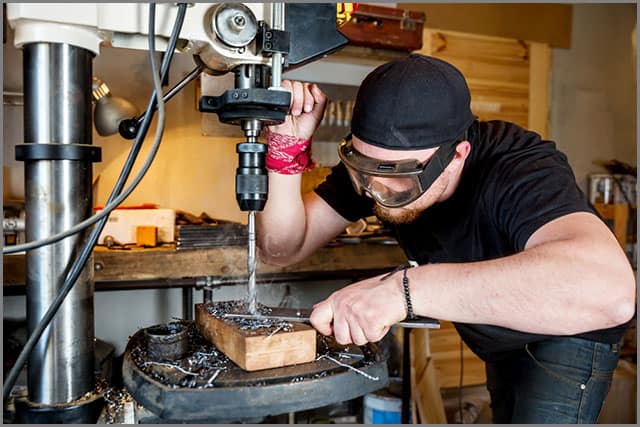 Figure: Upright Drill Press
Round Column Section Machine:
Its design features a round section similar to the upright drilling machine that operators use. Nevertheless, operators find this machine particularly useful for drilling lighter or softer materials.
In addition to cutting softer materials, this machine's round column design has an advantage. Its advantage is that it makes it easy for operators to make a stable and robust cut into the workpiece.
Box Column Section Machine:
Its design features a case segment area. In addition to this segment area, operators find this design particularly useful for drilling rigid and inflexible materials.
Radial Drilling Machine:
It is another famous sort of penetrating machine. This machine uses gear bits and allows radial movement during drilling. Its popularity for drilling tasks is due to its adaptability and flexibility in operation.
Gang Drilling Machine:
This type of machine is irregular for its various single spindle segments situated on a similar machine base. The machine is the ideal drill for several modern processes and large-scale manufacturing.
Multiple Spindle Drilling Machine:
It is the best sort if you need a drilling machine to bore numerous openings simultaneously.
Automatic Drilling Machine:
This class of drilling machines is appropriate for large and repeated project activities. Often, these large and repeated projects aim to obtain similar cuts of a workpiece.
Section 2: Why does woodworking choose the drill press?
2.1. Accuracy
The essential motivation behind why you should have a drill press for your project is accuracy. Accuracy is crucial as most woodwork projects require precise openings.
Regarding precise openings, a drill press allows you to create the perfect and accurate openings you will need. 
All you need to do is to clip a piece of wood solidly into position. When clipping this piece of wood, you must ensure that the drill press' spindle is set to a specific point or position.
This position must be compared with the bit and wood. It allows you to accomplish the point of the source that you will need.
A death stop precisely forestalls the drilling bit from sinking too far into the bit of wood. These features lead to openings that are precise on your wooden workpiece.
2.2. Speed
A drill press permits you to do much more work in a shorter time.  By automation and setting, depth stops, you are less prone to making mistakes when using the drill press. Also, recent drill press technology has advanced speed capability. 
Unlike handheld drills, woodworkers do not require strict guidelines while operating the drill press. Drill presses typically have better engines than handheld drills. Unlike handheld drills, drill press engines turn drill bits extra rapidly, prompting speedier drilling.
2.3. Power
The engines on drill presses save energy during drilling.  Drilling openings typically require less exertion than it will with handheld drills.
Furthermore, a drill press engine permits you to use larger drill bits for drilling more extensive openings. 
Drill presses also create extra power through influence from other parts of the drill. A typical example is a chuck, which attaches to the drill press.
Another example is the rack-and-pinion switch, which brings down the chuck and spindle.
2.4. Functionality
A drill press permits woodworkers to precisely drill wood at different angles. The varying angle capability of a drill press remains one of its core advantages.
This advantage is crucial as it is difficult to make angular openings with handheld drills without having parallax errors.
A drill press is also useful for drilling openings into complex objects with special purposes. This sort of functionality makes a drill press accommodate any of your woodworking desires.
2.5. Versatility
Drill presses are adaptable machines fit for drilling most types of holes. In addition to this hole capability, most of these drills operate at variable speeds.
Also, the drills are compatible with accessories like the spindle smoother or a rotating sanding circle. Adding an attachment like the mortise allows you to drill squares into a piece of wood.
A drill press's structural design and configuration equip it for drilling openings into metal. This metal-drilling functionality has been useful over the years for blacksmiths' metal projects.
The functionality also allows woodworkers to seamlessly venture into metalworks and fuse them into their woodworks.
2.6. Safety/Security
The essential focal points that operators consider for drill press usage are safety and security. Drill presses are safe to use as woodworkers look to drill pieces of wood.
The variable-speed function assures woodworkers over the drill bit. You can also use a cinch to tie down a piece of wood to a drill press table.
This tying activity keeps the wood from danger on the ground and helps protect the craftsman.
Section 3: What is a drill press used for woodworking?
3.1 Mortise cutting
A mortise features a square or rectangular opening. It gets a tenon of a similar size cut out of a connecting bit of wood. For quite a long time, hand-cut mortise has been common for projects.
Present-day technology presents us with a mortiser that you can use for cutting mortises. A mortiser features a drill bit located inside a square or rectangular chisel.
This rectangular chisel feature helps to drill openings and cut square edges of the mortise simultaneously.
3.2 Using a drill press mortising attachment
Your woodworking project might demand a couple of mortise and tenon joints. An alternative would be making the mortises with a force drill and a sharp chisel.
Notwithstanding, if your project requires various mortise and tenon joints, there is an ideal solution. This solution involves you getting an empty chisel mortiser. This mortiser will help to whip out various clean mortises fast.
If you don't have space for another force tool, there is another alternative. This alternative relies on the fact that you have a drill press. Drill press producers often offer an empty chisel mortising connection.
This connection permits you to utilize empty chisel mortising pieces. The sizes of these pieces vary from 1/4 inch to 3/4 inch in width.
3.3 Sanding spindles
When your workpiece has various bent cuts from a jigsaw, you must do something quickly. The fastest and best outcomes originate from a swaying spindle sander.
If a spindle sander isn't promptly available, one straightforward arrangement is to utilize the drill press.  The drill press allows variable velocities.
The variable velocities allow various acclimations to the spindle sanding paces. You can make these sanding paces to be suitable with almost any kind of material.
3.4 Doweling
Doweling has been used for quite a long time by woodworkers who expect to fortify their wood joints. The guideline behind doweling is straightforward.
Little and uniformly cut sticks of wood (called dowels) fit into completely coordinated openings. When assembled, these dowel assemblies give a solid and strong woodworking joint.
The main assignment in making dowel joints is to drill the dowels' openings in the connecting sheets. If the openings aren't drilled precisely in the correct spots, issues arise in the dowel joint.
The dowel won't adjust appropriately, and the joint won't hold well.
Section 4: How to choose the best woodworking drill?
There are lots of drill presses with varying prices. Beyond the price or cost of a drill press, there are several other factors to consider. These factors also have a huge impact on determining the choice of a drill press.
These factors also determine the accuracy and efficiency you have in drilling. They are namely; size, model type, horsepower, speed adjustment, depth stop, weight, quill stroke, and drill press table tilt.
5.1 Size:
The first step in choosing your drill press is to identify the drill's size. To identify the drill size for a workpiece, you will consider nominal diameter and total obtainable depth dimensions.
These dimensions will allow you to work effectively on your workpiece and produce excellent results.
5.2 Model type:
There are two major models of the drill press: the floor model and the benchtop model. The floor model is suitable for bigger or industrial projects. Unlike the floor model, the benchtop model is suitable for smaller and workshop-size projects.
5.3 Horsepower:
Your drill press horsepower determines the drill press's ability to drill holes in different materials. To drill through sturdy materials, you will need a higher horsepower.
5.4 Speed Adjustment:
Depending on the material you are cutting, you will adjust the drill press speed to suit your activity. Drilling wood often requires faster speed, while metals require lesser speeds.
As a general standard for speeds, look to stay within 500 and 4000 RPMs speed ranges.
5.5 Depth Stop:
This is a control system in the drill press that ensures that all holes have consistent depth.
5.6 Weight:
This is a huge criterion in drill press selection. The bigger and heavier your drill press, the stronger the drill press. A weightier drill press will have less vibration and allow a smoother cut. 
5.7 Quill Stroke/Spindle Travel:
The distance your drill chuck and drill bit travel in the downward direction when turning the handle.
Hence, you can describe it as the maximum number of turns the drill press spindle can go before bottoming out. As a general standard, you should only stick with drill presses with quill strokes longer than 4 inches.
5.8 Drill Press Table Tilt:
Drill presses with a table tilt of about 45 degrees left and right are tremendous. So, these presses are a rare gem for drilling angled mortises.
Some tables tilt come in a 4-directional tilt for cutting complex angles.
Hence, asides from the extra cost for the table tilt drill press, you should look to add table tilts to your tool accessory.
Section 5: What is the best woodworking drill press?
JET JDP-17MF Floor Drill Press: this a popular drill press that most operators look to always have in their respective workshops. These drill presses typically come in sizes ranging from ½ inch to 16 inches.

(JET JDP-17MF Floor Drill Press)
Delta 18-900L Laser Drill Press: an award-winning drill because of its durability and strength. Nevertheless, the 18-inch type remains one of the most common drill presses.

(Delta 18-900L Laser Drill Press)
RIKON 30-217 Drill Press: this drill press features 6-inch spindle travel. This press also features a motor with a power rating of 1.5 hp. It is a modern-day speed machine.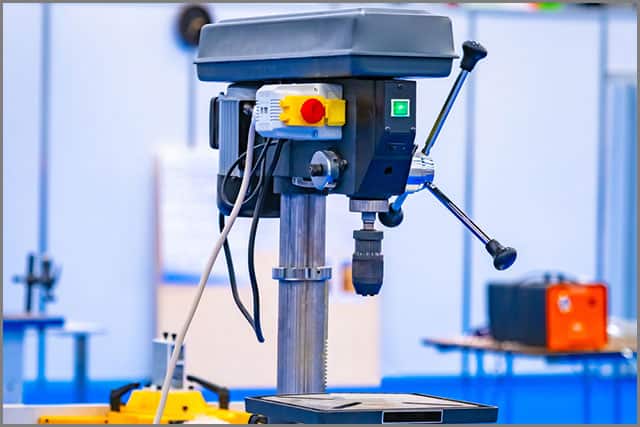 (RIKON 30-217 Drill Press)
JET JDP-20MF Floor Drill Press: This is another common type of drill press from JET.  This drill press is quite popular due to its cutting-edge advancements in drilling.

(JET JDP-20MF Floor Drill Press)
PORTER-CABLE Floor Drill Press: this is an effective drill press. Many experts know this drill press as the best value award winner.
However, this drill press has a downside of excessive vibration. Hence, users must have experience in mitigating the effect of the vibration.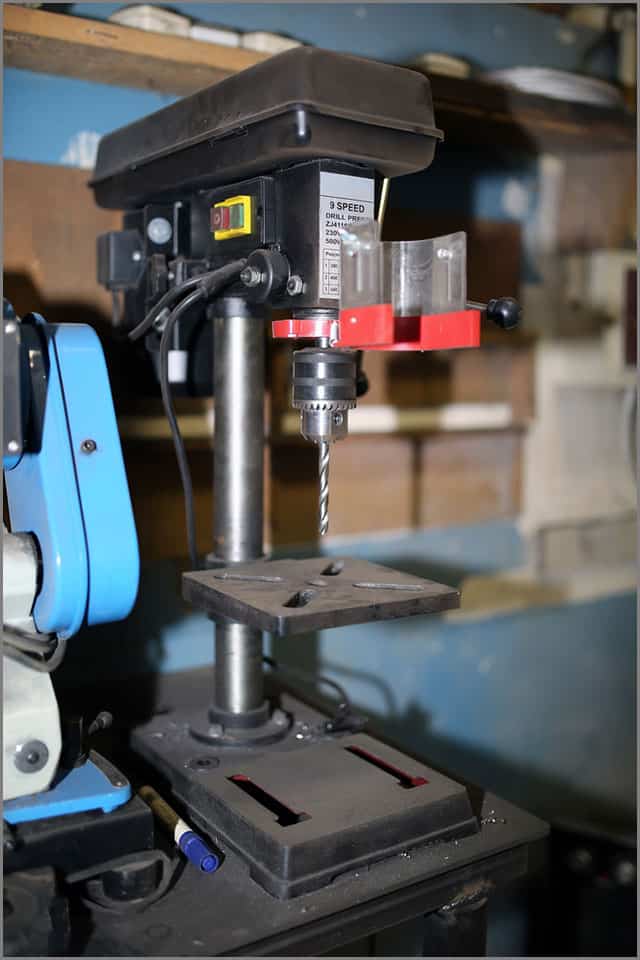 (Porter-cable floor drill press)
Grizzly Floor Drill Press: features a motor with a power rating of 1.5 Hp.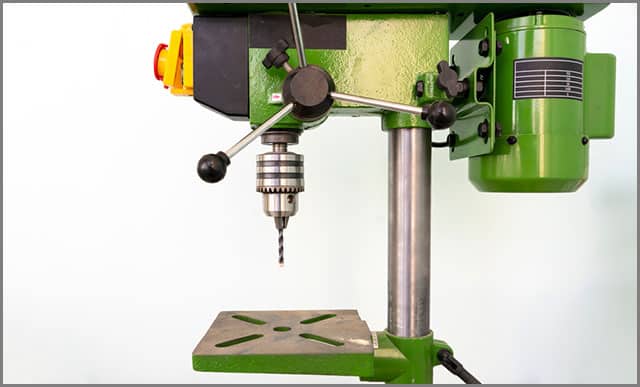 (Grizzly Floor Drill Press)
General International  Floor Drill Press: possessing large swing and a four 3/4″ quill stroke. This press is a must-have.

(General International Floor Drill Press)
Section 6: How to choose the right drill bit for the woodworking drill press?
6.1 What are the different kinds of drill bits for your drill press
Over the years, woodworkers have improved the type of cut they can make due to drill press capability. Woodworkers continue to modify drill bits so as to create the ideal hole.
However, we have numerous drill bits available to every woodworker today. This availability is regardless of the type of cut and material you intend on cutting. Below are a few of the drill bits available today:
6.1.1 Woodworking Drill– Twist drills
Because of its 118° tip design, the twist is one of the most versatile drill bits available today. So, the twist is efficient in cutting several materials like wood, plastic, and metal.
6.1.2 Counterbore drill bits
Counterboring drill bits create a flat-bottom cavity. This cavity allows the head of the screw or bolt to rest totally within the counterbore.
Nevertheless, most operators often use these screws with washers.  Because of this usage, the counterbore bit creates enough room to accommodate the entire coupling set.
6.1.3 Countersink drill bits
The countersink drill bit is so popular for creating pilot holes for screws. Nevertheless, it is ideal for starting a drilling operation.
Sometimes, the countersink drill bit also creates holes for the screw shank. Besides, this drill bit creates a recess that allows your screw​head to sit with the wood surface. 
6.1.4 Flat bottom boring bits
The flat bottom bit is perfect for creating an accurate start. In addition to these accurate starts, these bits have sharp rims that can cut clean edges.
Nevertheless, these bits create large shavings. When creating these shavings, you may have to remove your bit from the hole to clear the chips. 
Because these bits mostly come in diameters ranging from 3⁄16 " to 42″, you have wide options. So, for more information about the types of drill bits, click here.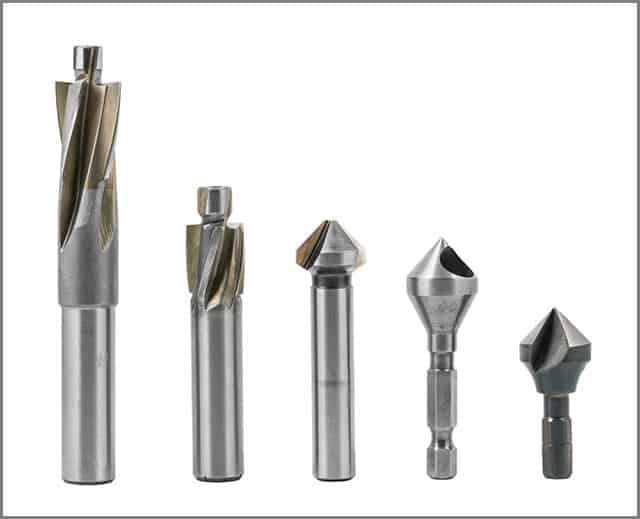 Figure: Sets of different drill bits
Section 7: Woodworking Drill– Frequent Q&A
7.1 Should I wear gloves when using the drill press?
Choosing to wear gloves comes with preference due to the fact that some people might find it comfortable. However, avoid baggy gloves because they might stick to the drill press.
7.2 What are the drill press settings?
Drill press settings address the general setting of your drill press. So, it determines how your drill press will run. Because this setting involves choosing depth stop, calibration, and automation are possible.
7.3 Woodworking Drill– Does the size of the drill bit matter?
Drill bit size can prove crucial due to chuck size and material strength. While metals would require that you have a thicker drill bit, wood will require drill bits with lesser thickness.
Hence, a harder or thicker material requires a bigger shank of drill bits.
7.4 Are there any accessories that can improve the performance of the woodworking drill press?
Yes, several accessories can aid your drilling process. Nevertheless, these accessories include a drill press vise, support, mortising attachment, and cutting fluid.
When these accessories are used properly, you will get better performance and results.
Conclusion
The drill press is a top tool you must have in your catalog. This article has systematically looked into the drill press background, parts, and types of drill presses.
In addition to the drill press background, this article also guides you in choosing the most suitable drill press.
Drill presses are popular among professional, skilled users, and unskilled operators due to their capability. Therefore, as you continue to look out for helpful tips about drill presses, look no further.
NCCuttingtools has got you covered. We have high-quality products and the most experienced professionals to guide you through the process. Check out this video for useful ideas for the drill press machine.