Nowadays, many people run into problems when trying to decide the best cutting tool to purchase. It is not just enough to want to buy a cutting tool such as a diamond core bit. It would be best if you went the extra mile to do enough background checks on brands on sales. It might seem strict initially, but it will save you time and energy. This article aims to provide useful tips to consider when choosing the diamond core bit brand to buy.
Table of Contents
Fig. 1: Serrated diamond core bit teeth.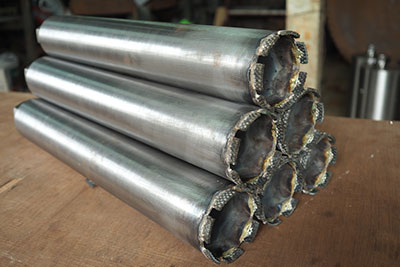 1. Quality/ Advanced Technology of the product
Whether as a supplier or final user, this remains the most important to consider when making a decision. As a user, your primary objective is purchasing a product that performs its function perfectly. The extent to which a brand of the diamond core bit will play rests on the shoulder of the materials used in manufacturing. The quality of the diamond and other related metals used by a diamond core bit manufacturer goes a long way in helping you choose rightly. As a supplier, you aim to ensure your customers are delighted with the product they get from you.
Therefore, when you do a market survey, you must pay maximum attention to details. These details will include finding out several technical features. It ranges from the technique used to bind the diamond crystals, molding the steel body, the presence of a pilot drill, etc. Furthermore, suppliers can decide to pay a visit to the diamond core bit manufacturer's facility to see things firsthand. The emergence of advanced manufacturing now adopted in the production facility has ensured high standards and safety of the final product. Computer-aided manufacturing processes, 3D printing technologies, laser welding, etc., are all in fashion now. Diamond core bit manufacturers that adopt this 21st-century method will produce the best core bit, durable and safe to use.
Fig. 2: Neat and new set of diamond core bits.

2. Purchasing and Maintenance cost
After duly considering the quality and technology used in manufacturing a diamond core bit, the next obvious factor is cost. In any situation, you must first check your purchasing power and how far it can satisfy your need. Most diamond core bit manufacturers now ensure their product is competitive in the market without compromising quality.
Asides from the purchasing cost of a machine or tool, the cost of maintenance informs the final decision. It would be best to balance these concepts before buying any product. The cost of purchasing a diamond core bit must correspond to the value used will derive. It means that cost should be proportional to utility in all cases. The maintenance cost would also come into play once you can overcome the aspect of the purchasing price.
For every tool, machine, or equipment, you know that maintaining is a necessity. Effective maintenance helps to keep the diamond core bit running at all times. So many factors contribute to how maintenance costs vary for different diamond core bit manufacturers.
Factors that affect the maintenance cost ranges from:
The design of the tool
The material it cuts
The mode of cutting (dry or wet cutting)
The material it is made of, and so many more.
In all, you must take into cognizance these many factors to accurately decide which brand to go for. So, therefore, make sure you conduct well-grounded research to be certain of useful facts and figures. While some diamond core bit manufacturers produce high-end bits, others produce mid-range bits.
3. Durability and Ease of Use
When choosing a diamond core bit manufacturer, it is essential to look out for these qualities. However, there seems to be a clear difference between them. Durability refers to the degree of how long a tool or equipment last in active service. Ease of use emphasizes how convenient and effortless it feels when operating by end-users. It is no gainsaying that some brands have invested heavily in getting it right from the very beginning. These go on to become the first-choice diamond core bit manufacturer over time.
A well-established fact is that the durability of a diamond core bit is inherent in its design. Manufacturers have developed a unique approach to design, which will tell on the useful service life of the diamond core bit. After successfully designing the diamond core bit, the next thing is to produce it. Adopting the right metal treatment and finishing process will later go a long way to tell on durability.
Ease of use ensures that new users can successfully use the diamond core bit with little or no supervision by a professional. This concept also determines how the product delivers to get the most with minimal stress. It further relates to how the diamond core bit relates to its performance. A significant example here is the issue of wet-cutting and dry-cutting. Recently, a universal diamond core bit has come on sale, i.e., they suit either dry-cutting or wet-cutting.
Essentially, be on the lookout for these characteristics when selecting a diamond core bit manufacturer.
Fig. 3: Stainless set of diamond core bit.

4. Long-standing reputation
Regardless of the industry, the reputation of a product or firm speaks louder for them. Even in situations beyond them, people can attest to their status. Help yourself make the right decision by reading online reviews about a diamond core bit manufacturer.
Endeavor this before entering into a partnership as a supplier. It will save you the stress of your buyers' incessant complaints in case the brand is terrible. A diamond core bit manufacturer known for quality and cost-effectiveness has an imposing reputation. The other tips shared above must also be evident in a typical diamond core bit manufacturer. The diamond core bit manufacturer should have an excellent product, but their added services should also be top-notch. Value-added services attract and keep credible customers for any firm.
After-sales services, free consultations, regular checkups, etc., remain integral to any reputable business. Again, bear this in mind when selecting your preferred diamond core bit manufacturer.
5. Ease of access to product
Yet again, you must always keep this at the back of your mind. When you have satisfactorily treated the other factors above, the "ease of access to the product" must come into play. As an end-user, especially, you have to ensure you purchase a product that is common to your locality. Failure to do these will lead to many unforeseen outcomes. For instance, when buying the diamond core bit, you should check with stores within your locality. As a major supplier, you do not want to incur the high cost of transporting and logistics when delivering your order. It would, therefore, guide your decision rightly.
Away from the delivery cost, the time to wait for bulk delivery orders also plays a significant part. You would want to reduce the cost incurred and delivery time to the barest minimum. A diamond core bit manufacturer closest to you should be your default preference. However, there are rare cases of this not being the norm. Other factors could make you choose a farther away diamond core bit manufacturer if the product meets your need.
Fig. 4: Diamond core bit with pilot drill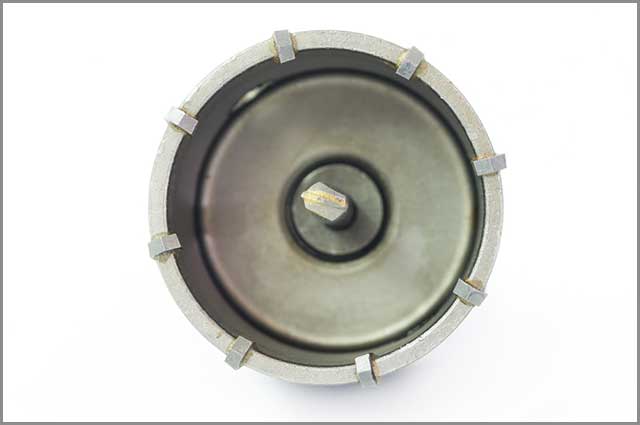 6. Overall technical specification
Technical specifications here go beyond just the ability to cut. It cuts across core areas from many diamond core bit manufacturers that have distinguished themselves. The diamond core bit may generally perform the same function, but surely in different ways. This ability is always an intrinsic function of their unique design. These specifications will go on to affect the overall performance of the product. The accuracy, the speed it can rotate, and the purpose it can fulfill (wet, dry, or general-purpose cutting). Other specifications, such as length/depth, diameter, and teeth design, also vary from manufacturer to manufacturer. While some diamond core bit manufacturers make their products attachable to an angle grinder, others allow attachment to drill.
Ejector holes come on the diamond core bit to ensure proper and quick disposal of chips. Above all, do not fail to assess all the possible suitable technical specifications of interest to you.
Fig. 5: Diamond core bit with ejector

Conclusion
From the previous section, we have done our best to address the most pertinent tips to provide excellent guidance. Note that these tips shared above all work hand-in-hand. However, we still advise that you watch out for some added features that will significantly benefit you.
Shop with us now at NCCuttingtools for all your cutting tools needs. Our 20+ years in this field position us as your best diamond core bit manufacturer. We promise to deliver your needs and more when you do business with us.