A popular accessory in the woodworking industry is the feather board for stationary power tools.  This accessory serves as a safety measure to reduce accidents from power tools. 
Although several technicians and woodworkers utilize this accessory, many questions remain unanswered. 
Hence, this article answers frequently asked questions about the feather board. You will also learn about different types of feather boards and how to use them for precise cuts.
Table of Contents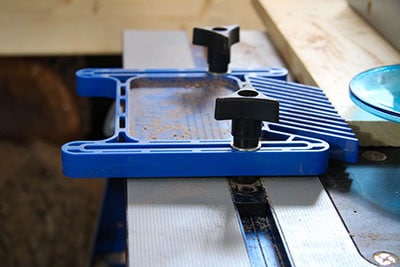 Figure 1:
Section 1: What is a feather board?
1.1 What is a feather board?
A Featherboard is a hold-down device that operators use toto hold their workpieces. This device helps to hold the workpiece against a machine fence or tool surface due to its design. 
Many inaccuracies and errors arise when using power tools to cut materials. These errors are typically due to mechanical vibration.
Therefore, they are often very difficult to manage or correct. As a rule of thumb, the feather board is a power tool add-on that helps you avoid inaccurate cuts.
The evolution of power tools has put forward the need for safety when using such machines. The feather board also offers protection due to its modern design for protecting against kickbacks.
Figure 2: Featherboard on a table saw.
1.2 What is the purpose of the feather board?
The feather board is famous for two essential purposes, namely;
To hold down your workpiece
A vital application of your feather board is to hold your workpiece tightly. This particular functionality is integral to the type and quality of cut you can make on your workpiece.
Often, some users have to carry out precision tasks on their table saws. These precision tasks usually require proper handling.
As such, the feather board is very effective whecriticalse cuts and consistent pressure are critical. 
Safety
Although power tools are famous for their effectiveness, they are also known to cause serious injuries. As such, the feather boards help to prevent your hands from moving too close to your saw blade.
This accessoryallowsr easy maneuvering your stock in your cut's direction without reverse movements.
These advantages make a feather board a must-have tool for precision tasks. They are also essential when accuracy and safety are crucial.
Section 2: Why use feather boards?
Numerous accessories enhance the performance of power tools. Therefore, operators must decide which accessory is best for their power tool. If you want to improve your cutting results, the feather board is a must-have.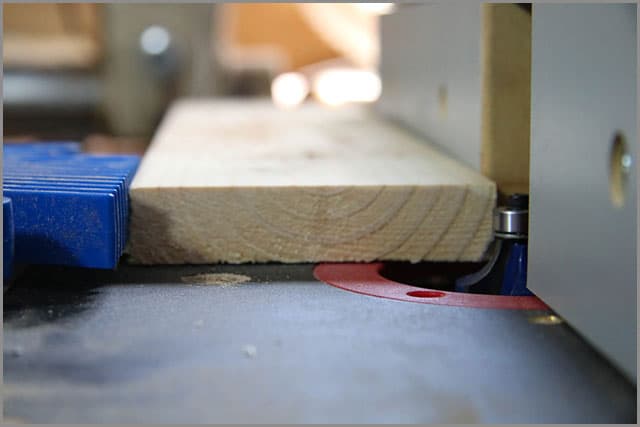 feather board and router table
Here are the different reasons why you must use the feather board. 
1. Easy to set up and adjust
Feather boards make work easier and faster. Feather board for table saws typically comes with a slot for width adjustment and finger pressure.
They help cut tricky points while providing enough pressure to hold down the workpiece.
2. Stability and Tension Control
Power tools are disliked for their vibration, leading to parallax errors on a workpiece while cutting. However, the feather boards solve this problem for you as they have tension control functionality.
This functionality helps maintain stability and even pressure to ensure a smooth cutting process.
3. Strength
Feather boards provide strength and durability. Nevertheless, most manufacturers use a hybrid composite plastic and metal material. 
4. Size
Featherboards come in several sizes that suit different applications. Therefore, no matter the size of the material you want to cut, you can find a suitable feather board.  
5. Design Components
Featherboards come in non-magnetic and magnetic variations. Both variations serve as an attachment of the feather board to the table saw.
However, the non-magnetic variations employ a standard miter slot positioning for attachment to the table.  
Section 3: Should I make my feather boards or buy a ready-made?
3.1 How to choose the right feather board?
There are two significant ways that most operators acquire their feather board. They either buy from a manufacturing company or make theirs.
Nevertheless, the choice of which way to go depends on several factors. These factors include time constraints and whether or not you like making jigs. 
The flipside to DIY feather boards is that they are harsher to use. Also, these feather boards are mostly for professionals. Depending on the type of project you are undertaking, you may need to rethink your option.
If you are hoping to make a basic clamp to the table saw, you can opt for a shop-made feather board. However, buy a ready-made board if you intend to make cuts requiring a lot of adjustment.
Section 4: How to make a feather board?
4.1 Cut the Stock to Size
Depending on the workpiece's size, choose a feather board dimension to suit the purpose. An essential rule is cutting your feather board in 5×12 inches.
Next, you can rip your stock accordingly before cutting to length with your miter saw.
In cutting your board length, you must follow an important rule. You must cut your stock according to your needs.
For example, consider that the distance from your clamping point to your saw blade is 10 inches. It means you must cut your feather board to be longer than 10 inches.
4.2 Miter the Board
Next is to crosscut your board at 30 degrees with your miter saw. It is best to cut on the part of the board against which the workpiece rests.
4.3 Mark a Stop Line
From the miter edge or face, mark a point 3 inches parallel to the 30-degree lacerations. This distinction will serve as your stop line when you start to cut the fingers of your feather board. Also, you can mark your edges with your bevel or a pencil. 
4.4 Cut the Fingers
Set the fence of the table saw 1/4 inch from the cutting edge. Spot the long side of the board immovably against the fence and level on the table.
Next, run the board through the saw from the mitered edge until you arrive at the stop line. At that point, cautiously withdraw the board until it clears the sharp edge. 
Turn the saw's engine off. With the stock away from the sharp edge, move the fence 3/8 inches away from the edge.
Next, make another cut parallel to the first and again up to the stop line. However, note that the saw must be consistently removed while changing the fence to prevent accidents. 
Section 5: How to use a feather board?
Utilizing a feather board is much more secure than holding a workpiece against the fence by hand. This accessory helps to prevent kickbacks due to its design.
Off-the-shelf models typically integrate with milter slots on the table. However, it should position in the feed direction and in front of the blade. This configuration is essential because it helps to prevent waste from interfering with the cuts.
Lower the blade with the cutting tool off to position the feather board. Next, place the stock against the fence. After this, place the feather board against the stock.
You should test the fit of the configuration before cutting. The blade should face down when tested. It involves moving the workpiece on the table.
The fit is perfect if the workpiece can move forward easily but is hard to move backward. Once positioned, you are ready to go!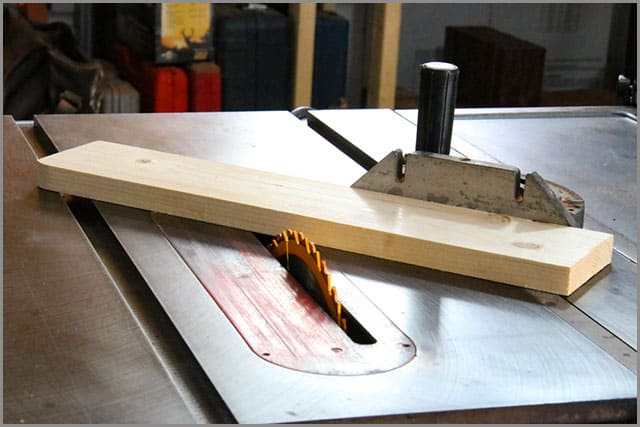 Figure: Featherboard as a guide
Section 6: The best feather board
1. Milescraft Featherboard
The Milescraft feather board is a versatile accessory. Its design features an attachment to miter bars of 3/4-inch and 5/8-inch dimensions. Also, it is easy to use.
Pros
It allows operators to place it on both the blade and fence sides.
It is extremely fast to set up due to its simple design.
Cons
It is only suitable for metal tables.
2. Kreg True-FLEX Featherboard
This Kreg feather board is using a plastic composite. It is suitable with band saws and router tables. It has a twin-pack setup that allows different placements on the side of the table and the top of the fence. As such, it allows even pressure and prevents accidents. 
Pros
It is suitable for several stationary power tools. 
This feather board helps to maintain even pressure on the workpiece. 
It provides ease of installation.
Cons
It is limited in design and non-magnetic.
There is a chance that warping will occur with this device. 
3. Milescraft FeatherBoard For Table Saws, Router tables, and Fence
Milescraft has a unique design of a split-track miter plate. As such, this design allows sufficient hold and consistent tension during cutting. Also, it allows for fast and easy setup due to its dual slide motion capability. Its design also features adjustment knobs, which allow easy loosening and tightening. Pros
It comes with all the necessary hardware needed for quick attachment.
This feather board allows for pre-loading tension, which is crucial for preventing kickbacks.  
It provides a firm grip on the workpiece against the fence.
Cons
Its adjustment might be difficult for some users due to its curved end.
4. Magswitch – Reversible Featherboard
The Magswitch brand is known for its good work-holding capability. They typically provide about 160  lbs of force to make the feather boards remain immobile. Hence, using this kit results in a clean cut while preventing kickbacks.  
Pros
It is reversible and suitable for outfeed and infeed applications. 
This feather board is special engineering material that makes it lightweight. 
It offers excellent protection against kickbacks due to its design. 
Cons
It doesn't provide as much grip on steel tables as cast-iron tables.
5. Hedgehog Spiral Featherboards
The Hedgehog Spiral Featherboards feature a simple spiral design and one knob to enable smooth adjustments. This design ensures your continuous operation even when using boards of multiple widths. Unlike other feather boards that require numerous adjustments, you only need to flip the dial on the Hedgehog feather boards. With this accessory, beginners will appreciate the ease of controlling the wood while only using one hand.
Pros
It allows one-handed use due to its single pivot. 
This feather board provides high quality at a lower cost. 
It is lightweight. 
Cons
It has no T-bar to fit the miter slot.
Summary
Featherboards are a must-have for professionals and retail woodworkers. At a relatively low price point, most woodworkers have this accessory in their catalog.
This article outlines the fundamental knowledge about the feather board and why you should own one. It also gives a detailed DIY procedure if you choose to have your feather boards shop-made.
However, it is essential to go for a trusted manufacturer when getting a feather board. NCCuttingtools is your best option. We have the best products and professionals to assist you with feather boards purchase. Contact us now!