Diamond saw blade supplier is one of the fastest-moving stone tools; When you're in the diamond market, it is imperative to take note of the best diamond supplier for your personal or business purposes.
Choosing the right diamond supplier can be a very hectic task for you due to a myriad of options which include but are not limited to the price, geography, and quality of the product.
Diamond saw blades are a very reliable product and are shipped to various continents worldwide today. It is one of the best-selling products in the stone business.
Table of Contents
Chapter 1: Diamond Saw Blade Application Areas You Should Know
There are many things to consider before choosing a diamond saw blade supplier. What field do you want to use for diamond saw blades?
Diamond saw blades are your company's problem solution because you can cut the hardest surfaces without any unnecessary pressure. The following are three areas in which diamond saw blades can be applied.
1.1Medical field:
A diamond saw blade has multiple applications in the medical field and has been a significant participant in the pharmaceutical industry for years.
It is used frequently during surgeries, such as while amputating a part of your patient's body; a diamond saw blade would come in handy and handle your amputation process with precision.
The same applies to vascular work and dental restoration. 
1.2Construction
The diamond saw blade is also used in construction to cut through harsh surfaces, especially concrete and stones. It might be a tricky affair when you want to cut through concrete and rocks, especially without the right tools. Diamond saw the job done effortlessly because of a diamond edge.

1.3Engineering/IT
Diamond saw blades are also very useful in the engineering industry. It is common to see computer engineers use this fantastic tool as you can easily use it to cut through semiconductors.
Chapter 2: Things to Consider Before Choosing a Diamond Saw Blade Supplier
You must know how to choose the best Diamond Saw Blade Supplier in the industry. Numerous suppliers of this fast-moving product give you free rein with a choice.
However, it is vital to consider all the different products each supplier offers to determine which is perfect for your business.
Listed below could be argued as some of the vital things you should consider while in the market for a diamond saw blade supplier.

2.1 Company Size
The size of your supplying company is one of the first and most important things to consider when choosing a diamond saw blade supplier.
You need to know whether this supplier owns their factory or is operating out of someone else's, the strength of coverage they already command, and the size and number of their workshops, among many other things.

A small company will be unable to cover your supply needs if you need many products.
2.2 Quality
Product quality should be one of the things you should consider seriously, especially if you're looking to thrive in the business for an extended period.
It will also be very beneficial to you and your business if you take the pain to confirm if your intending supplier has invested reasonably in research & development and production technology.
These are the best ways for a company to keep their products updated as to the market's needs and will go a long way in helping sustain your business.
The price of the product you are purchasing is also paramount. Like earlier, numerous diamond saw blade suppliers are available today, and their prices vary from one supplier to the other.
As there are different prices available in the market just as the sizes of the blades differ, it is crucial to note that the most expensive is not necessarily the best product, just as the cheaper one does not stand the worst outcome.
The average diamond saw blade price ranges from as low as $15 to as high as $200 or even more in some cases.
2.4 Geographical Location
Your location and that of your supplier are also significant. It is a fact that a sizeable majority of diamond saw blade suppliers ship from the Asian continent, and your proximity to your chosen supplier will help you cut down costs in one way or the other.
2.5Logistics and Transportation
Just like in many other industries, you should pay attention to your product transportation and logistics process.
How your product gets to you in perfect condition should be a priority; using a reliable logistics company will help your business thrive and help you create a lasting relationship with your satisfied customers.
2.6 Quantity of Purchase

The volume of products you want to purchase is also necessary before choosing a supplier.
Suppose you're in the market for several products and contact a vast supplier. In that case, it might be difficult to reconcile your order with their usual deliveries, leading to issues later in the business.
It is the same if you're in the market for many products and contacts a small supplier.
 (The video explains how to choose a diamond saw blade) (VIDEO
Chapter 3: Know What You Need – Diamond Saw Blades
Diamond Saw Blades are some of the most widely sold saw blades in the world today.
This particular type of saw blade consists of a wide variety of saw blades that will effectively give you the product satisfaction you desire.
Also known as Diamond Circular Blade, this product is very loved in the market and does not seem to be making any stops soon. It is no news that there are different saw blades in the market.
When considering venturing into the market or buying for personal uses, it is essential for you to be sure about the type of diamond saw blade which you're interested in or will be the best option for your business.
 Sintered Saw Blades
The Sintered Diamond Saw Blade is the most common form of the Diamond Saw Blade and is very popular because of the ease with which this valuable tool cuts through the hardest surfaces, including glass, quartz, concrete, etc.
Sintered Saw Blades use cutting-edge sintered technology, also fondly referred to as "cutting teeth" because its edges usually look like teeth cutting through a surface.
It lasts much longer and offers more efficient services than the average notched-rim blades, which are also widely used in the market.
The Sintered Saw Blade is grouped into two categories, which cater to varying types of metal and other hard surfaces.
l Cold-Pressed Saw Blade
        A cold-pressed saw blade is a type of sintered diamond saw blade used to cut through. This type does not generate any form of heat and does not cause any trouble when cutting the surface.
It is a piece of reasonably easy equipment to handle and will come in handy when trying to cut across metal sheets.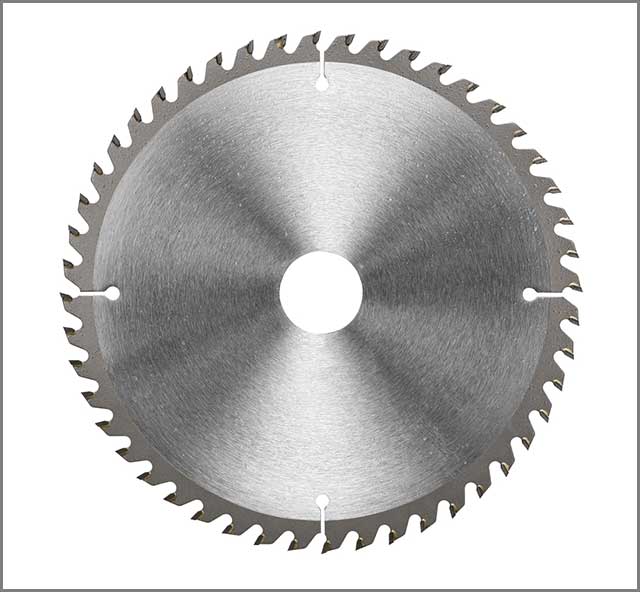 l Hot-Pressed Saw Blade
        On the other hand, the Hot-Pressed Saw Blade is the opposite of the cold-pressed diamond saw blade. It usually lasts longer than a cold-pressed diamond saw blade, and the alloy rim on the surface helps to cut harder surfaces.
It produces a lot of heat and will help you cut through harder surfaces much faster than its cold counterpart.
Chapter 4: Let's See How People in The Industry Talk About Diamond Saw Blades
l Diamond Saw Blade Supplier: STC, September 2017.
I have been using this blade for quite a while now, and I'm delighted with it. I previously had the turquoise one (another brand that used to be the best), but it developed cracks.
So far, this blade has been perfect, cutting everything I tried, from porcelain to concrete. I have been using 4″ diamond saw cutting blades as far back as the early years when it started production.
You need to be careful about using thin blades for shaping and profiling. This activity wears down one side of the edge more than the other, causing more heat and unbalanced wear.
It can cause cracking and eventually breakage of the blade. I would NEVER recommend using it without a blade guard on the grinder.
One breaks apart, and a chip embeds itself in a nearby wood piece. Inspecting the blade visually before and after every use is always a good idea.
l Diamond Saw Blade Supplier: Rick, a tile contractor for 38 years, LORENZO, Italy
Congratulations, Mikayla; we are delighted with your service quality after evaluating numerous saw blade suppliers. You will become our most important supplier. We require you to specify the lead time of production for orders of 400 blades; please send me the total price and invoice."
l MORTEZA, Iran
Nowadays, it is not easy to find a company that you can completely trust. Your diamond tools were recommended to me by a granite businessman, and now I know the reason – the quality of the diamond blade & diamond segment is high, and you are very professional. Keep up the fantastic job!
l Diamond Saw Blade Supplier: CHAZ KRUEGER, January 2019
These blades are great. They are not suitable for use in wet saws for a reason. They're for a grinder. I use these to miter tiles and notch out as needed.
The last one I purchased is still working, and I did a ton of miters on the shower and the tub surround I just finished.
These blades are worth their weight in gold. Some are getting duds or using them for the wrong reasons.
Chapter 5: The Strength of the Diamond Saw Blade Supplier You Want
 We are industry leaders in the diamond tools business and have been delivering perfect service to a wide range of customers since 2001. We can provide serious construction endeavors with the ideal tools to cut through the hardest surfaces.
You only have to trust us to deliver the absolute product right to you, and we'll do our best to satisfy all your desires and curiosities while ensuring that you remain a long-term partner and a part of the family.
 All our diamond saw blades are created with top-notch quality and have undergone the most rigorous creation process, designed to bring the perfect diamond tool to your doorstep.
Some of our best diamond saw blades include the; Granite Diamond Blade, Concrete Diamond Blade, Marble Diamond Blade,
Asphalt Diamond Blade, and Laser Welded Diamond Blade, among many other varieties we created, are just for you. We are very concerned with offering you the highest quality diamond blades, and it is an absolute delight to see you attain greater heights with our custom-made diamond tools.
Here are data on some of the most compelling reasons why our clientele cannot get over our diamond products.
Summary:
I believe that after reading this article, I have an understanding of how to choose a diamond saw blade supplier. Whether you need to order immediately diamond saw blades, we are very willing to keep in touch with you.
WWW.NCCUTTINGTOOLS.COM is dedicated to providing a wide range of customers with the best diamond tools and the perfect solution to your supply problem.
We do not just offer up our products for sale but also guide you through making the right decisions when choosing the right product and supplier for your business and personal uses.
Like many other industry leaders, we're more concerned with offering our clients the worth of their purchase in both product and value, thereby helping both businesses to create lifetime value for their brand and customers who are the last consumers of the product.
You can easily apply for free samples on our website www.nccuttingtools.com to get a feel of what it means to enjoy value-added services, top-notch delivery, and the perfect product for your business.
Our expertise in producing and supplying diamond tools is comprehensive, and we're here for you at all times to cater to all your needs.