You've had problems with cutting marbles safely and cleanly, especially when it comes to cutting through marble slabs, blocks, floors or walls. Cutting a slab marble the right size for the kitchen top.
it's all going steady till "crack" the marble cuts right through the middle due to the blades or techniques that you were using, nothing is ever as painful as that, as you've not only wasted effort in cutting it, but you've also wasted resources.
It will seem such a challenging and Herculean task if you do not have the right diamond cutting blade. 
If you want to cut your marble without it getting damaged either by chipping or breaking, we've got the solution for you.
To get a clean and safe cut of your marbles, you need the best of the best diamond saw blades. How do you know the ones to choose from the vast array of diamond saw blades on display? Very simple.
You could always come away with a clean and smooth cut, if only you know the right blade and right techniques to use. We'll be giving you tips and issues to consider before purchasing a diamond saw blade.
Section 1: 4 Big Questions to Consider Before Buying a Diamond Saw blade
Before purchasing a diamond saw blade, the things you need to consider are these:
What is the right blade to use for the cutting?
What is the thickness of the marble you're cutting?
What price range are you aiming for among other things? 
The Thickness of the marble:
Marbles come in different sizes, and for that, not every type of diamond saw blade can be used. For that, you need to know the size or thickness of the marble you want to cut. 
To cut a thin slab of marble for a countertop, you would have to use a diamond blade that comes in a circular saw. For a marble that is more than 16 inches, you cannot make use of a tabletop wet saw blade, as it will just not cut at all.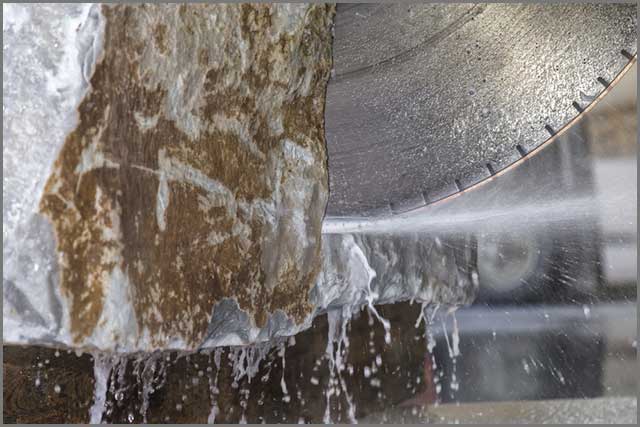 (The thickness of the cutting marble)
Right Diamond Saw Blade:
Diamond saw blades for marble cutting is different from every other diamond saw blade, as they have a specific function to cut just marbles.
As marble is a highly crystalline form of limestone, the blades used for its cutting are manufactured specially, and Vacuum Brazed – Electroplating blades have their synthetic diamond particles deeply rooted in their metal coating, they come in lengths so thin that they amount to 10 micrometers thick, and they are mainly for precise cutting.
Vacuum Brazing, on the other hand, is made with synthetic diamond particles on the outer edge of their circular steel blade welded in a vacuum brazing furnace, and they are specially made to cut a wide variety of materials such as steel, iron, and concrete.
Diamond blades for cutting marble have their diamonds embedded or on the outer side. 
Blade thickness:
Some marbles are very thick. When you want to reduce such materials, consider the width of the blade. The thickness of the blade determines the hardness, and the thicker blade cuts have higher precision and better performance because it produces greater stiffness.
But when you consider the thinner cutting factor in making furniture, you might want to use a smaller blade.
Price Of The Blade:
Diamond blade saws over the counter are quite affordable with a new saw blade costing $100 – $30 while renting costs $35 per day or $100 per week.
For the best quality diamond saw blades, you can get them from as low as $19.00 to as high as over $1,000. 
Knowing these essential tips will help you in purchasing the right diamond saw blades for your cutting. Why would you want to go for diamond saw blades for cutting marbles? 
Let's give you some of the advantages of using diamond saw blades in cutting marbles.
Section 2: Advantages of Using a Diamond Saw Blade
Apart from it being extremely useful in cutting every hard surface cleanly and smoothly. Diamond saw blades are popular in the construction industry because of their delicate and clean cutting among the following:
It doesn't get stuck in the marble-like other saw blades. 
It gives a precise and straight cut. 
It is vibration free which enables it to cause little damage to the marble. 
It is faster in cutting through marble and other hard surfaces. 
It is one of the best high-quality cutting products and as such is powered with efficiency to function as one.
We've brought the best styles of diamond saw blades, and we're going to introduce them to you.
Continuous Rim Blade
Commonly referred to as a blade for wet cutting. Generally, we use it to cut tiles, marble, and granite. Using water when cutting with a wet-cut blade helps the blade's longevity.
The water cools down the blade from heating, and it also decreases the friction in the cutting zone by flushing out all the debris of the materials cut; it also reduces the dust produced from the cutting.
                                                                      (Wet saw cutting marble)
Segmented Saw Blade
The segmented Saw blade features multi-application saw blades that are suitable for fast, free, and smooth cutting. Can cut bricks, tiles, bricks, marble, concrete, granite, stone, and many other materials.
Operated with a masonry saw, table saw, and circular saw. The diameter is ranging from 4″ to 14″, and it has various arbor sizes and segmented specifications that are always available upon request.
Section 3: Method for Cutting Marble By the Diamond Saw Blade
It is quite essential to know about the methods and techniques of cutting with diamond saw blades. Buying equipment and not knowing how to use it is the same as not having the machine.
The first thing to do is to read the instructional materials that come with the product.
Reading it keeps you safe from injuring yourself in the process of operation. Review everything, from the setup to the instructions to the safety tips.
The technique of cutting marble is wet cutting, so next, we have to ensure a continuous water supply.
                                                                       (saw cutting marble)
A wet blade must always be we to keep it from overheating. Keeping it moist makes the blade efficiently cut consistently and correctly. 
Before turning on the saw make sure that it is wet if it is not make sure the blade is entirely wet. To connect your saw blades to water, you could always read the instructional material in the product's manual, or you could fill up its separate water tank or get it connected to a hose for constant water supply.
Different cutting styles come with different skills of cutting, but before any cut, We hope that you can equip your protective gear.
After all, it is an essential skill for all. We must emphasize that you must use the correct personal protective equipment before operating a powerful machine. We have straight-line and curved marble cutting techniques.
Emphasizing this is not excessive.
For the straight line marble cutting, here are tips to follow:
Adjust the fence on the saw blades to keep your cut straight. 
Draw a 2.5 cm (1 inch) line along your mark, keeping the marble face down.
Flip the marble tile so that it faces up, then glide the marble tile through the saw.
For a curved marble cutting:
Change the blade in your grinder to a diamond blade for efficiency and sophistication.
Place your marble on pieces of thick foam or wood, preferably 2″ to keep the tiles from getting scratched in the process of cutting.
Cut the full length of the tile through the middle
Walk through the tiles again along the lines. Whatever cutting style you use, always make sure that your blades are thoroughly wet to enhance their capacity and efficiency.
For more: cutting tips click here.
section 4: We Look for Real Feedback From Some Users
Here's what a couple of users had to say about using diamond saw blades to cut marbles.
Re: Diamond saw blades used for cutting marbles.
Helpful. I was cutting some tiles with my cheap wet saw with a segmented diamond blade and was getting chipping along the cut. And I remembered that I had used a continuous blade. I'm guessing that's my issue here, luckily every cut I've done so far will be hidden by the trim. I'll have to pick up a continuous blade for the visible stuff. -Anonymous
I used this on my disk grinder to cut some marble tiles. It cut smoothly and quickly, and I have no complaints whatsoever. I was also able to use the edge of the blade to smooth and grind the marble a little bit. I needed to cut a curve in a tile to fit around the edge of a bathtub, and it fit nicely.
This feedback warmed our hearts but got us thinking hard. Is there an alternative product to the diamond saw blades? Is there a product that can replace it? In our extensive search, we're proud to say we found none (as of now).
Although we have Carbides (boron, silicon, titanium, tungsten, etc.), and High-speed steel, they cannot operate on the level of the diamond saw blades.
Summary:
Diamond Saw Blade is the right tool to use for cutting marbles to give it that smooth and beautiful cutting you so much desire. If you want to learn more about this article, or if you're going to know about buying a diamond saw blade, you can contact us.